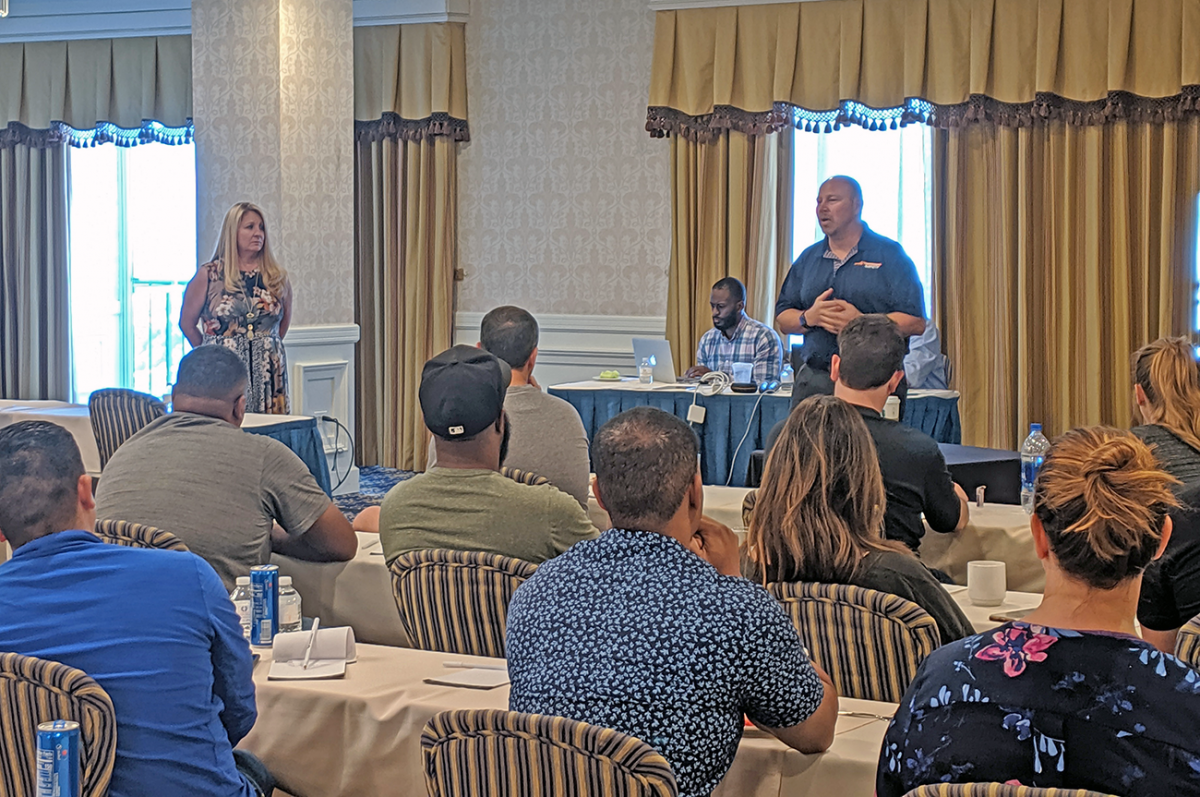 NATCA Members attend CBA Training in Las Vegas
More than 50 NATCA representatives attended Collective Bargaining Agreement (CBA) training in Las Vegas this week to learn about the Slate Book CBA and the collaborative commitment between NATCA and the FAA it represents: to continue, together, to maintain the world's safest and most efficient National Airspace System (NAS).
"This is the best contract our workforce has ever had," said NATCA President Paul Rinaldi, who briefed attendees and answered questions during the training, along with NATCA Executive Vice President Trish Gilbert. "Learn it, own it, and apply it, especially regarding collaboration."
"Thank you for being on the front lines with our workforce," Gilbert said. "We are a very strong workforce capable of many things. We still have many challenges, staffing, modernization, and more. We are going to be looking for engagement from our membership at all levels as we go forward into the coming challenges."
This week's CBA training classes included updates about NCEPT, On-The-Job Training, and NATCA's ongoing effort to change the way the workforce perceives training by encouraging members to make Every Day a Training Day. Rinaldi and Gilbert spoke to the necessity of a commitment to effective, regular training in pursuit of excellence, as well as the legislative challenges facing the NAS.
"As the professionals that we are, we have to ensure complacency doesn't take hold. We need to see training as a badge of honor." Rinaldi said. "We need to make sure that we have given everything that we can to this organization and to the next generation for them to be able to accomplish all this work for our profession."
Gilbert and Rinaldi thanked the reps for their commitment to our Union and our members.
"You are leaders in your local and among your brothers and sisters. Thank you for being FacReps, thank you for stepping up to the plate," Rinaldi said. "It's about being highly professional and above reproach. We have to continue to lean in and do the right thing at the right time."
"When we are faced with difficult things, we rise up like no other workforce I've seen," Gilbert said. "Checking your emails, attending NATCA events, getting educated about what NATCA does for you — all of those things are important to keep strong members, strong numbers, and strong engagement from our brothers and sisters. We need the new generation of NATCA leaders to continue to do the great work that you are doing. You need to keep active, engaged, and inspire others."
The training was taught by members of the 2016 Slate Book contract team National Organizing Committee Chair John Bratcher and Western Pacific Alternate Regional Vice President Jamaal Haltom. Also present for the training to help answer questions about the CBA were lead negotiator of the 2016 contract NATCA Chief of Staff Dean Iacopelli, Great Lakes Regional Vice President Drew MacQueen, Southwest Regional Vice President Andrew LeBovidge, Western Pacific Regional Vice President Joel Ortiz, Northwest Mountain Regional Vice President Alex Navarro III, and Eastern Regional Vice President Rich Santa.