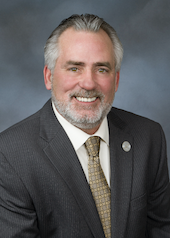 NATCA Safety and Technology, Column by Jim Ullmann
By Jim Ullmann
Director, NATCA Safety and Technology Department
Welcome to NATCA's 2019 Communicating For Safety Conference. It is our goal to continue to make this event the premier aviation safety conference in the world. While there are many different conferences around the globe, we pride ourselves on the fact this is the one event designed to encourage all participants to openly exchange ideas and information focusing on aviation safety, and all sessions in the main conference room are open to all CFS attendees.
We continue to have a positive response from many different entities within aviation who see the great value in showing our workforce some of the different technologies that are being developed worldwide. You will find our exhibition hall continues to expand as some of these new technologies are put on display. There are many current modernization programs with a presence in the exhibit hall, and in most cases, the exhibits will be staffed by our NATCA Article 114 Representatives and their FAA program management counterparts. We strongly encourage all CFS attendees to take the time to walk through our exhibit hall and spend some time conversing with our Reps, program managers, and sponsors about some of the current and upcoming technologies that will impact everyone's career.
As we move closer to 2020, there are some significant changes on the horizon that will change the shape of the National Airspace System (NAS). This certainly includes the ADS-B 2020 mandate, which greatly enhances surveillance in some geographical areas that have historically been non-radar. It is NATCA's wish to pursue all available benefits associated with ADS-B, which would include the availability of "altitude intent" data in the operations, and the new surveillance capabilities available with Satellite Space-Based ADS-B technology, which has recently come online in some parts of the world.
While one of the big changes being pushed by industry and the FAA will be Trajectory Based Operations (TBO), this is but one of many challenges that lie ahead. The concept of TBO was discussed at last year's CFS conference, and there continues to be momentum on this project. In its NAS TBO Vision 2025, the FAA defines TBO as: Trajectory Based Operations (TBO) is an Air Traffic Management (ATM) method for strategically planning, managing, and optimizing flights throughout the NAS by using time-based management, information exchange between air and ground systems, and the aircraft's ability to fly precise paths in time and space. This will require not only the optimum use of Time-Based Flow Management (TBFM) at facilities across the NAS, but also the implementation of some new technologies that would include a surface metering component.
We will also see increased demand for access to the NAS from many different users. The Unmanned Aircraft Systems (UAS) industry is on the forefront of an aviation revolution. Granted, many hurdles remain before the use of drones that many envision becomes fully realized, but the industry has many well-funded entities pushing for a quick integration into the NAS. We haven't even touched on other new entrants that will change the shape of our airspace system. The expanding and lucrative commercial space industry, with an ever-growing number of spaceports, will increase demand on air traffic control facilities. There are roughly 90 launch vehicles in use worldwide, with another 50 in development, and a dozen commercial launch and re-entry sites in the United States. These numbers will undoubtedly grow in the coming years.
As if these changes aren't enough, there are many additional new technologies that will impact the jobs of the workforce NATCA represents. This includes Enroute Data Comm, Electric Vertical Takeoff and Landing aircraft that some envision being as easy to access as a taxi, increased push for new supersonic and hypersonic flight technology, Remote Air Traffic systems including virtual towers, and much more.
Compound the potential impacts of these challenges with another 150 or so programs, projects and initiatives NATCA is working collaboratively on and we should all quickly realize how drastically our careers could change. It is imperative that NATCA continues its involvement in these changes. NATCA has worked hard to become the preeminent experts on Air Traffic Control and without our active participation, success on many of these programs and initiatives will be very hard to come by.
NATCA has proven time and time again that through our collaborative efforts, the workforce we represent will embrace new technologies and procedures. This is accomplished through early involvement, including in the requirements phase, and through robust, hands-on testing.
As we work through our current staffing crisis and take into consideration all the future impacts that lie ahead, we clearly have our work cut out for us. While never losing sight that the operations come first, we must also realize that these changes are coming – with our assistance or without. We must continue to work collaboratively with the FAA and other aviation stakeholders to ensure that our priorities are clear. Safety Above All is, and will remain, NATCA's mantra and only through our continued participation can we guarantee our active voices are heeded and the NAS remains the crown jewel of aviation.
I would like to personally thank each and every one of you for your hard work and professionalism and I am immensely proud to be part of the NATCA family.