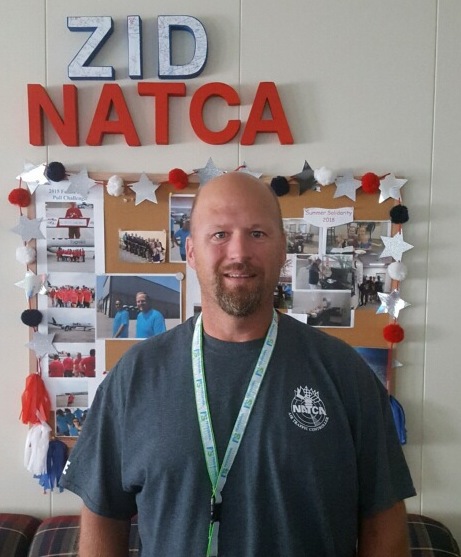 National Professionalism Award Winner: David Keifer
Central Service Area
David Keifer
Indianapolis Center (ZID)
Keifer has been a controller for over 20 years. He started his career in the U.S. Navy. He is the District Chair for the NATCA Professional Standards/Respect Workgroup, where he works to create a culture of collaboration in the Great Lakes Region, overseeing 14 committee members. His peers who nominated him for the award say his calm demeanor, agreeable disposition, and soft-spoken voice instills trust in those he works with:
"Dave is what I consider the definition of Professional Standards. He is always looking for the best solution to advance the safe operation of the National Airspace System (NAS), whether it be through collaboration and teamwork, or through his leadership."
"His knowledge of air traffic procedures, equipment, and human factors is immeasurable. Not only a friend, Dave is a great example of an air traffic controller who takes pride in ensuring safety across the NAS. He continually puts his own time into projects, meetings, and research to help develop a product that will allow controllers across the country to complete tasks safely and efficiently."
"I consider Dave a mentor. He has gone out of his way to put me in positions to be successful in my career. His approach to training is second to none. Always looking out for the best interests of the team, and finding ways to help everyone succeed."
"Regularly, Dave will bring ideas and innovation to meetings that lead to decisions and products that benefit and enhance the NAS. Dave does not settle for mediocrity and holds his co-workers, management counterparts, and Union brothers and sisters to standards to achieve excellence."
It's not just peers that have recognized Dave's professionalism. His Front Line Manager stated, "Mr. Keifer has played an instrumental role in my ability to lead. Today's environment is one in which managing processes and punitive actions will not help us achieve our mission. We have to be able to lead and influence others effectively and I feel the Professional Standards initiative has been a great tool. Dave has championed this program within our facility.
"I have had several issues that, in the past, would have been approached with disciplinary action for the behavior in hopes of correcting it. I now have the resource of a very respected and professional individual who can help me lead that change informally. Every issue I have presented to Dave has been resolved without further occurrence and I am very confident in his abilities to achieve results in the future. His dedication, commitment, and professionalism make him an asset to have on my team. I am pleased to see his efforts being recognized."
About the National Professionalism Award
NATCA's Professional Standards program maintains and promotes professionalism across all of NATCA's bargaining units. We achieve that through a commitment to safety and the public's trust. We work to inspire, motivate, and provide personal examples of our professionalism to others and to maintain the highest standard of excellence.
NATCA's National Professionalism Award was created to recognize those who have demonstrated a consistent personal commitment to safety and excellence, and whose professional contributions and individual performance have enhanced the standing of our professions.
"Every year it gets harder to narrow it down to the winners from so many amazing nominations," said Garth Koleszar of the National Professional Standards Committee. "Every single one of the nominees displayed professionalism worthy of the award."
Lydia Baune, a member of both the National Professional Standards and Respect Committees, said, "We also want to thank each and every one of you who chooses professionalism every day. This award is for each of you as well. You are making a positive impact on our profession and on safety."
Those nominated were evaluated on their body of work throughout their careers. The factors considered were:
How did they, as individuals, promote professionalism?
How did they inspire and motivate others?
Did they personally demonstrate professionalism?
Consideration was given to the testimonials and statements provided by their peers.
"Professionalism adds to safety," Joshua Cooper, fellow National Professional Standards and Respect Committee member said. "Without professionalism we lose trust and this affects the entire National Airspace System. These individuals represent a continued daily commitment to our professionalism."
Chris Keyes, the newest member of the National Professional Standards Committee added, "Exemplary professionalism has an incredible impact on our workplace relationships and environments. The dedication to professionalism that this year's award winners have shown is more than evident in their nominations. They have all made a tremendous impact on others through their focus on professionalism and determination to serve their peers. We can all be very proud to have them as our NATCA brothers and sisters."