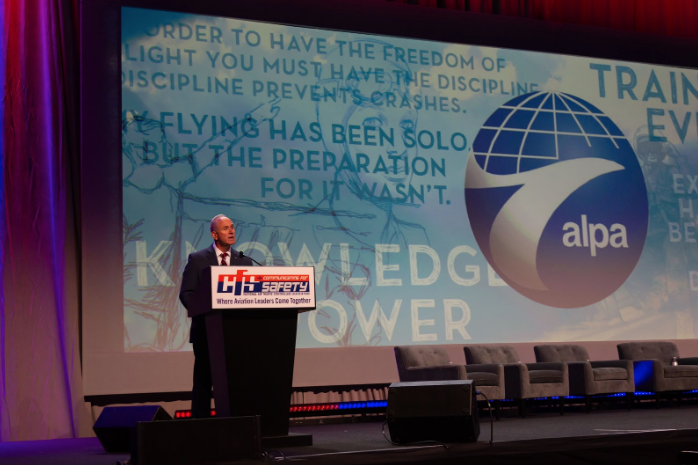 CFS 2019: A4A President and CEO Nick Calio Delivers Keynote Remarks
Both Airlines for America (A4A) and NATCA have four-word slogans, noted A4A President and CEO Nick Calio during keynote remarks to open the third day of Communicating For Safety on Sept. 18.
A4A: We Connect the World.
NATCA: We Guide You Home.
"Four simple words," Calio said, without any indication of the difficulty of what goes into making those things happen.
"It's a reminder of the work that you do that is critical to this nation," said Calio, whose organization is the trade association for the country's leading passenger and cargo airlines. "You get planes off the ground safely. You guide flights home every single day with grace, and you take pride in what you do and it shows. You train every day. All of us at A4A are grateful for the work you do. We are grateful for our partnership in the skies and for your partnership in Washington."
Calio praised NATCA for its new focus on "Every Day is a Training Day," and said the organization's success is also due to strong leadership.
"This is probably the best time in modern history to fly," Calio said, citing the fact that 2.8 million passengers flew each day during the recently completed summer travel season. "People in this country are able to fly, and they do. At least 90 percent of Americans have flown at least one time."
Calio and NATCA President Paul Rinaldi have often appeared together over the last decade at many aviation industry events, speaking on panels, testifying before Congress, and even appearing in a video together to discuss the collaborative relationship between the U.S. airline industry and air traffic controllers to ensure passengers get to their destinations safely and efficiently. A4A spoke out against the 35-day government shutdown earlier this year and co-signed an industry letter to President Trump and Congressional leaders urging an end to the shutdown.
During testimony before the House Aviation Subcommittee in February, Calio – while sitting next to Rinaldi – echoed NATCA's long-held position that the critical need for the National Airspace System is a stable, predictable funding stream. The two organizations were side-by-side again last week when NATCA Executive Vice President Trish Gilbert and A4A Senior Vice President for Legislative and Regulatory Policy Sharon Pinkerton testified before the Senate Aviation and Space Subcommittee on the ATC system.
Calio noted the strong professionalism and pride that NATCA members showed during the shutdown.
"Controllers care about their jobs. They come to work every day, but they deserve to be paid for the job they do," Calio said. "You should be paid for what you do, and you should not go without a paycheck and living hand to fist. You're vital to our system and that's why A4A is standing with NATCA and supporting H.R. 1108 (the Aviation Funding Stability Act of 2019). The bill would authorize the FAA to draw down from the Airway Trust Fund. It would ensure that the programs, projects, and activities would continue uninterrupted in the event of a shutdown. Your team in Washington has done an incredible job educating members of Congress about this bill. There's over 250 co-sponsors.
"Shutdowns need to stop."