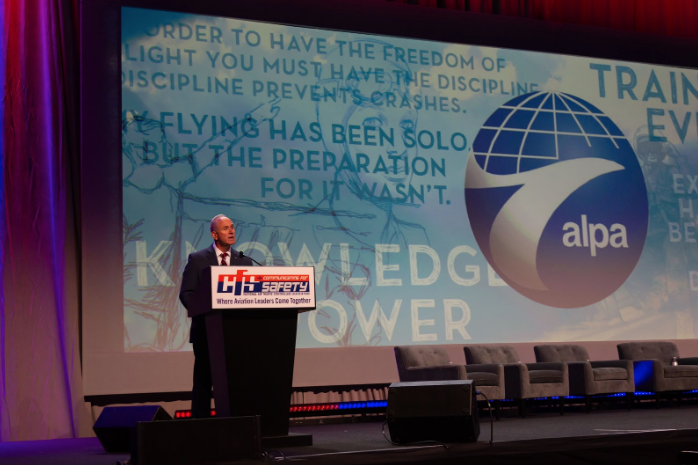 CFS 2019: ALPA President Capt. Joe DePete – Prepare for the Unknown, Unexpected, and Inconceivable
Air Line Pilots Association, Int'l (ALPA) President Capt. Joe DePete, who began his term in January, came to Communicating For Safety (CFS) for the first time and addressed the conference with keynote remarks.
"I like what I'm seeing," he said of CFS. "You have a strong member presence and tremendous enthusiasm and energy here!"
DePete was very pleased to see NATCA's new "Every Day is a Training Day" initiative because training is of paramount importance to ALPA as well. The union operates under the lifesaving value of training called "Trained for Life."
DePete relayed the story of Gene Cernan, a Navy A-4 pilot and the last man to walk on the moon, who said, "Prepare for the unknown, unexpected, and inconceivable. Sharing experiences can help us to prepare. Personally, after 50 years of flying, I'm still learning every time I fly."
"Airline pilots are constantly learning, training, drilling, and being coached," DePete said. "We are truly trained for life. We learn everywhere. We treat every situation as an opportunity for knowledge transfer. While we gain valuable information in formal classrooms, we also regard the flight deck as a classroom. And we do more to understand how we can improve safety and efficiency through flight debriefs, crew room conversations, and online resources.
"We also learn from everyone. We learn from the most experienced veterans, but also create opportunities to seek knowledge from brand-new aviators. Pilots start with the mindset that everyone involved in airline operations is connected through the heart—our passion for aviation, safety, and our profession. I believe that one of ALPA's greatest strengths is that we create a space where pilots and other aviation industry stakeholders with incredibly diverse backgrounds and experiences discover we're all connected. From there, we work and learn together. As Gene Cernan's quote implies, we can't allow decades of previous experience to mean that we stop learning."
DePete said pilots know that mitigating risk is about more than proficiency."It's about preparedness. By learning from others who share their passion for aviation safety, they train for life in these ways," he said, "Through formal programs, by learning from their industry's experience, through data, by learning from their peers, in finding new and better ways to learn, and for the future of aviation safety.
"NATCA—and each of you—are our partners in this process of training for life. Few of our passengers or cargo shippers recognize the level of qualification, intense training, and constant evaluation that we commit to as pilots and air traffic controllers. But pilots and air traffic controllers understand this commitment. We stand together—in our passion for unionism and our passion for safety."
DePete relayed the story of Apollo 10 as he complimented controllers. In May 1969, Gene Cernan was the lunar module pilot of the spacecraft, which descended within a few nautical miles of the moon's surface. The mission demonstrated that the Apollo command, service, and lunar modules would perform as expected. In a 2007 interview, Cernan told a NASA publication, "I keep telling Neil Armstrong that we painted that white line in the sky all the way to the Moon, so he wouldn't get lost, and all he had to do was land. Made it sort of easy for him."
Said DePete: "On behalf of every one of the more than 63,000 members of the Air Line Pilots Association, thank you for being the shepherds of the sky who paint a white line to guide us safely to our destinations. Thank you for being our brothers and sisters in labor. And thank you for never, ever being satisfied with what you know, for always learning more—in classrooms, radar rooms, and tower cabs.
"Air traffic controllers simply never let up in your pursuit of knowledge. And neither do airline pilots. Together, we do whatever it takes to keep our passengers, crews, cargo, and communities safe. I appreciate your having me here today and for being our partners in training for life."
Click here to view the video of Capt. DePete's remarks.
Click here to view a full transcript of Capt. DePete's remarks.