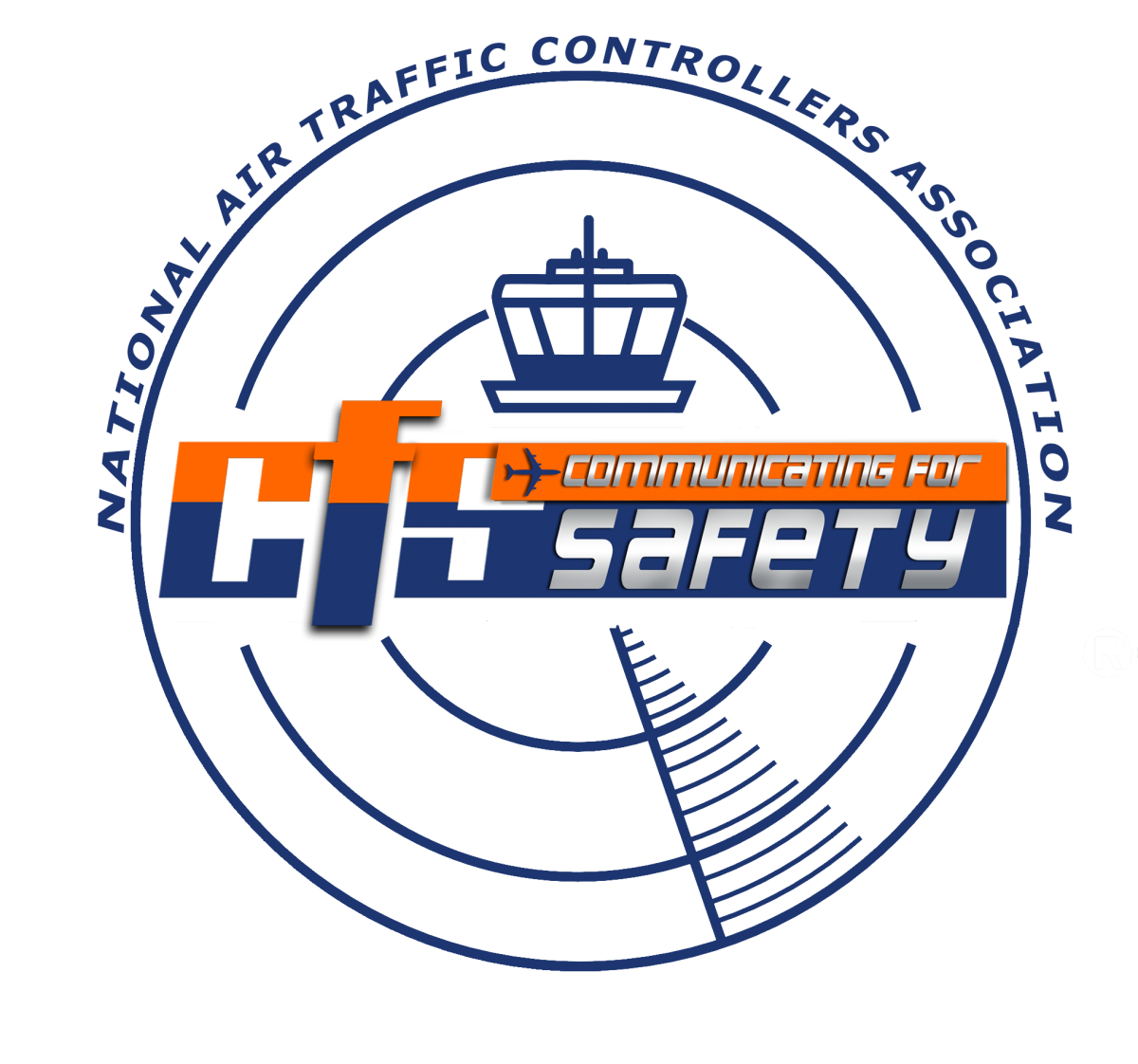 CFS 2019: Award Presentations
Congratulations to NATCA members recognized throughout CFS for their professionalism, commitment, and dedication to safety.
NATCA Charitable Foundation (NCF) Cathy Meachum Volunteer of the Year Award: NCF is celebrating its 25th anniversary, and is on its way to donating $2 million to charities across the nation. This year, the NCF leadership awarded Scott Nagy, Philadelphia ATCT (PHL), and National Office Deputy Director of Public Affairs Kelly Richardson with the NCF Cathy Meachum Volunteer of the Year Award. This award is given to an NCF volunteer who goes above and beyond in helping the foundation in all aspects. Watch video
Elena Nash Community Volunteer of the Year Award: NCF created the Elena Nash Community Volunteer of the Year Award to give NATCA gives this award to a member who is passionate about charities and giving back in their local community. This year, NCF gave its inaugural award posthumously to Crystal Joy Kendzierski, Tulsa Riverside ATCT (RVS). Crystal served the Air Force for five years and was very involved in her church. She donated blood, served on her local e-board, and was an active NATCA member for 15 years. The award was accepted by Southwest Regional Vice President Andrew LeBovidge. "Thank you all for recognizing how much she meant to her family and community," he said. Watch video

——————————————————————
OSHA Helping Hearts Award: This award is presented by NATCA's Occupational Safety and Health Administration (OSHA) Committee to a facility with 15 or more employees that has the highest percentage of people trained to use an Automated External Defibrillator (AED). OSHA Committee Chair Karena Marinas honored representatives from Providence ATCT (PVD) who were on hand to accept the award on behalf of their facility. Watch video
——————————————————————
Disaster Response Committee Award: With their first-ever award, the Disaster Response Committee (DRC) honors noteworthy responses to a natural disaster. In the days leading up to Hurricane Florence, the DRC was looking for planes and pilots to fly and assist with getting supplies to North Carolina members. Captain Steve Rhodes, a firefighter with the Wake Forest (N.C.) Fire Department and the recipient of this award, quickly volunteered and made 2-3 trips each day in his plane, and manually loaded and unloaded all the supplies. In all, Rhodes ferried 20 loads of supplies. He never stopped working to assist. Watch video
——————————————————————
Raytheon's 2019 Air Traffic Controller of the Year Award: Raytheon's Rachel Jackson and Jack McAuley presented the Raytheon 2019 Air Traffic Controller of the Year Award to NATCA Director of Safety and Technology Jim Ullmann. Ullmann has served in many roles during his ATC career and has cultivated many relationships and partnerships throughout the aviation industry. Watch video
——————————————————————
NATCA National Professionalism Award: The goal of NATCA's Professional Standards program is to maintain and promote professionalism across all of NATCA's bargaining units. NATCA members achieve that through a commitment to safety and through upholding the public's trust. They work to inspire, motivate, provide personal examples of our professionalism to others, and to maintain the highest standard of excellence. The NATCA National Professional Standards Committee (PSC) has created the "NATCA National Professionalism Award" as a means to recognize the actions of those who continually strive to achieve these goals. At each annual Communicating For Safety (CFS), the PSC will present one recipient from each FAA Service Area with a NATCA National Professionalism Award. This year, the PSP gave this award to members whose work brings honor and respect to all that they do. Congratulations to Karena Marinas (Los Angeles Center, ZLA), Dave Keifer (Indianapolis Center, ZID), and Tom Adcock (Miami Center, ZMA). Watch video
"Thank you to the people that took time out of their schedules to do this for me," Marinas said. "It's very humbling. I encourage you in the audience to do this for another NATCA brother or sister. They deserve it just as much."
Said Keifer: "I would like to thank my FacRep Marc Schneider for nominating me. You've done a great job getting more and more people involved. I feel that every day is a day to be more professional. All of us can think of a time when we could have been more professional. You are a true professional when you take the time to improve and make every day a more professional day."
Adcock said, "Thank you to the workgroup for the selection and to my brother, Steve Wallace (ZMA) for submitting my name."
Additionally, retired member Dr. Jeff Richards received an award from the Professional Standards Committee (PSC), as well as PSC Co-lead Garth Koleszar (Los Angeles Center, ZLA). Upon receiving the award, Koleszar said, "Thank you so much. It's been a pleasure serving you over this past decade. I want to thank Paul and Trish, not just for their leadership, but for their vision. Thank you for the opportunity to talk, thank you for listening, and thank you for making this the best job I've ever had." Watch video
——————————————————————
Dale Wright Award for Distinguished, Professional and Exceptional Career Service to NATCA and the National Airspace System: Named for NATCA's former Director of Safety and Technology, the Dale Wright Award honors an extraordinary, positive impact made on our ability to call the U.S. National Airspace System the world's safest. This award, first presented in 2012, symbolizes a career devoted to service to NATCA and safety. Congratulations to retired member Andy Marosvari, Garth Koleszar, Los Angeles Center (ZLA), Tom Adcock, Miami Center (ZMA), and Julio Henriques, New York Center (ZNY).
Executive Vice President Trish Gilbert said Marosvari has spent his entire career "supremely dedicated to the NAS (National Airspace System)." He served in multiple roles in his home facility of Boise ATCT (BOI), and was a member of the 7110.65 Rewrite Team, working hard on the manual that air traffic controllers use to do their job. Marosvari was also one of the founding members of the NATCA Professional Standards Committee, along with Koleszar.
"I'd always wanted to be involved, and one day I was given the opportunity," Marosvari said. "I will forever be grateful for that." Watch video
Koleszar's career began in 1991. He served ZLA in multiple roles including as FacRep from 2007-2011. He has been a NATCA Academy instructor, was NATCA's first national training representative, served as Alternate Western Pacific Regional Vice President from 2013-2014, and was a recipient of the NATCA Tim Haines Memorial Award of Honor and Distinction.
"It's truly surprising," Koleszar said. "I remember thinking I won the lottery to be a part of this profession and feeling lucky because we're different. I'd like to think as a young controller, I thought about every day and tried to think about what I could do to make a difference. I want you to imagine what you could do better each day when you go to work. What if each of you nurtured and cultivated your seed of success for tomorrow?" Watch video
Said Adcock: "This has been an amazing career and profession that we're all a part of. I am also looking forward to working for all of you in the Safety and Tech Department." Watch video
NATCA President Paul Rinaldi said Henriques would be deserving of this award just on the basis of his commitment to the Union through his 13 years as ZNY FacRep and nine years as the facility's legislative rep. But he did much more, including leading NATCA's efforts with the FAA to work to get En Route Automation Modernization (ERAM) implemented safely and successfully across the country. "He was integral in moving towards this collaborative relationship that I hope we never take for granted," Rinaldi said, adding that Henriques's efforts helped show the Agency that involving NATCA early and giving the Union ownership is the key to being successful in modernizing the system.
"Thank you to Paul and Trish for giving me the opportunity," Henriques said. "I couldn't have asked for a better career. Thank you to the hundreds of SMEs that did the hard work. They deserve my thanks; they deserve your thanks, and I accept this award on behalf of them." Watch video
——————————————————————
Steve Hansen Safety Advocate Award: Named for the Chairman of the NATCA National Safety Committee, the Steve Hansen Safety Advocate Award is presented to a NATCA member who has made extraordinary achievements and has worked tirelessly on NATCA's behalf to be a leader in furthering the cause of aviation safety. While each winner has contributed their skills, dedication, and work ethic in different ways, with varying areas of expertise, there is one thing that ties them all together: they are all passionate about safety and aviation. This award was first presented in 2011. NATCA honored Chrissy Padgett, from Washington Center (ZDC) with this award.
Padgett served NATCA as a rep on the Partnership for Safety initiative until earlier this year, continues to be a member of the National Safety Committee, and is also the Eastern Service Area NATCA rep on the Event Review Committee (ERC) of the Air Traffic Safety Action Program. She also serves on the NATCA Training Committee. NATCA Executive Vice President Trish Gilbert said Padgett was "tenacious" in her advocacy, pushing facilities to complete their monthly SAFE discussions, and also graciously and expertly supported the work of the local safety councils.
"She's one of the hardest-working members of NATCA, taking on anything asked of her," NATCA Executive Vice President Trish Gilbert said. "She quietly does most of her work behind the scenes, ensuring the i's are dotted and the t's are crossed." Watch video
——————————————————————
Excellence in Training Award: NATCA presented its first Excellence in Training Award to Tom Adcock (Miami Center, ZMA).
Executive Vice President Trish Gilbert said Adcock, NATCA's training rep since 2012 and soon-to-be Director of Safety and Technology, exemplifies NATCA's daily commitment to training and learning. Adcock also served as the training rep at ZMA for 18 years and currently leads NATCA's collaborative efforts with the FAA on developing future training for air traffic controllers. He travels often to individual facilities to brief NATCA members on training and training programs.
"I want to thank Paul and Trish for trusting me to do this job seven years ago," he said. "I want to thank many of the collaborative partners; thank you to the SMEs and the CADREs – you all have made the work easier." Watch video
——————————————————————
Beacon of NATCA Award: The Beacon of NATCA award is given to a facility that rises above and handles an emergency or disaster situation with grace under pressure. It was created to recognize those facilities that go above and beyond to perform the essential and difficult task of disaster response. The recipients of this award provide exceptional ATC services. The individuals in these facilities show incredible perseverance and inspire us. They are the beacon that guides us home and the heroes that rise above the chaos to keep the NAS running as safely and efficiently as possible. At CFS, NATCA presented this award to Anchorage ATCT (ANC), Anchorage TRACON (A11), Merrill Field ATCT (MRI), Anchorage Center (ZAN), and NATCA-represented Flight Service Stations for their response to the Nov. 30, 2018, earthquakes that struck Anchorage, Alaska, and severely damaged homes and businesses. The towers swayed violently, and members were thrown on the floor and equipment in the facilities were falling around them. It was a scary day for everyone. Most controllers kept working without knowing the conditions of their own homes. Great job members of Anchorage ATCT (ANC), Anchorage TRACON (A11), Merrill Field ATCT (MRI), Anchorage Center (ZAN), and NATCA-represented Flight Service Stations. Watch video
——————————————————————
American Airlines Award: This past summer, American Airlines ordered 50 new planes to increase up to 100 flights and reduce taxi times by two minutes, including operation initiatives. American Airlines approached Dallas/Fort Worth ATCT (DFW), Dallas/Fort Worth TRACON (D10), and Fort Worth Center (ZFW) members to help the company accomplish its goals at its airports. "The controllers have a willingness to take on challenges and make them into opportunities," said American Airlines Senior Vice President for Integrated Operations David Seymour. "Thank you for your partnership in helping make DFW the third-busiest airport in the world." Watch video
——————————————————————
James L. Oberstar Sentinel of Safety Award: NATCA created the Sentinel of Safety Award as a way to honor aviation leaders outside NATCA who have displayed outstanding achievement in the advancement of aviation safety. On Oct. 2, 2014, at its Biennial Convention in Minneapolis, NATCA proudly renamed the award to honor Congressman Jim Oberstar, who was a tireless advocate for aviation, air traffic control, and NATCA during his tenure in Congress and as the Chairman of the House Transportation and Infrastructure Committee. Congressman Oberstar died on May 3, 2014, just a few weeks before NATCA in Washington, the event he supported and attended for many years, and at which in 2005 he was awarded the first Sentinel of Safety Award.
This year's award was given to NBC News reporter Tom Costello. He has covered aviation since 2004, and even covered the very first Archie League Medal of Safety Award winners in 2005. Earlier this year, he covered NATCA during the government shutdown and the rally on Capitol Hill.
"Thank you. I was truly stunned when I received a call about this," Costello said. "I am very mindful of the people who have received this in the past and I am truly humbled. You are committed to keeping passengers safe. I am well aware of your contributions and commitment.
"We have a duty to hold the government accountable and to keep you informed of what the government is doing and how it affects American families. We have a duty to dig, demand, and persist. When 346 people die (aboard the two 737 MAX aircraft that crashed in 2018 and last March), we owe it to the families of their victims to dig and assist to hold people accountable and demand answers. It's what makes this democracy. And it should be that way. Aviation safety should not be a partisan issue and sometimes it takes a camera and the glare of the TV to hold the government accountable." Watch video