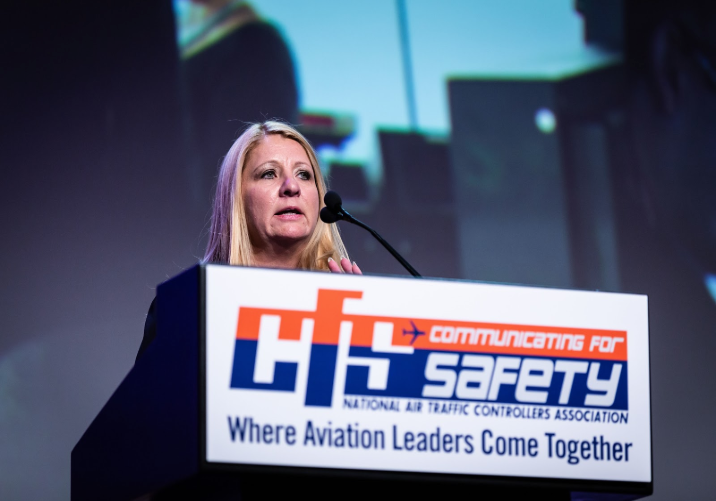 CFS 2019: NATCA Executive Vice President Trish Gilbert Offers Support to Members in Need
NATCA Executive Vice President Trish Gilbert closed Day 1 of Communicating For Safety with an impassioned speech supporting all members who are in need of assistance and outlining an array of Union-provided resources for members including medical advice to suicide prevention awareness.
"I have often said that air traffic control is not a job. It's a passion," Gilbert said. "It is who I am, how I identify myself, even though while serving in my current role as NATCA's Executive Vice President I have not moved airplanes in 10 years. I do miss working directly in the profession I love. But sometimes, things take us away from it, whether we want them to or not. Sometimes temporarily and sometimes permanently."
Gilbert noted that medical restrictions for safety critical positions are stringent, and the obligation to report is serious. "This is a worldwide issue for air traffic controllers and many other safety critical professions," she said.
She then outlined the different programs and initiatives that NATCA offers its members and included one program offered by the Federal Aviation Administration for its employees.
Selective Serotonin Reuptake Inhibitor (SSRI)
NATCA's Drug and Alcohol Committee spent the last several years working with the FAA, so the Agency'sAeromedical Office finally allows ATCs to apply for a medical clearance with special consideration if prescribed or currently taking one of four identified SSRI medications.
"Clearly it's a lot to go through and not inexpensive," Gilbert said. "But it's a path to a healthier place for those who may be diagnosed with an otherwise disqualifying condition and need to take an SSRI."
For more information about the four SSRI medications and the agreement reached between NATCA and the FAA, or you just want to talk with somebody that has gone through the special consideration process, please reach out to your RVP or the Drug and Alcohol Committee.
Article 45
In accordance with Article 45 of our collective bargaining agreement, while you are unable to perform active air traffic control duties, you can work with your FacRep to be assigned other duties. On occasion, a medical disqualification may lead you to another, non-safety sensitive position inside the Agency or a medical retirement. NATCA can help facilitate both of those.
4 Square Financial Literacy Partners
Advice regarding retirement is available through NATCA's contracted experts at 4 Square Financial Literacy Partners.
"Just like any other process that goes through multiple government agencies, this also can take some time," Gilbert said. "Currently OPM (Office of Personnel Management), the agency responsible for government retirements, is dealing with a significant case backlog and short-staffing, so packages are taking quite some time."
Office of Workers' Compensation Programs (OWCP) Committee
You have workers compensation rights in the event of an on-the-job injury or occupational illness. NATCA has training on OWCP and a national committee with regional representatives. They can help with the process when dealing with both the FAA and the Department of Labor.
UNUM Insurance
NATCA has a relationship with UNUM insurance company to provide long-term disability insurance to members. This policy is written specifically to provide coverage for members who are required to maintain a medical certificate as a condition of employment. "That's something not otherwise available on the market," Gilbert said.
Critical Incident Stress Management (CISM)
Our CISM team is available to help you. CISM is a peer-to-peer service designed to help during a post-accident time or personal crisis. Call the on-call peer coordinator at 202-505-CISM (2476). They are on call 24/7. You will reach the voicemail. Leave your contact info, and someone will return your call. Messages are kept strictly confidential. You also can reach them via email at CISM@natca.net.
Magellan/FAA WorkLife Solutions
FAA WorkLife Solutions offers support services through MagellanHealth.com/member or 800-234-1327. They offer eight sessions a year with professionals on matters ranging from beating a smoking habit, family counseling, financial problems, stress management, and work-life balance. The program is confidential unless it is evident that the individual poses a harm to themselves or to others.
Aviation Medicine Advisory Service (AMAS)
NATCA has contracted with the Aviation Medicine Advisory Service (AMAS). It is a great resource if you have questions about your medical clearance and/or medication.
RESPECT
Like in any family, our work family can come with its own challenges to our mental health. Workplace conflict can create a risk, not only to us as individuals, but to the system as a whole if there is no means to work through that conflict. That's why we created the RESPECT initiative. It's designed to establish and support a workplace that creates an environment of mutual dignity, support, and respect among all individuals who work together to protect the National Airspace System.
"Often we spend more time at work with each other than we are able to spend at home with our families," Gilbert said. "No one should be surprised that we all have to continue to double down on being there for each other on education, awareness, mutual support, and dialogue about mental well-being. That is why I am sharing options with you today."
Last, but certainly not least, Gilbert said, September is Suicide Prevention Awareness Month. NATCA is committed to continuing to do everything it can to raise awareness and lift the veil on mental health.
From now until the 2020 NATCA Biennial Convention in Houston, NATCA teams are organizing across the country to participate in the American Foundation for Suicide Prevention "Out of the Darkness" walks. The NATCA Charitable Foundation has graciously committed to donating $10,000 to this year's efforts.
"You know, people don't like talking about mental health and suicide," Gilbert said. "However, we need to change that. Our NATCA Family has lost too many members to suicide. Talking to you about this today from this stage is outside my comfort zone, but it is important. We as, NATCA Brothers and Sisters, must band together and remind everyone that we are here for them.
"What we must do is continue to establish a work environment that is safe, inclusive, and supportive in giving each of us the opportunity to share our struggles and challenges. All of us — working together — can make things better for each other. Be there for each other and be kind to each other. The one thing we can't get back is another member lost to suicide."