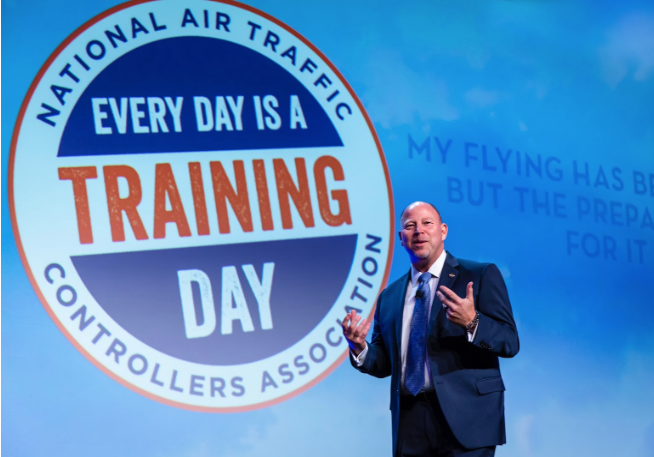 CFS 2019: NATCA President Paul Rinaldi Welcomes Attendees to CFS
NATCA President Paul Rinaldi welcomed a crowd of more than 1,500 to Communicating For Safety (CFS) on Sept. 16. He talked about CFS being the place where NATCA takes a stand for safety because aviation safety is the cornerstone for everything our members do as aviation safety professionals. "The commitment we have to aviation safety is second to none," said Rinaldi.
One of the goals every year at CFS, he said, is to accept the challenges that arise to change the aviation culture. Over the years, NATCA has rolled out numerous initiatives. Said Rinaldi, "we make the right decisions for the right times for the safety of our NAS (National Airspace System). That's truly why we're here."
Aviation safety has been pretty safe around the U.S., Rinaldi continued, but it has not been the same feeling around the world. In speaking about the Boeing 737 MAX crashes, Rinaldi said, "this is why we never say we are good enough, or when we are fully trained. It's a reminder that technology alone will never keep a safe system; but it's the human being that will enhance the safety of the system."
With the theme of this year's CFS, "Every Day is a Training Day," Rinaldi told the audience that this is a challenge to all aviation safety professionals, keeping in mind that safety is always the most important thing. "We are not trained just to get it right; we are trained to never get it wrong," he said.
Rinaldi said that in the past, "we looked at training as a negative." Years back when controllers had an error, they were pulled off the boards and given remedial training. It was a way to shame someone in front of their colleagues, he said. In the past, training was used as a weapon. But all that changed in 2009, when NATCA and the FAA worked together to shift the ATC work environment to a safety culture, starting with the Air Traffic Safety Action Program (ATSAP). ATSAP helps resolve safety issues, while simultaneously protecting employees from punitive or disciplinary actions, as a result of reporting errors that could impact safety, provided those errors are not the result of gross negligence or illegal activity.
But now, Rinaldi added, everyone is held accountable to a higher level of standards, and the culture and perception of training still needs to shift. "We are all the FAA. When something is broken, we all roll up our sleeves, work together, and get things done to fix the situation," he said.
Rinaldi told the audience that they need to make every day a learning day and every day a training day. He shared the example of The University of Virginia, labeling their students as first year, second year, third year, and fourth year students, as opposed to freshmen, sophomores, juniors, and seniors. The reason is that the university didn't want its students to think that after their fourth year, their learning and training was complete.
In the same way, as aviation safety professionals, "we can only get by with substandard training until it catches up to us," Rinaldi said. Ok is not okay, and the "good enough" mentality is the enemy of being great.
Rinaldi encouraged the attendees to make training a habit, and not just an act. He challenged them to take on their own training, if they don't believe the training they're receiving is adequate enough. "You need to be prepared when things don't go as planned and make the impossible look routine," he said. "Your commitment is key. Talent alone will not make you great at your profession, but your practice combined with your talent will make you great."
Rinaldi concluded his welcome by challenging the audience to change the aviation culture. He wants NATCA and all of our members to shift and embrace training, develop training, and take ownership of training. "I have high hopes that every one of us that plug in, start the future today to train like a professional," he said.
Below: View the video of Rinaldi's presentation.