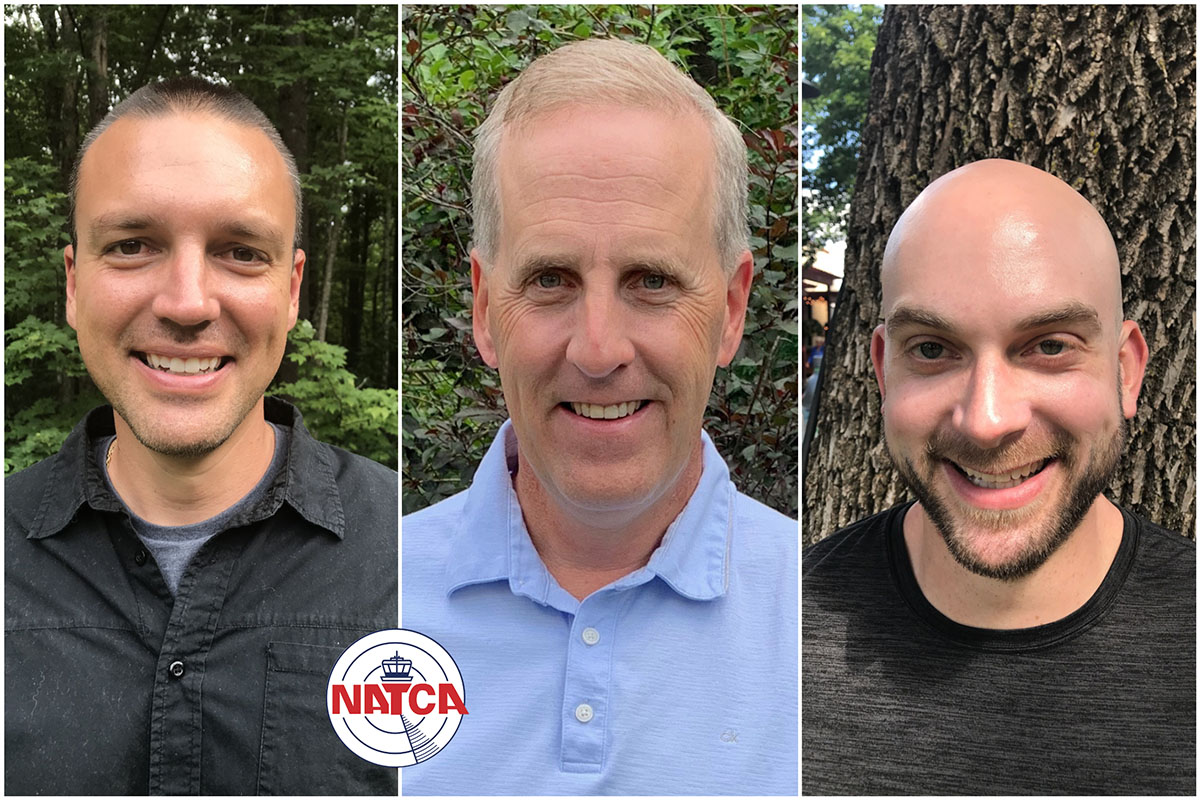 New England Archie League Award Winners Jeffrey Aulbach, Neil Cóspito and Michael Jacobson
New England Region
Jeffrey Aulbach, Neil Cóspito, and Michael Jacobson
On a snowy Tuesday afternoon, Nov. 20, 2018, Boston Center (ZBW) air traffic controller Neil Cóspito was working low altitude airspace over northern Vermont and New Hampshire.
Cóspito was working an F-16 (VENOM01) from the 158th Fighter Wing of the Vermont Air National Guard, based in Burlington, Vt. The jet had been holding outside of Burlington (BTV) due to poor weather conditions. The weather spanned from the Canadian border down through the Catskill Mountains in southeastern New York and over to the Atlantic coast. It didn't appear to be improving.
Cóspito searched the region for airports with suitable weather conditions. The pilot of VENOM01 informed Cospito that he would be diverting to Syracuse, N.Y. (SYR). Cóspito cleared the aircraft direct SYR and issued a climb clearance. He asked the pilot on his estimated time en route and his fuel remaining. The pilot replied, "15 minutes en route and 15 minutes of fuel."
After the pilot told Cóspito his ETA and fuel remaining were the same, Cóspito knew that this was an emergency aircraft. It was considered that when Cospito handed off the aircraft to fellow NATCA ZBW members Jeff Aulbach and Mike Jacobson, who were working busy airspace over northern and central New York. Aulbach was also working a flight of two KC-135 tankers (BISON21) which were maneuvering in a refueling track to eventually rendezvous with another receiver. Jacobson worked the D side when Aulbach took the handoff and did all coordination with SYR to ensure the weather was suitable to send VENOM01 there.
Aulbach asked VENOM01 if he would like to rendezvous with the tanker on his way to SYR and asked the tanker flight if they would be able to assist the fighter with refueling. At this point, the fighter was in an emergency fuel situation.
"I don't know if we could arrange that, if you can, or if you want, be interested in getting a little refuel prior to going to Syracuse," Aulbach asked.
"Yes!" came the immediate and resounding reply from the fighter pilot.
Aulbach then provided intercept vectors to the tanker and relayed vital communications and position information to both aircraft.
VENOM01 would have one shot to make an approach and landing at snowy SYR. A successful approach was not a sure thing, with the SYR weather not that much better than anywhere else in the Northeast. "It was my opinion that the emergency refueling was the best option over a risky approach in marginal weather," Aulbach said.
After BISON21 and VENOM01 joined together to refuel, the pilot of BISON21 informed Aulbach and Jacobson that the flight would need to stray out of the refueling area to ensure that VENOM01 would successfully "get on the boom." The flight strayed into a busy flight corridor between Utica and Albany, N.Y., causing several flights to be vectored away from the emergency aircraft. Jacobson assisted Aulbach by coordinating with adjacent sectors about the flight.
After the refueling, BISON21 stayed in the area (BISON22 left to return to Niagara Falls) until VENOM01 made a successful landing at SYR.
The VENOM01 pilot expressed his appreciation.
"Thanks for your help today," he said. "That was a nice job with getting that tanker involved."
"VENOM1 no problem, my pleasure," Aulbach said.