NATCA Honors the Life and Legacy of Martin Luther King Jr.
---
---
---
Brothers and Sisters: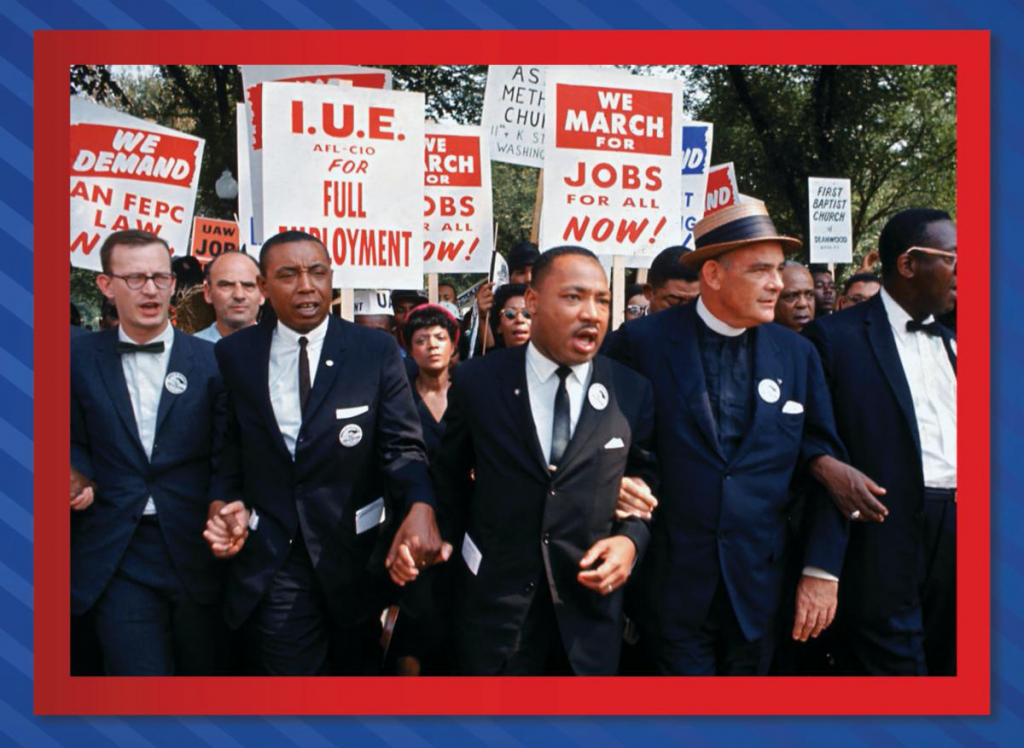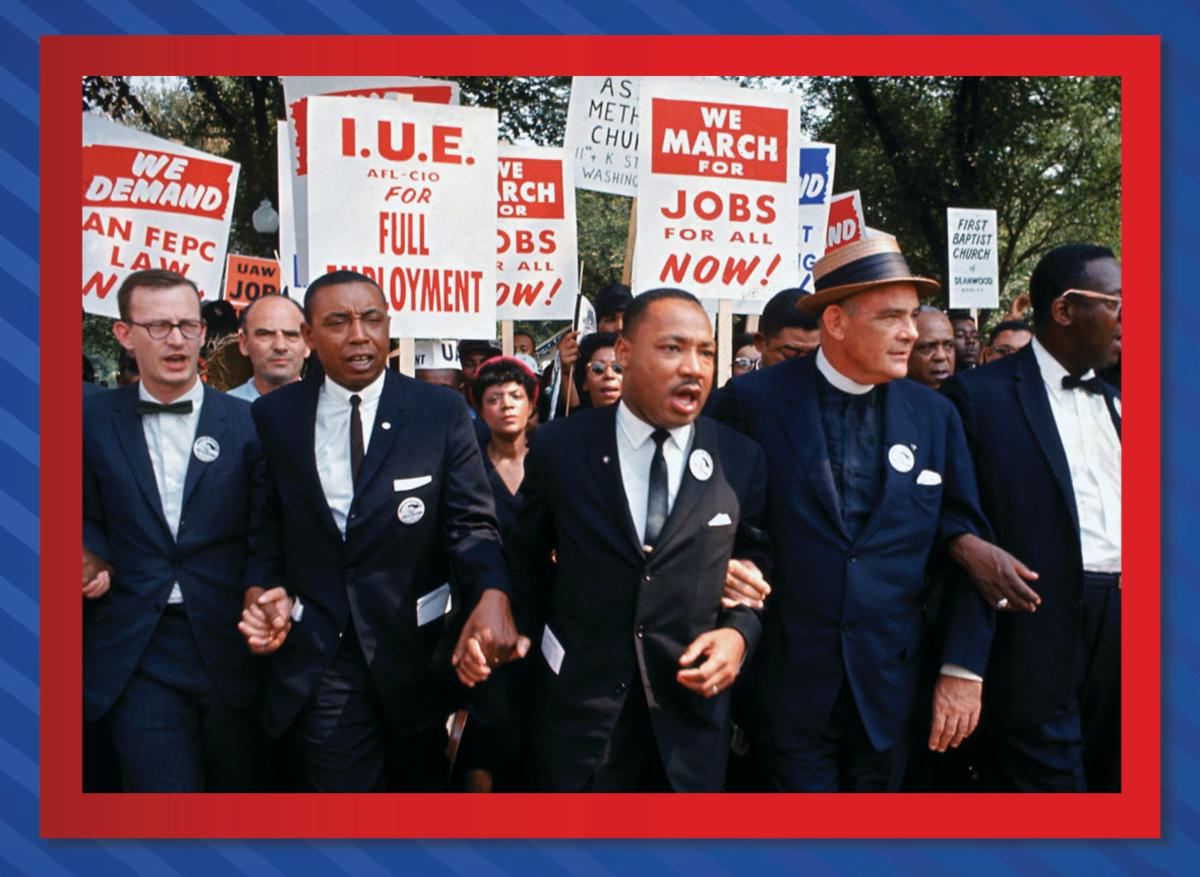 On this day, as our nation memorializes the life and legacy of Dr. Martin Luther King, Jr., it is important for us as union members to honor his service, not just as one of our country's great civil rights leaders, but also as a champion for labor unions, the right of workers to organize, and fair wages for working men and women. Dr. King was committed to building bridges between the civil rights and labor movements. In an address he gave to the AFL-CIO's annual convention in 1961, he observed, "[The civil rights movement's] needs are identical with labor's needs: decent wages, fair working conditions, livable housing, old-age security, health and welfare measures, conditions in which families can grow, have education for their children, and respect in the community." At the time Dr. King was assassinated in 1968, he and other civil rights leaders were planning a second march on Washington that would call for an end to racism and poverty.
Dr. King spent his last days in Memphis, Tenn., fighting racial inequality and economic exploitation. He marched with sanitation workers, who had been organizing for years despite resistance from the city's leadership. Speaking to a crowd in Memphis in 1968, Dr. King said, "Along with wages and other securities, you're struggling for the right to organize. This is the way to gain power."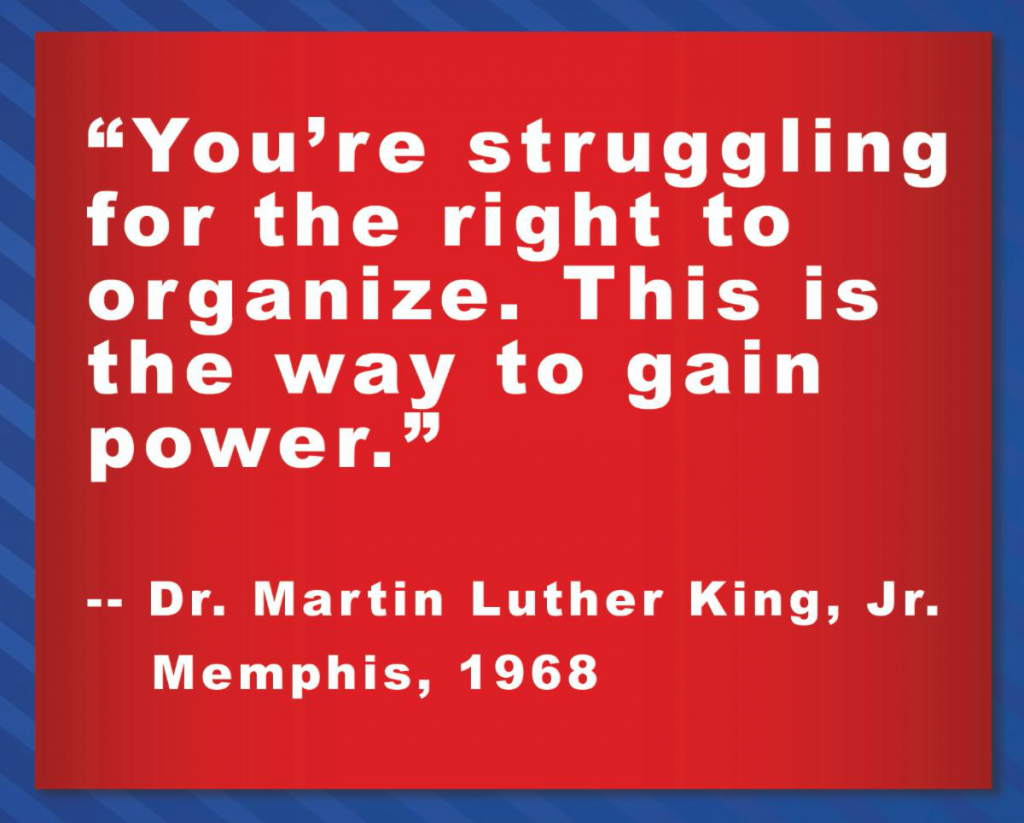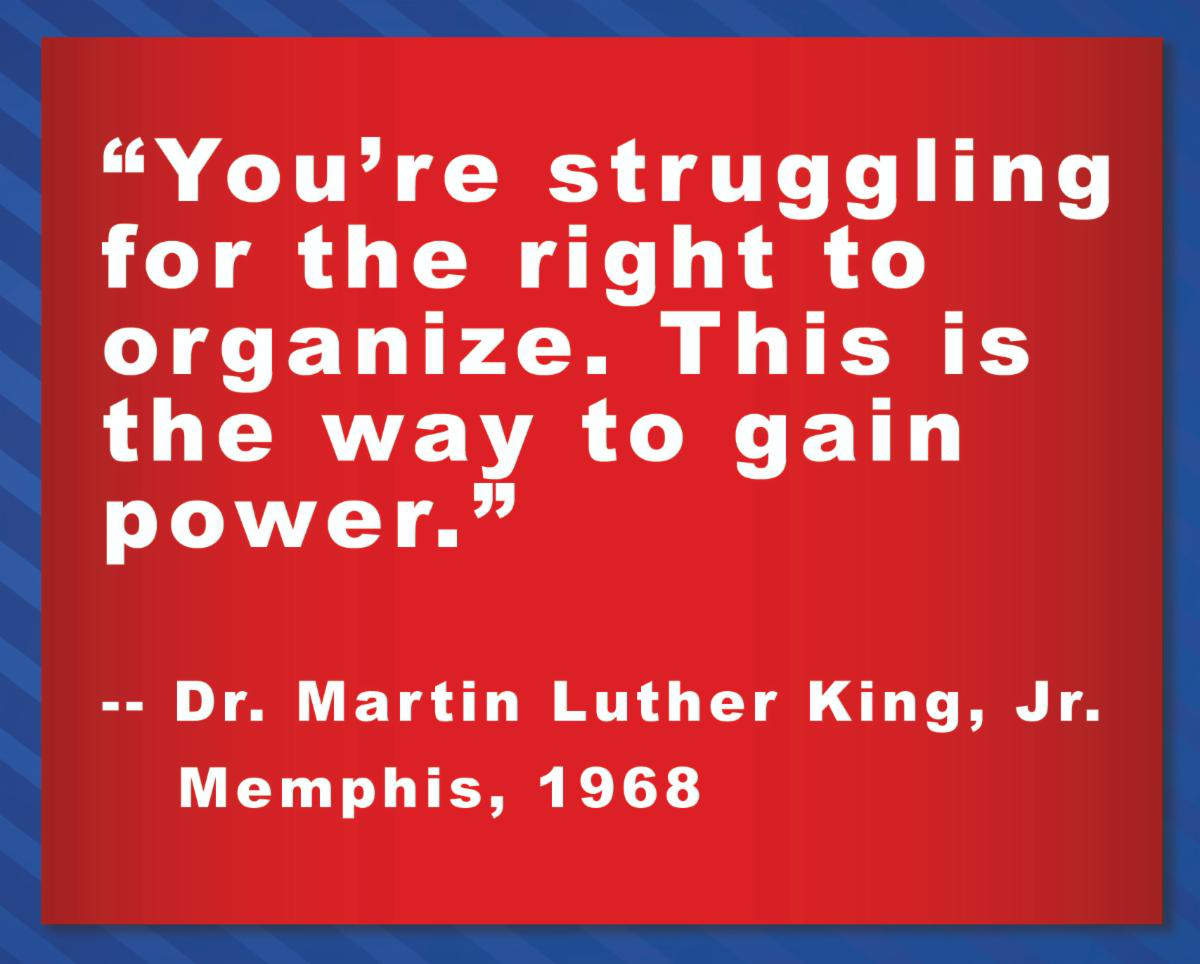 NATCA members know that organizing is essential for working men and women to gain power. Our Union has one of the highest membership rates of any federal union. We continue to grow our membership and increase our influence. Our Union just completed one of the most successful membership drives in our 33-year history. In recent months, through local organizing we added more than 600 new members and welcomed eight new locals.
Every day, the members of our great Union demonstrate the passion that Dr. King called for as we fight for fair wages and benefits and the necessary working conditions to maintain a safe National Airspace System. NATCA has a very active and successful legislative program, in which we advocate on behalf of the more than 20,000 bargaining unit employees that we represent. Our Union's activists ensure we are heard loud and clear in the halls of Congress. By standing together in solidarity as union members to fight for the aviation safety professions we represent, we honor the legacy of Dr. King and the sacrifices he made.
In addition to following the leadership of Dr. King regarding union organizing, NATCA members also demonstrate a shared commitment to his vision for equality. In 2019, we announced the creation of the Union Synergy Committee that will work to recognize and address the effect of bias on the work culture and climate amongst all NATCA's safety professionals and promote and maintain a union that is inclusive of all members and thrives on the talents of our diversity.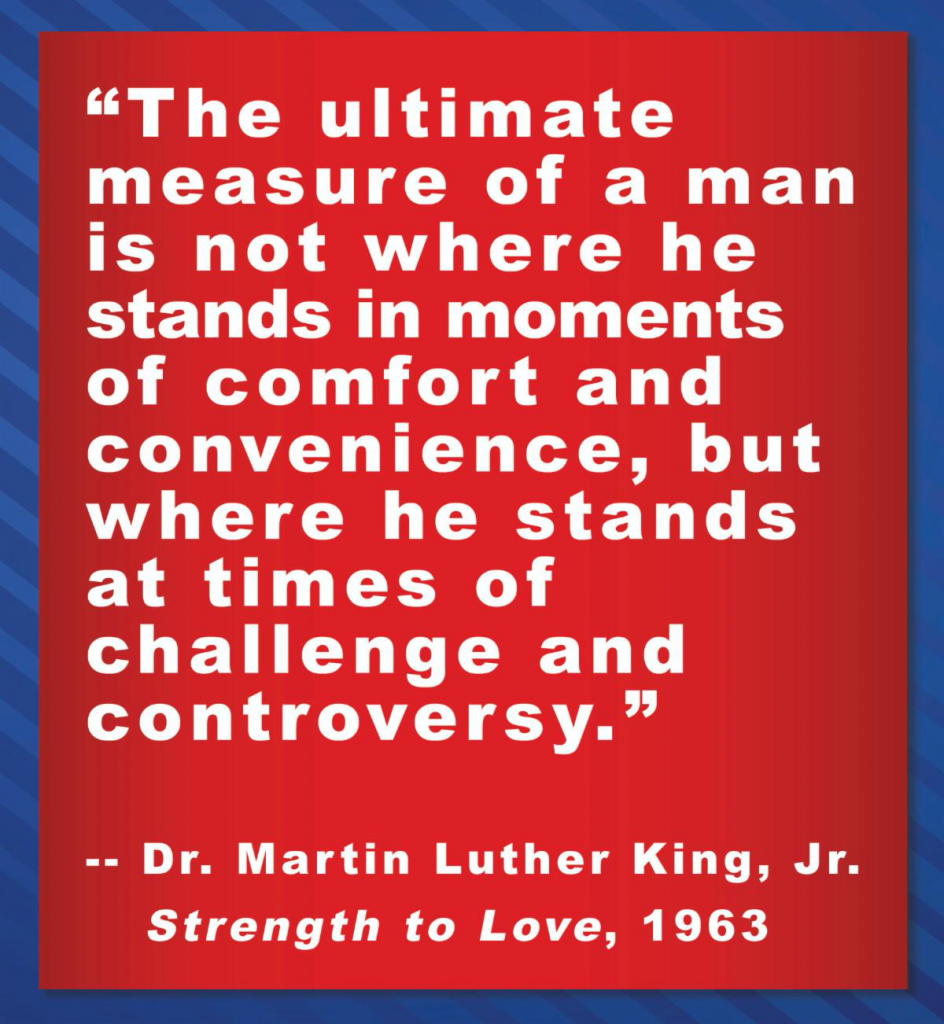 Maurice Spivey, chair of Memphis' chapter of the American Federation of State, County, and Municipal Employees (AFSCME) – the union that today represents the Memphis sanitation workers – has talked about how there is still work left to be done to achieve Dr. King's vision for the men and women represented by his union. Spivey has said, "[Since 1968, for Memphis sanitation workers,] a whole lot has changed. But a whole lot has stayed the same." We agree with Mr. Spivey that there is much work left to do to achieve Dr. King's vision for full economic and racial equality. In recent months, NATCA has achieved notable legislative victories, but we still face very large advocacy challenges. The 2020 election presents our members with a great opportunity to vote for leaders who support fair wages and the right for workers to be fairly represented by a union. NATCA will be encouraging our members to register to vote and make sure our collective voice is heard.
In his book of sermons Strength to Love, Dr. King said, "The ultimate measure of a man is not where he stands in moments of comfort and convenience, but where he stands at times of challenge and controversy." In solidarity, we rise to the challenges we face. Together, we can embrace the legacy of Dr. King and continue to grow our Union and advocate for our NATCA brothers and sisters.
On MLK Day 2020, we not only honor one of the greatest heroes of American history, but we also express our thanks to all of you who do so much to make our Union as great as it is. For those of you who currently aren't active NATCA volunteers, let the 2020 MLK National Day of Service motivate you to get more involved with our Union and in your community.
In Solidarity,
Paul Rinaldi, NATCA President
Trish Gilbert, NATCA Executive Vice President