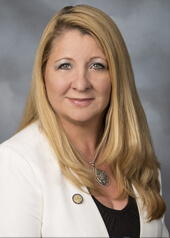 NATCA EVP Discusses Paid Parental Leave Updates During Child Care Telcon
NATCA Executive Vice President Trish Gilbert and Article 114 National Child Care Rep Jennifer Malloy participated in a child care teleconference discussing issues about the FAA nursing mothers program, the child care subsidy program, child care centers near or in FAA facilities, and an update on the recently passed paid parental leave legislation. All of these programs are Agency-paid benefits for full-time employees and managers.
Gilbert spoke to those on the call about the Federal Employee Paid Leave Act and the loophole in the language that excluded FAA employees, as well as several other federal agencies and its employees. She described the steps NATCA is taking to ensure the legislation incorporates FAA employees going forward.
"The problem is," said Gilbert, "to get the language corrected means we will have to pass new legislation, which is difficult. But we are pressing forward and working on legislation in three different areas. First and foremost, we need legislation that is bipartisan, from both Republicans and Democrats, in order to get it passed more easily through Congress. And we have bills that have been introduced since the new year."
Gilbert talked about H.R. 5431 introduced by Rep. Alcee Hastings, D-Fla., and Rep. Tom Cole, R-Okla.,which would cover only FAA employees. Second, legislation from Sen. Roger Wicker, R-Miss., S. 3079, would cover TSA and FAA employees. Third, Sen. Chuck Schumer, D-N.Y., introduced S. 3104, which would cover all federal workers that were not covered in the initial piece of legislation. Any of the three bills mentioned would need to be attached to another piece of legislation that might be moving through Congress during 2020.
Additionally, NATCA is working on getting a commitment through the White House, the Department of Transportation (DOT), or the FAA itself to provide the paid parental leave provisions to the FAA workforce, being that the intent of Congress and the White House was to have it for the entire federal workforce, regardless of the technical issue that prevented that from occurring.
"The concern for us is that we want this new legislation passed sooner rather than later ," Gilbert said . "We don't want our workforce to be covered after Oct. 1, after the rest of the government workforce is covered. We have approached the FAA and asked that we start moving forward to implement this legislation as if we were covered by the law, because it does take work and time and cannot be enacted overnight."

Despite the uphill battle, Gilbert said, "We will continue to work all angles through the White House, Congress, and the DOT to be able to fall in line with the rest of the federal workforce on Oct. 1."
The Federal Aviation Administration (FAA) WorkLife Program sponsors these teleconferences and provides the FAA workforce with resource and referral services to promote work life balance and assist with employee resilience. The FAA child care program at FAA is a valued WorkLife service that enhances the family and strengthens the workforce. There will be monthly FAA family resource program webinars in 2020 discussing various topics. Click this link to sign up for emails about upcoming topics. For questions, contact Jennifer Malloy at FedChildCare.NATCA@gmail.com .