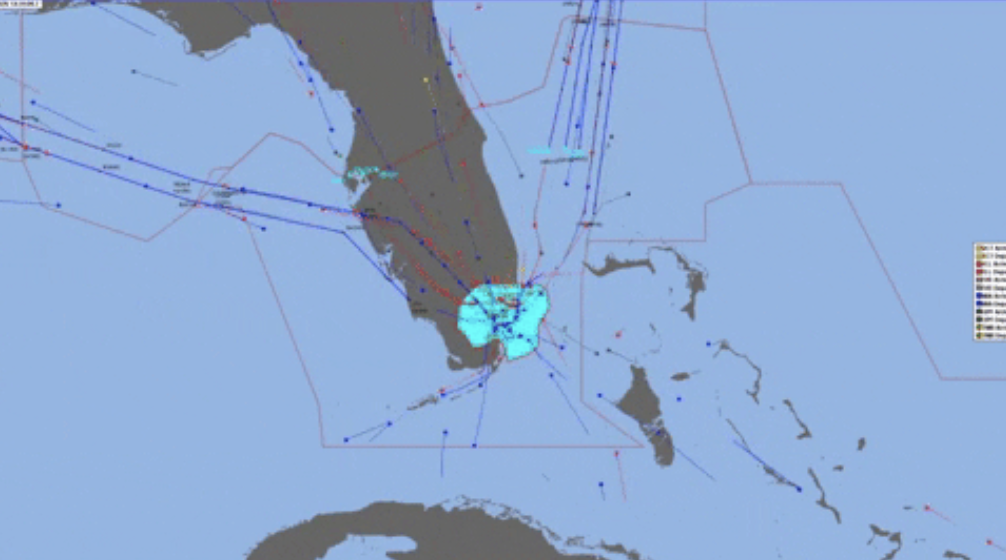 South Florida Members Welcome in the Aviation Traffic for Super Bowl LIV
NATCA-represented air traffic controllers, traffic management coordinators, and staff specialists in South Florida worked heavy traffic levels not seen in many years for one of the biggest challenges of their careers — safely and efficiently handling air traffic for Super Bowl LIV.
Both the week prior to the Feb. 2 game in Miami Gardens, Fla., and in the days following, the NATCA team performed as well in the clutch as Super Bowl MVP quarterback Patrick Mahomes of the victorious Kansas City Chiefs.
"The members collaborated with multiple entities and have been the professionals that we have come to expect," said NATCA Southern Regional Vice President (RVP) Jim Marinitti. "I am incredibly proud of their work ethic and showing how big things can be accomplished when we work together."
Added NATCA Southern Alternate RVP Jason Arnold, "The South Florida and especially Miami-area FacReps have been integral in leading their facilities to successfully handle this event."
The teamwork that was on display just didn't happen overnight.
"For the past four months we've been working to optimize our operations together," Miami Center (ZMA) FacRep Tom Flanary said. "Every facility in South Florida, everybody was in the loop. It became a natural thing to have a weekly teleconference, and that lent itself to a more collaborative group, so if they needed something or we needed something, we could all be more responsive."
The weekly teleconferences included all of the South Florida facilities, including Federal Contract Towers (FCTs), Fort Myers ATCT (RSW) and Tampa ATCT (TPA). Miami leadership included TPA in anticipation of Tampa hosting Super Bowl LV in 2021. Many pilots chose to fly into RSW and drive to Miami to avoid the flight restrictions that are necessary for an event of this magnitude.
"I applaud MIA and the surrounding facilities for thinking outside the box to ensure that all South Florida facilities knew and understood the procedures that would impact the Super Bowl traffic," Arnold said.
ZMA saw an increase in operations the week leading up to the Super Bowl and three to four days afterwards.
"We got together and made it happen," said Flanary. "We did something totally different for this event than we've done previously. Our new processes helped us with clearing airplanes faster on a more standardized flow."
Miami ATCT (MIA) FacRep Narciso Torres attributed the successful operation to the collaboration among all the facilities and entities involved, and said that Monday, Feb. 3, was MIA's busiest IFR operation day since 2007. MIA predicted that more than 4,500 operations would be handled that day.
"Success was achieved through the great support from our adjacent facilities, and of course through collaboration with the Agency and our industry partners," Torres said. "A lot of outreach was also done to the users to include flight schools and other entities."
"We didn't have a single VFR pop-up request, and that is really unheard of for these types of events," Flanary said. "The reason behind that was that all the towers were on board with the plan and they all understood what we needed."
Opa Locka FCT (OPF) FacRep Brian Wells said, "We had all the private jets coming to our airport, over 500 planes. That's at least a 20 percent increase in IFR traffic. We had to close every taxiway and one runway for overflow parking. On the Monday after the Super Bowl, we had 433 arrivals and departures, mostly departures. And we successfully managed all this traffic with four certified controllers, three trainees, and one manager.
"It was a challenge, but it was easy thanks to our brothers and sisters at Miami TRACON," Wells said. "Once we got clearance for auto-releases, we were able to get our 433 departures out on Monday a lot faster."
Flanary said ZMA had planned for more traffic on Sunday night during the midnight shift than ended up happening, so the facility was really inundated with traffic on Monday.
"The flow was really good. It was considerable all day Monday and again on Tuesday," Flanary said. "We moved some airplanes, that's for sure."
"It was the epitome of teamwork and collaboration," Marinitti said. "I was incredibly impressed by how so many different entities came together to make things appear seamless. Our workforce should be proud."