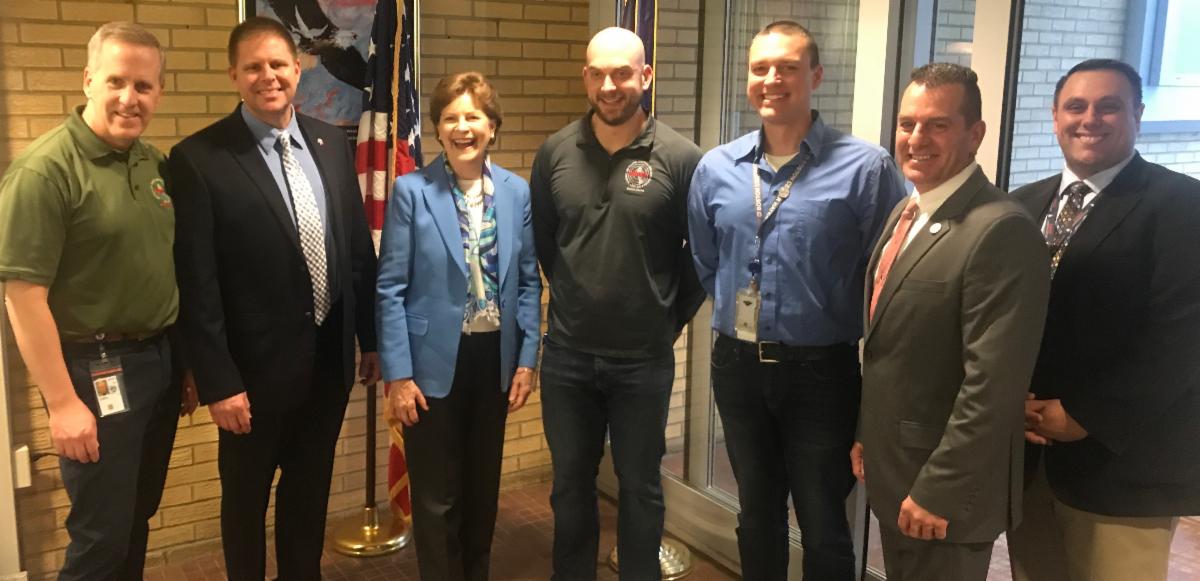 Senator Honors Boston Center Members' Heroic Actions in Congressional Record
On Thursday, Feb. 6, New Hampshire Senator Jeanne Shaheen presented Boston Center (ZBW) members Jeff Aulbach, Neil Cóspito, and Michael Jacobson with a statement she recently put in the Congressional Record (click on image to the right to view) that honors their actions during a Nov. 20, 2018 save that also earned them the 2019 New England Region Archie League Medal of Safety Award at NATCA's Communicating For Safety conference.
Shaheen made the presentation during an event at ZBW with friends, family, and co-workers. Several New Hampshire and Boston news media outlets were also present.
"This is an incredible story," Shaheen said. "Today, I was honored to present these controllers with a statement I put in the Congressional Record that honors their heroic actions. Their courage, calmness, and quick thinking will now be recorded in history."
(Pictured left to right: Boston Center (ZBW) member Jeff Aulbach, Boston TRACON (A90) FacRep and New England Region (NNE) Alternate Regional Vice President Curt Fischer, New Hampshire Senator Jeanne Shaheen, ZBW members Michael Jacobson and Neil Cóspito, ZBW FacRep Fred Romani, and A90 member and National Legislative Committee NNE Representative Andre Jean.)
The three members were tracking an F-16 from the Vermont Air National Guard, piloted by Lt. Col. Nate Smith. Poor weather prevented Smith from landing at his home base in Burlington, Vt. With only 15 minutes of fuel left, Aulbach, Cóspito, and Jacobson quickly came up with a plan and were able to divert a flight of KC-135 refueling tankers to Smith for a mid-air refueling. After the F-16 refueled, they safely guided the plane to an alternative landing location in Syracuse, N.Y., preventing a disastrous outcome. Read more. Watch save.
"What a great day for NATCA, ZBW, Jeff, Neil, Mike, and all air traffic controllers," ZBW FacRep Fred Romani said (pictured left with Senator Shaheen). "Honor, pride, professionalism and accomplishment was the theme for Thursday afternoon. For Jeff, Neil, and Mike to not only be recipients of the highest award given to air traffic controllers, but to be recognized by Senator Shaheen and the state of New Hampshire was amazing. Anytime controllers get to talk about what we do, day in and day out, and share with such esteemed guests such as Senator Shaheen and her staff, it's a great day.
"The Senator and her staff were all such a joy to work with. They were all so appreciative of how accommodating and professional we are as controllers. What a great honor it was to represent not only ZBW NATCA local, Jeff, Neil, and Mike, but for a moment, be the face of this great Union and all its members. The professionalism of all involved was above and beyond the call of duty. The personal pride I feel is difficult to put into words. So proud of our Union, its members, our profession, and the great men and woman that keep the skies safe each and every day."
See coverage of the meeting and honor:
Senator Shaheen Social Media:
Instagram | Facebook
Twitter, part 1 | Twitter, part 2
Media Coverage:
WBZ-TV Boston | WMUR-TV Manchester
Union Leader (Manchester)