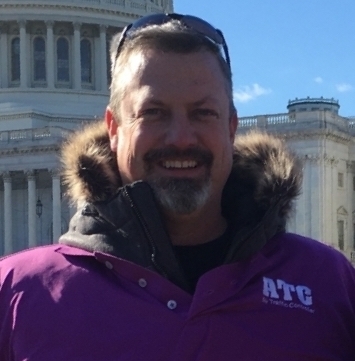 Brad Davidson Assumes Region X Vice President Position as of January 1
In accordance with Article IV, Section 7 of the NATCA Constitution, Brad Davidson, P.E. (Engineer, EGL) was appointed by the NATCA President and approved by the NEB to be the Region X Vice President (RVP). Brad assumed the responsibilities as RVP as of Jan. 1.

Brad Davidson has been with the FAA since 2003, working for the Airports Division in Detroit. Brad is an Environmental Protection Specialist and has held duties as a community planner, program manager, passenger facility charge specialist, and state block coordinator.
Brad answers several questions below:
When did you join NATCA and what roles have you had?
After working at the FAA for several months, I was approached by our local representative, who educated me about NATCA. I joined in 2004. My first role in NATCA was as the Detroit Airports District Office local representative. Being involved at the local level and being exposed to NATCA's national efforts from our then RVP Mike MacDonald inspired me to become more involved. I have been the Airports Division Representative since 2016, and it has been extremely rewarding to represent the hard-working professionals in airports that are located all around the United States. With the new decade comes new challenges and being appointed as the Region X RVP is truly an honor.
What inspired you to take on leadership roles in NATCA? How did your first role help you to understand what being active was about, and inspire you to take on additional roles throughout your career?
I first became involved as the local representative because I witnessed first-hand many of my peers being overlooked for promotions, raises, and superior performance recognition. It was readily apparent to me that many of my peers needed an active voice and an advocate on their behalf. Additionally, local management was clearly overstepping their bounds with the implementation of our collective bargaining agreement (CBA) and picking and choosing, like ordering off a menu, the articles they wished to recognize. We clearly needed someone to push back, and I was ready to fill that role. Once you become involved and active in NATCA, you get to see a much larger picture of the influence and power of our Union. Attending NATCA in Washington and Communicating For Safety really opened my eyes to the professionalism of the organization, our focus on all of our professions, and the vision for the future.
What are the biggest issues that your fellow Region X members talk about? How do you plan to address their concerns?
Region X is extremely diverse in the professional disciplines we all fulfill for the Agency. That diversity is both an asset and a challenge from a representation standpoint. We have many localized issues, line of business challenges, and national items that need to be addressed. To put this in context, we have approximately 120 different work codes for our professional roles with the Agency.
Similar to any labor/management relationship, we experience management overreach and control issues. Many issues can be overcome through the education of what the CBA actually has agreed to and the intent of each article. Some of Region X's issues include allowing our members to work flexible work schedules, empowering the employees to do their jobs without being overly micro-managed, and in many cases, management that does not have the education or experience to understand what our workers' jobs truly entail. Many of the issues in Region X that need to be addressed will be best served by increased collaboration with the Agency and holding both our membership and FAA management accountable to fulfilling our obligations for the CBA.
What goals do you have as you serve as RVP and represent your region?
We all are witnessing very troubling actions being taken against other unions in the federal government. The current CBAs between NATCA and the FAA for the Region X membership are set to expire in July 2021. My main focus as it relates to the CBA is being fully prepared as a collective body to address the challenges or potential opportunities that we will face during our future negotiations. In order for Region X and NATCA to be fully successful in this effort, our membership in Region X must be as strong as possible. Continuous education of the workforce and recruiting new members is vitally important to our collective future.