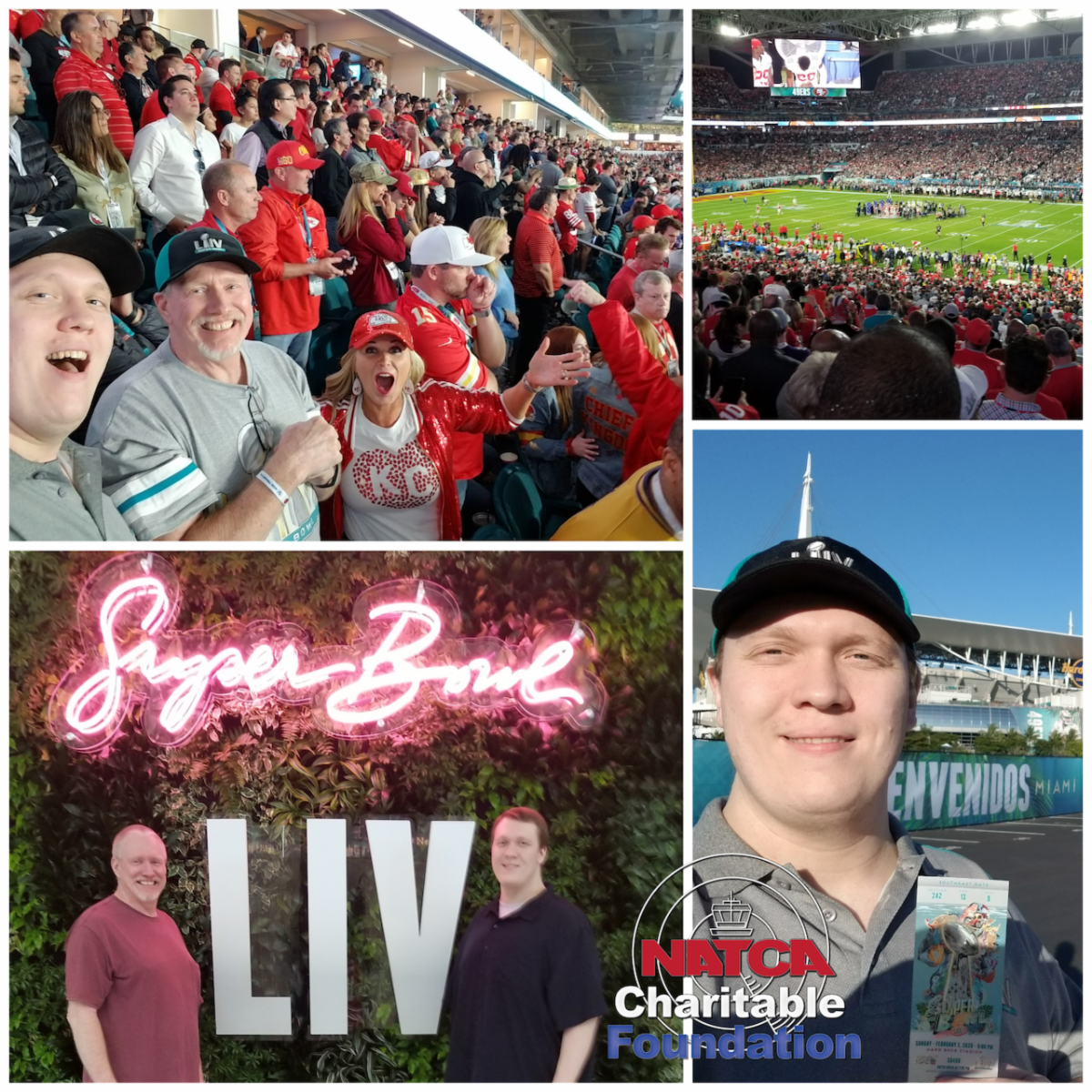 Winner of the NCF Super Bowl Tickets Shares His Experience
NATCA Portland TRACON (P80) member Marcus Worthen, winner of the NATCA Charitable Foundation's (NCF) Super Bowl raffle package, had never been to a professional football game before he took his dad as his guest to watch the Chiefs seal their first title in 50 years at Super Bowl LIV.
"It was an amazing experience and I'm very glad I seized the opportunity to give to NATCA Charitable and the chance to win it," Worthen said. "I was able to get time off and I took my dad with me to Miami. He was ecstatic that we got to go."
The raffle raised $17,850 for NCF and will go back to our #NATCAfamily's local communities through the foundation's work. As part of his prize package, Worthen won two tickets to the Super Bowl, a three-night hotel stay, and two tickets to the NFL players pre-game tailgate party, which was Worthen's favorite experience besides the game itself, "which was unbelievable," he said.
"There was a great outdoor area that included open bars and several food carts that were catered by celebrity chefs like Guy Fieri and the food was phenomenal," Worthen said. "The main stage featured ESPN SportsCenter host Sage Steele interviewing NFL players about their experiences and of course the Super Bowl itself. The atmosphere and energy with all of the people was absolutely electric and was a perfect way to get hyped for the game.
"I really appreciate everyone that was involved with the raffle and helping me in Miami. NATCA, the NATCA Charitable Foundation, of course, and John Glynn from Union Labor Works."
"Overall it was one of the coolest and most exciting things that has happened to me."
NCF continually seeks out programs and areas of need that are being overlooked or under-funded in order to make the most of donated dollars. NCF's 100 percent volunteer organization has maintained an operating expense ratio below 5 percent since 1998. Donate today: https://squareup.com/store/natca-charitable-foundation.