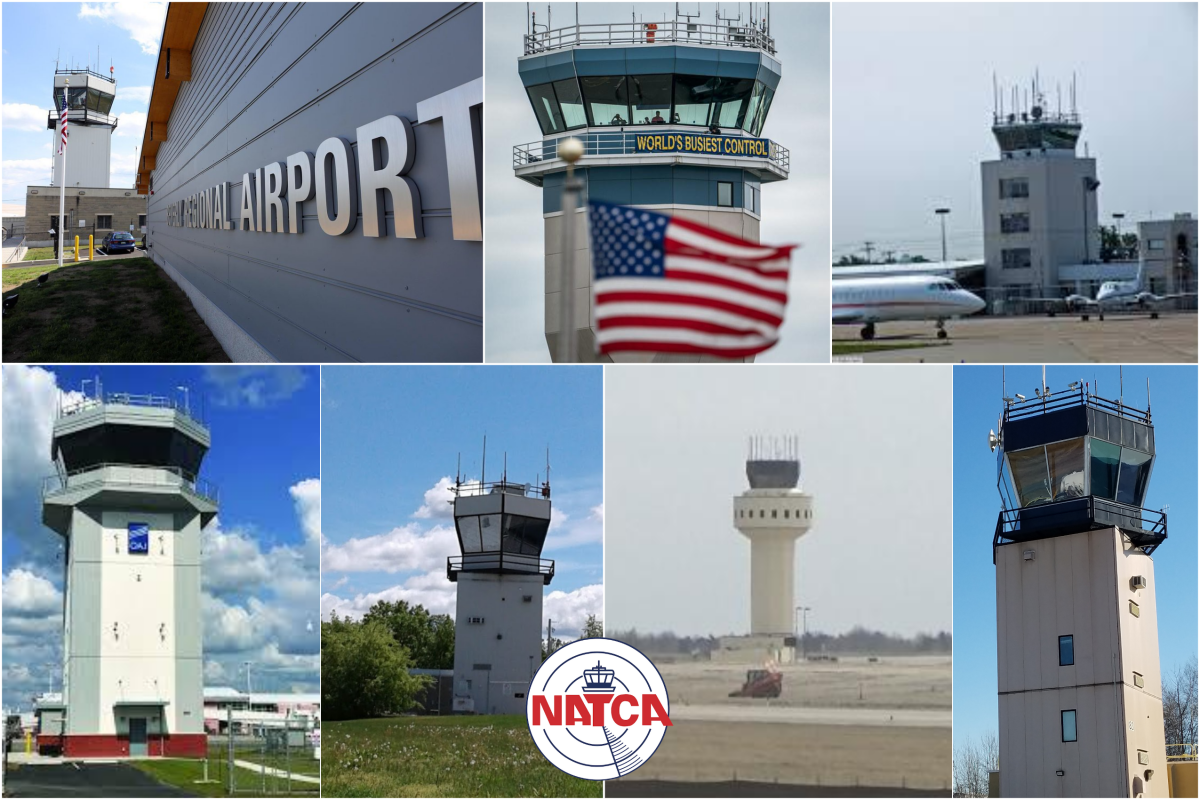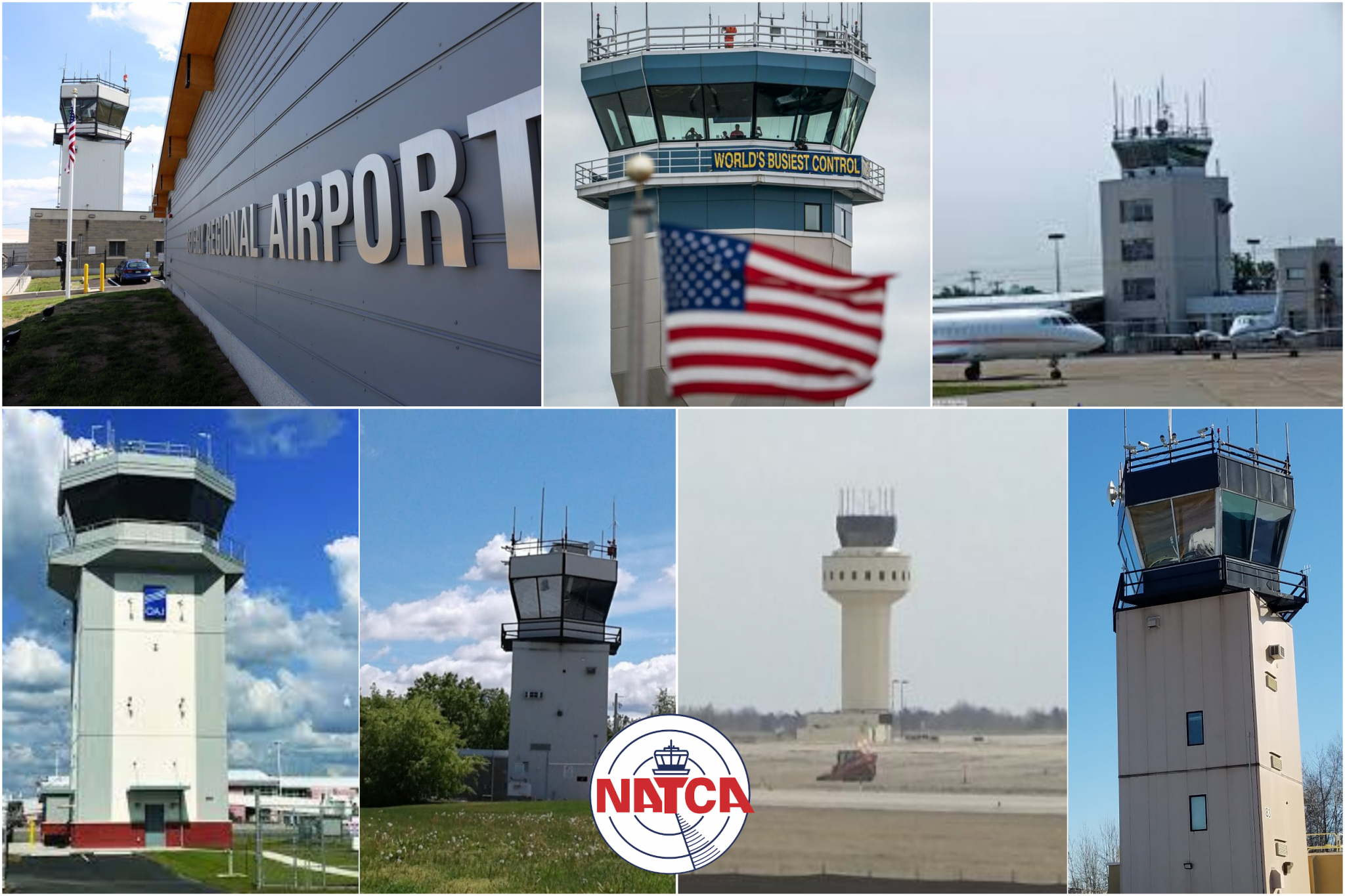 Welcoming New Facilities Into the NATCA Family
NATCA represents a group of air traffic control specialists that work in 110 Federal Contract Towers (FCTs) for one of four private employers: Midwest Air Traffic Control Services, Robinson Aviation (RVA), Inc., RVA-CI Squared Aviation, Inc., and Serco Management Services, Inc. These contract towers tend to be smaller in size and operation, typically employing between five and 10 controllers, many of whom are retired FAA and military air traffic controllers.

We'd like to recognize and welcome the members from the FCTs who recently voted to join NATCA:
Central Region: Topeka ATCT (FOE) is located at Topeka Regional Airport, formerly known as Forbes Field. It is a joint civil-military public airport owned by the Metropolitan Topeka Airport Authority in Shawnee County, Kan., seven miles south of downtown Topeka, the capital city of Kansas.
Eastern Region: Niagara Falls ATCT (IAG) is located at Niagara Falls International Airport and is four miles (6.4 km) east of downtown Niagara Falls, in Niagara County, N.Y. Owned and operated by the Niagara Frontier Transportation Authority, the airport is a joint civil-military airfield and shares its runways with the Niagara Falls Air Reserve Station.
Great Lakes Region: Oshkosh ATCT (OSH) is located at Wittman Regional Airport. The airport is a county-owned public use airport located two nautical miles (4 km) south of the central business district of Oshkosh, Wis. A large portion at the south end of the airport is located in the town of Nekimi. The airport was named after pioneer air racer, aircraft designer, and builder Steve Wittman in 1972.
New England Region: Beverly ATCT (BVY) is located at the Beverly Regional Airport, a city-owned, public-use airport located in the city of Beverly, in Essex County, Mass. It is located three nautical miles (6 km) northwest of the city's central business district. The National Plan of Integrated Airport Systems for 2011-2015 categorized it as a reliever airport , which means it is available to relieve Logan International Airport of small general aviation aircraft during Logan's peak traffic times.
New England Region: Norwood ATCT (OWD) is located at Norwood Memorial Airport. It is a public airport two miles (3 km) east of Norwood, in Norfolk County, Mass. It is home to the offices of prominent local people in business and several maintenance facilities.
New England Region: Lawrence ATCT (LWM) is located at Lawrence Municipal Airport, two miles east of Lawrence, in Essex County, Mass. It is owned by the City of Lawrence, though it is located in North Andover. The airport covers 420 acres, has two paved runways, and fuel is offered by four fixed-based operators. It is located minutes from both the Ward Hill and Lawrence Industrial Parks, providing air transport services to the region's employers for over 70 years.
Southern Region: Albert J. Ellis ATCT (OAJ) is located at the Albert J. Ellis Airport, a county-owned public-use airport with a single runway and three gates in Onslow County, N.C. It is located in Richlands, 10 nautical miles (19 km) northwest of the central business district of Jacksonville and Marine Corps Base Camp Lejeune. The airport is used by general aviation, the military, and two commercial airlines, American Eagle, and Delta Connection.
"FOE operations consist mainly of military training flights from throughout the region and local GA (general aviation) aircraft. We strive to provide the very best service to all we come in contact with, including airport personnel and operators. Needless to say, we are thrilled to have joined the NATCA team. As a small facility, we believe in strength in numbers and are excited to know we have a large community of controllers behind us." — Jeremy Morgan, FOE FacRep
"The air traffic controllers at LWM are happy to be joining NATCA. We look forward to being a part of such an esteemed labor organization and are excited to help NATCA maintain the high standards of safety and professionalism that NATCA is known for." — Andy Blanchard, LWM FacRep
"OWD decided as a group to join NATCA because we felt that we would greatly benefit from their guidance and support." — OWD Member Ed Senna
For more information on all of NATCA's represented bargaining units, please click here.