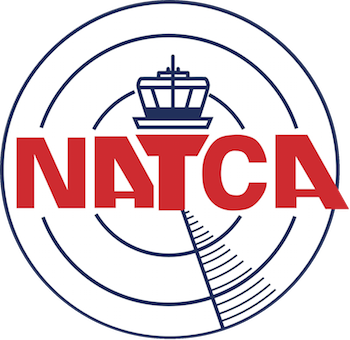 Rinaldi, on AFL-CIO Press Call: 'We'll Do Anything It Takes to Keep the System Up and Running, but We Want Our People to be Safe'
During a national media roundtable event hosted on Monday by AFL-CIO Secretary-Treasurer Liz Shuler, NATCA President Paul Rinaldi praised the continuing great work of the Union's 20,000 represented aviation safety professionals, expressing deep pride in "their unwavering commitment to their profession, the system, and this country." A dozen other aviation labor leaders and workers and dozens of reporters also participated in the 90-minute press call.
"Unfortunately," Rinaldi added, "as they're going to work, they are being exposed" to COVID-19. He reported that as of Monday morning, 75 FAA employees have tested positive for COVID-19 – including approximately 35 air traffic controllers – at more than 35 facilities even as air traffic operations have declined by more than half. (View a current FAA list of affected facilities here.) According to FAA data this week, airport operations nationwide were down 58.7% from the seasonal average. Operations at the core airports were down 60.2%. The biggest drops included the three New York airports – JFK (-82.01%), LaGuardia (LGA, -79.5%), and Newark (EWR, -77.73%) – and also San Francisco (SFO, -75.95%), Boston (BOS, -74.65%), and Las Vegas (LAS, -70.54%). En route centers were down 63.5%, and the top seven combined TRACONs were down 62.27%.
"This is having a negative impact on running a safe, efficient system," Rinaldi said. "We immediately had to figure out a way – as these people were testing positive in the work environment and infecting these facilities – of working collaboratively with the FAA to develop backup crews. We went to a three-team concept to always keep a crew in waiting to come in once a facility has been cleaned and sterilized at a level 3 – almost a hospital-grade-cleaning. So they know they are going into a facility that is clean and they won't be infected from this disease, and go in there and continue to run air traffic."
Rinaldi said even with drastically reduced capacity, aviation is "still a vital part of this fight against this disease, moving goods and supplies and even people. At times, you have to move them from coast to coast, city to city. Air traffic controllers are there, day in, day out, around the clock, and it is a 100 percent challenge."
He continued, "We have been completely collaborative with the FAA and we stand ready to continue to attack this and run a safe system. But we have to make sure that our workers are protected at work, and to beat back this virus and clean these facilities, so they know when they go home, they're not infecting their families."
Rinaldi was asked by CNBC reporter Leslie Josephs whether he thought that the current changes, including fewer workers and regular deep cleanings, will last into the foreseeable future, and if other changes were on the horizon.
"We are being very dynamic when it comes to working airplanes," Rinaldi said. "When we shut down Indy Center, we shut down three areas, and you could see a photo of the traffic showing no airplanes going through that airspace while they were doing a level 3 cleaning (see below). At Palm Beach (PBI) last week, we worked from the top of a parking lot where we could see the runways and taxiways to continue to run airplanes." He also mentioned the situation last week at Orlando (MCO) where controllers went into the Delta ramp to continue working while their facility was closed for cleaning.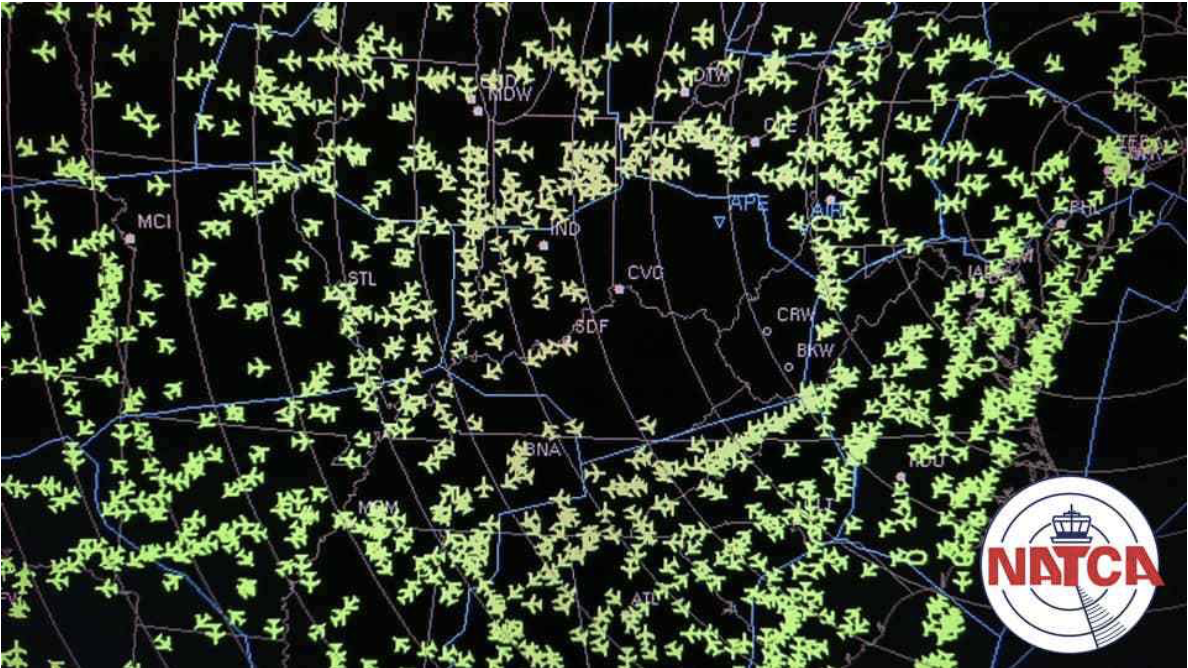 "We'll do anything it takes to keep the system up and running, but we want our people to be safe," he said, adding that the FAA has been very dynamic, and Secretary of Transportation Elaine Chao has been very open to discussions. "The FAA has worked very collaboratively with us in focusing on going beyond CDC (Centers for Disease Control and Prevention) guidance, because they do keep changing. But our workforce needs to understand that when they go to work, that place is clean to specifications and that they're not going to contract this virus at work.
"Air traffic control itself, it's virtually impossible to social distance. We work very close together."
The press conference call also featured Transportation Trades Department, AFL-CIO, President Larry Willis and several other aviation labor union presidents, including Sara Nelson (Association of Flight Attendants-CWA), Capt. Joe DePete (Air Line Pilots Association, Int'l.), D. Taylor (UNITE HERE), Paul Shearon (International Federation of Professional and Technical Engineers), and Mike Perrone (Professional Aviation Safety Specialists).
During the call, DePete praised Rinaldi and NATCA for their continued efforts. "You made this Marine proud, I gotta tell you," DePete said, citing recent conversations he has had with FAA Administrator Steve Dickson. "That's exactly what I've been talking about, that out-of-the-box, whatever's-necessary-to-get-the-job-done attitude. Hat's off to you. You're the shepherds of the sky and, as far as the pilots are concerned, we appreciate everything you folks do."
Articles by the participating reporters were featured in several media outlets that highlighted the hard work and sacrifices that are being made by aviation personnel to keep the National Airspace System operating safely. Coverage also highlighted the important role that unions have had in helping keep essential activities functioning while trying to keep working men and women safe.
Collectively, the labor leaders on the press call demonstrated strong solidarity in standing up for the workers they represent who have worked under the strain of knowing the growing risks in their essential professions during this national emergency.
"I truly believe that labor has the answers," DePete said. "We're on the front lines every single day, and we have ideas and solutions. What we need is to continue to work together, not only in the labor world but in the adamance of our carriers to solve these problems. They just need to listen. We'll help them do it."
Said Shuler, in opening the call: "We think that, too often, the media is focusing attention on so many other aspects of the crisis beyond just what workers are experiencing on the front lines and are experiencing this in so many other ways day to day. They're heroic acts. They're acts of courage, showing up for work every day and continuing to provide the services that our country needs, and keeping others safe."