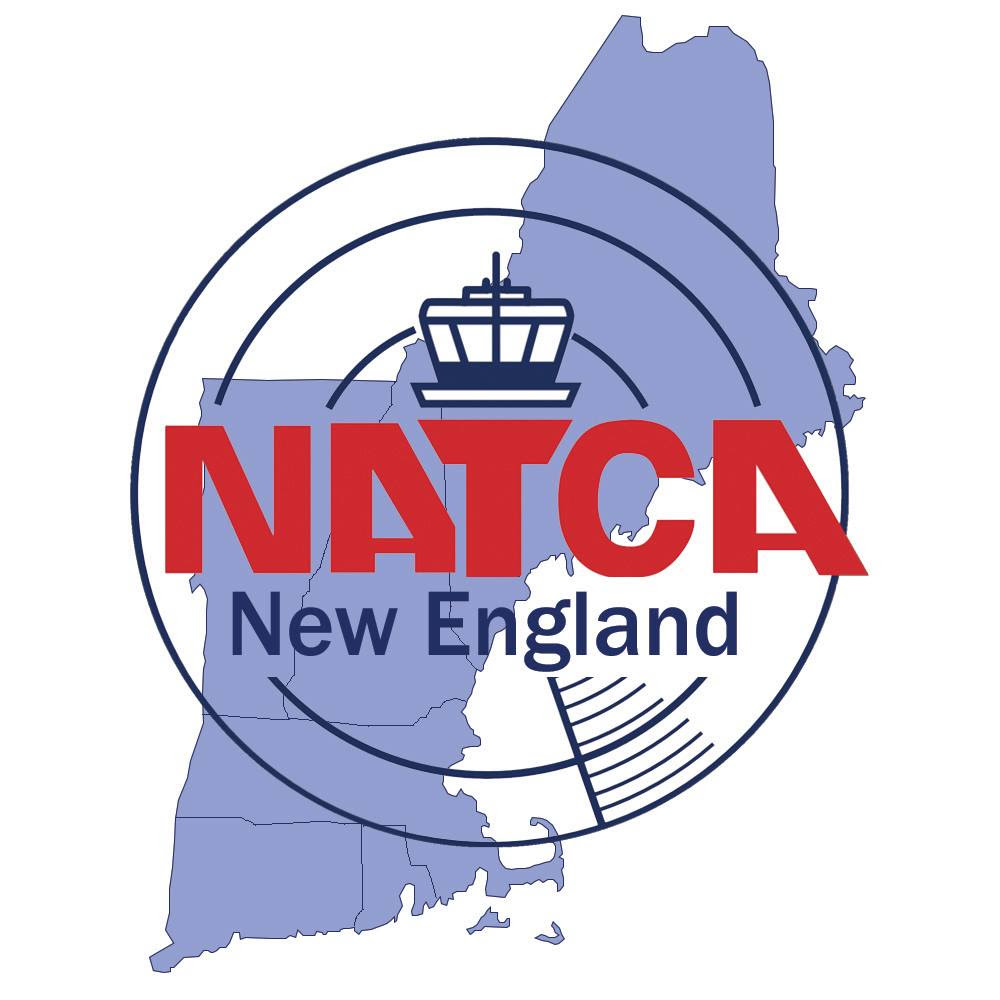 April 2020 Regional Update: Leadership Through We
From Mick Devine, New England Regional Vice President
What a weird month. In my years in the Marines, there was a commonly used phrase — "Hurry up and wait!" That was what the month of April felt like. I hope you and your families are healthy. In lieu of a normal New England monthly update, I've asked the Communications Team to do a little synopsis of all the outstanding work all of our facilities are doing with our Pay it Back/Pay it Forward campaign. Our communities, along with CATCA reached out and helped us during the shutdown. I reached out to the RVP for the Atlantic Region in CATCA, and our Canadian brothers and sisters are currently doing well through this and need no assistance. I challenged our FacReps to consider giving back to those who helped us during our time of need and they knocked it out of the park. You all knocked it out of the park with your participation.
We conducted a town hall-style telcon in March open to the entire region. It was very well attended. Each rep was asked if they would like to hold another one. All of the reps initially found it to be not necessary. Since then, the region was asked to conduct one at ZBW. This was done on Tuesday, April 28th. The main focus of questions revolved around where we are going from here and how we are going to get out of our current state.
When it is determined that we need to go back to our normal way of business, it will not be done with the same sense of urgency and speed that we entered this status. We have begun preliminary talks on the method to which we will go back to normal. This will be done methodically and systematically. We know there will be a lot of things to consider like training, proficiency, transition of schedules, etc. We will address these in a way that they are done correctly, and not just quickly. From all indications, normal traffic levels will not return in the immediate future. We will be back before our old traffic is, and we will do so when it is safe for our members. Every level of NATCA will have a hand in creating a process that works, from your NEB right down to the area rep level. Nobody will be blindsided by the process. The same communications we used to get into this and maintained throughout will be the same level of communications we use to come out of it.
NATCA is still working to address all different types of issues that have arisen from our current situation. NATCA has sent out masks to the facilities which should be arriving soon. They are not the same level of protection as the N95 masks, but they still provide some level of protection as long as you know that. We have gotten styluses, gloves, masks, and cleaning supplies sent to all the facilities to ensure you can be protected. Ben Nutter (BED Facrep) has been instrumental in ensuring our needs have been met with supplies. Our mantra has been clear—Protect the NAS by protecting our members.
This month has been seen as one of the most impressive shows of collaboration and leadership from your FacReps in the history of NATCA. Getting each facility into the dynamic schedules, with less than half a week from tasking to implementation was incredible. To do so without any hiccups is spectacular. This feat was led by Jim Basford (A90) who worked to support all the FacReps in getting this job done.
As we said in a recent email, this entire pandemic would need to be attacked with communication. The rub, however, is to not overburden your inboxes with redundant information. Thus, we constructed a plan that our monthly updates would continue, but that would be it for direct regional communication to the membership. We would send regional info through our NEB emails. The day-to-day communication to the membership would be charged to the FacRep. We held an every-other-day telcon with the FacReps, which later moved to Mondays, Wednesdays, and Fridays.
Each telcon had updates from Jamie Green (Alternate Legislative Chair) and/or Andre Jean (Legislative Chair), Jim Basford (Dynamic Scheduling Rep), Ben Nutter (COVID-19 Supplies Rep), Tim Roig (NEB Sponsored Meals Rep), Shannon Lyman (Communications Chair), and Gordon Green (FCT Liaison). The FacReps also received updates from the ARVPs as well as a national briefing from me. These calls worked both ways as we were able to discuss any issues that were coming up from the field.
COVID-19 has impacted our personal lives as well as our union's normal business. All three of NATCA's major events were officially rescheduled. Communicating for Safety is now being held November 16-18, The Convention has moved to August 29-31, and NATCA in Washington was pushed to December 9-11. Check out the graphic at the end of the email for more information.
Our new scheduling was targeted in doing one thing—protecting the health of our membership. This schedule was designed to maintain the maximum practical social distancing practices, while continuing to safely and efficiently maintain the integrity of the National Airspace. Traffic is down near 70% in New England. Traffic and staffing were the foundations used to determine how many teams each facility could use. One of the goals of the change in schedules was to limit the exposed members by a positive case. Simple exposure to a positive employee would create a 14-day quarantine for anyone who was within 6 feet of them for 30 minutes or more. With our regular schedules, that could knock out almost an entire building for up to 14 days, as witnessed in FRG, which has actually been closed for almost 30 days. The true benefits of our new schedules could be witnessed in TEB, where they have had six separate positive cases, and the ability to shield the membership from the exposed resulted in only a few shifts of midnight closures. If someone on your crew tests positive, there is a high chance you would be exposed. If they are on a different crew, even on the same team, the chances are unlikely that you would be exposed.
NATCA was able to come to an agreement on the assignments of shifts for your Administrative Leave days. This enabled the receiving of differentials during your time on Administrative Leave as a member of the dynamic scheduling. NATCA was able to come to an agreement to reduce the hours of some facilities. NATCA President Paul Rinaldi and Executive Vice President Trish Gilbert discuss that in this video.
Nobody has a crystal ball as to when our schedules or lives will return back to normal. I hope it is soon. I'm looking forward to getting back to normal. Until then, I'd like to thank each and every one of you for your partnership in this. Without each of you, none of this would have ever worked. Your commitment to professionalism throughout this pandemic is unrivaled. Wishing you and your family health and happiness throughout. Stay safe!!
Bedford Pays it Back and Forward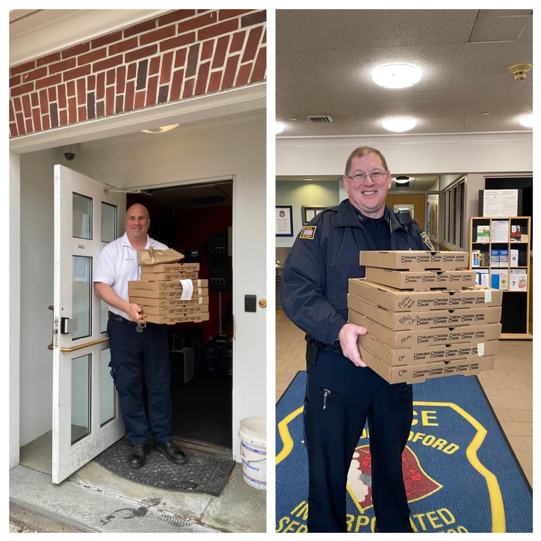 In effort to pay it forward, KBED bought lunch and dessert from Pizza Mia, a local pizza shop on Hanscom Air Force base and brought it to Bedford Fire Department and Bedford Police Station.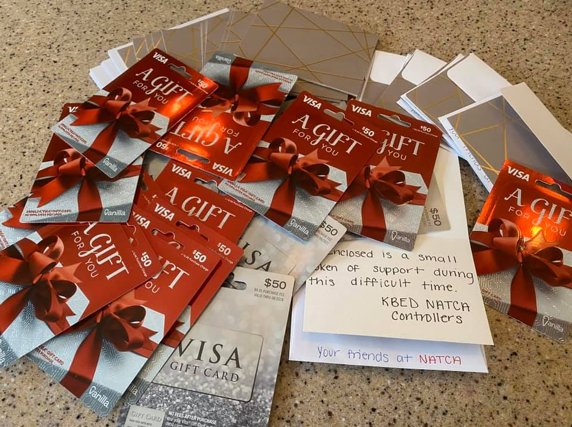 Sometimes you are able to not only pay it forward, but pay it back. Bedford also collected money and purchased gift cards to mail to a few dozen full time flight instructors based who are currently out of work. These instructors showed a tremendous amount of compassion throughout the government shutdown last year and greeted controllers with words of appreciation. The flight instructors with thank you cards and words of gratitude.
Nantucket Supports Local Hospital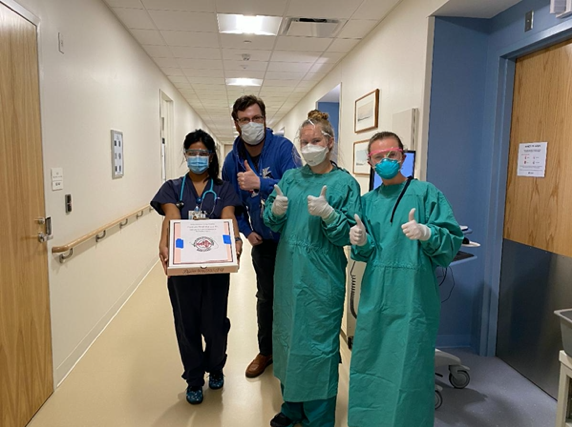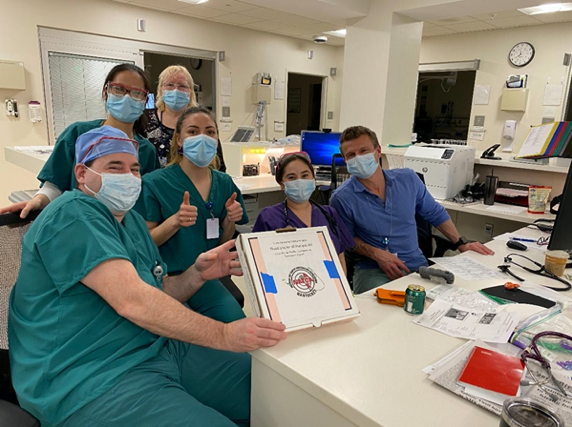 Nantucket used some of their local funds to purchase pizzas for their local hospital's staff and also their fire department. They sent a gift card to a local restaurant to the police department as well.
BOS Thanks Mass General Hospital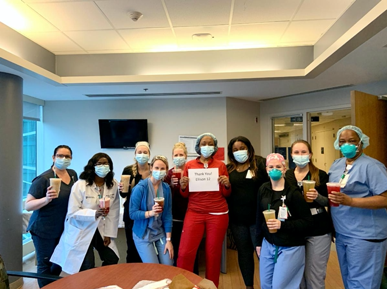 Boston Tower has been working on multiple projects to help out during the pandemic. Members have been making masks and ear relief buttons (to use with masks) to donate to their local healthcare facilities. They raised money and sent Starbucks gift cards to Mass General Hospital.
They purchased food from Pat's Pizza and sent it to Mass General for the workers on the floor with COVID-19 patients. They've started a t-shirt fundraiser and are also working on gift baskets to donate to the nurses that are working hard during this pandemic. Jennie Dickinson, a NATCA CISM Rep, is working hard to coordinate a lot of these efforts to help those on the front lines, and we want to thank her for her hard work!Boston Tower also designed a tee-shirt for sale with 100% of the proceeds going to NATCA Charitable Foundation and Mass COVID-19 Relief Fund.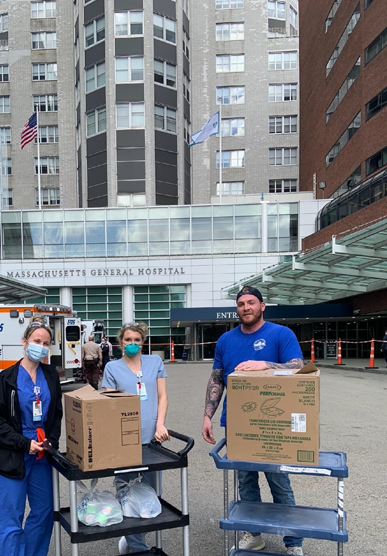 Portland Donates Toward Meals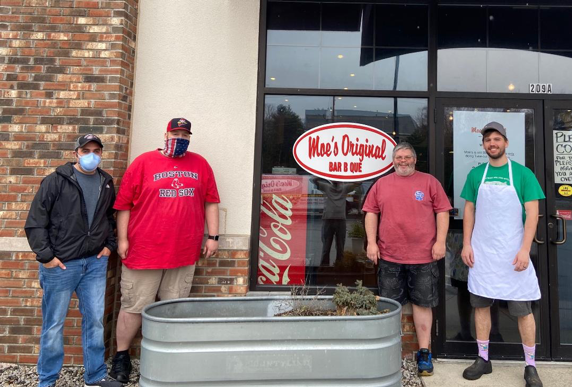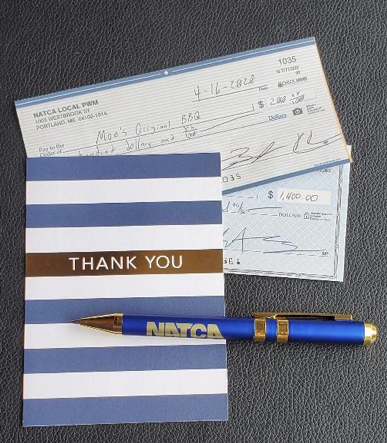 Funds were raised by local controllers at PWM (with some help from ZBW and A90) to purchase 200 meals for members of the medical community on the front lines of the COVID-19 pandemic in Maine. Controllers at PWM wanted to support Moe's because the restaurant was very supportive of federal workings during last year's government shutdown. On Wednesday, 50 meals were delivered to workers at a local grocery store and to 150 very thankful workforce at Mercy Hospital in Portland!
Providence Delivers to First Responders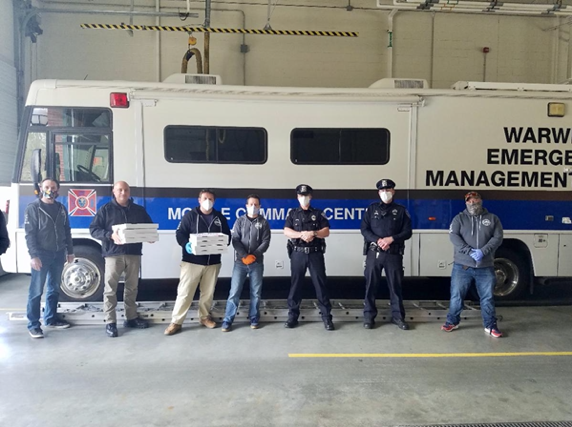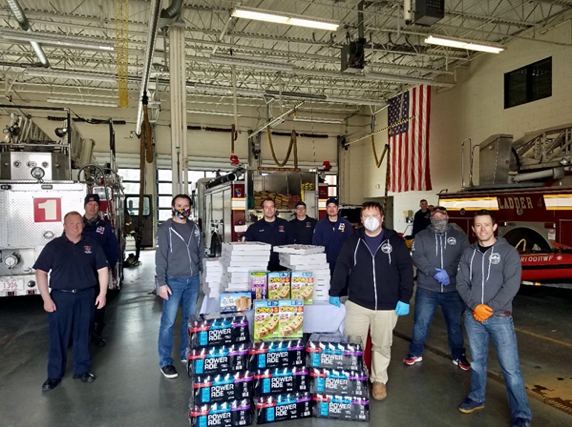 Providence Tower/TRACON purchased pizzas from Pam's Pizza along with snacks and drinks and brought them to Warwick Fire Fighters, Warwick Police Officers, and Kent County Hospital employees. They not only paid it forward, they got to spend some time with Mike Carrero, president of IAFF local 2748, and Jedd Pineau, the president of the Warwick Fraternal Order of Police Lodge 7.
ZBW & A90 GoFundMe Success
Boston Center (ZBW) and Boston Tracon (A90) joined forces to raise money to pay it forward to local first responders working hard during the COVID-19 pandemic and secondly to give back to local restaurants who were supportive during the shutdown and now need our help. They raised over $10,000.Below is a list of the local restaurants who ZBW and A90 sourced to help feed the first responders: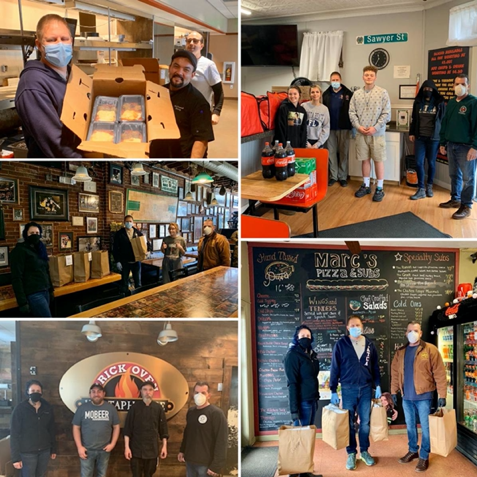 When times are uncertain, we do the best we can support the people who are in need and working hard. Below is a list of location where over 1500 meals were delivered:
1750 Taphouse, Bedford
Osteria Nino Restaurant, Burlington, MA
Papa Joe's, Milford
Espresso Pizza, Nashua
Giorgio's, Manchester
Kinsley House of Pizza, Nashua
603 Catering (ZBW Cafeteria), Nashua
Marc's Pizza n Subs, Merrimack
TJ's Catering, Nashua
Nashua Garden, NashuaMarket Basket, Somerset Plaza, Nashua
St. Joseph Hospital, (3 times), Nashua
Southern NH Medical Center, (twice), Nashua
Medicine World, Nashua
Merrimack Police Dept, Merrimack
Convenient MD, Nashua
Convenient MD, Bedford
Nashua Police Dept, Nashua
NH Food Bank, Manchester
Catholic Medical Center, (twice), Manchester
The Elliot Hospital, (twice), Manchester
Milford Police Dept, Milford
Amherst Police Dept, Amherst
Lahey Clinic, Burlington
Nashua Fire Dept, 6 Stations and 1 Alarm Center, Nashua
Immediate Care, Nashua South
Immediate Care, Nashua North
Immediate Care, Hudson
Immediate Care, Amherst
Immediate Care, Merrimack
Immediate Care, Windham
American Medical Response, Nashua
Milford Ambulance, Milford
FAA Guards, ZBW/A90
Nashua Soup Kitchen and Shelter, Nashua
Bedford Police Dept, Bedford
Bedford Fire Dept, Bedford
NH State Police Barracks Troop B, Bedford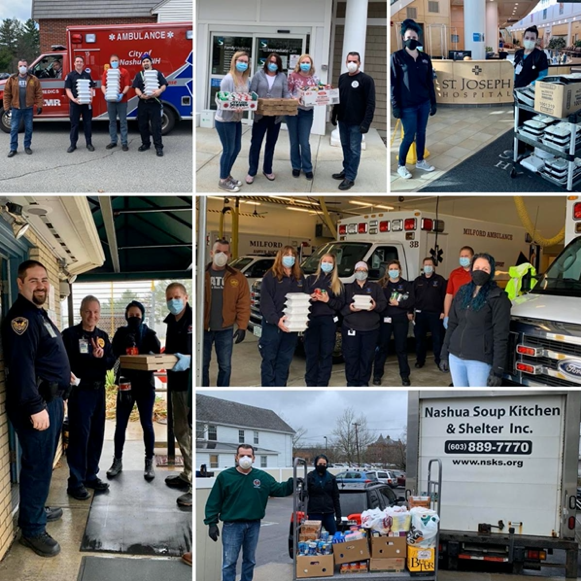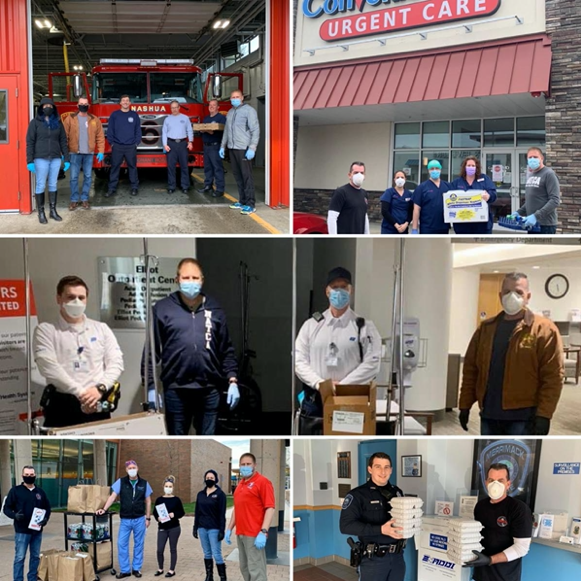 Important Event Date Changes