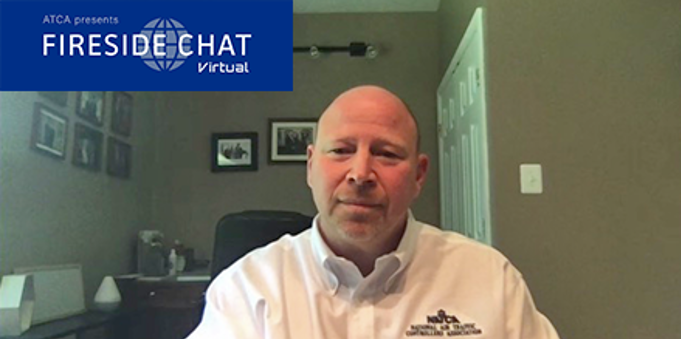 ATCA Hosts Fireside Chat with NATCA President Paul Rinaldi
NATCA President Paul Rinaldi was the guest on the first virtual chat hosted by the Air Traffic Control Association (ATCA) on Wednesday. ATCA President and CEO Pete Dumont and Paul discussed the state of the NATCA membership and the National Airspace System (NAS) amid the COVID-19 national emergency.
"Our members are so resilient and we're so proud of them for being able to continue doing the job as aviation safety professionals," said Paul. "You really can't social distance in aviation, but we have tried and made changes in the workplace as much as possible to adhere to the guidelines. Aviation is vital to beating back this virus and certainly vital to the economy of the United States."
Paul also spoke to the decrease in traffic levels and how NATCA has collaborated with the FAA to keep the members as safe as possible. "Levels are down 75-85% than they were this time last year and where they were projected to be this year," he said. Because of that, NATCA worked with the FAA to allow those at highest risk to be placed on excused absence and to develop isolated crew to mitigate exposure to the virus.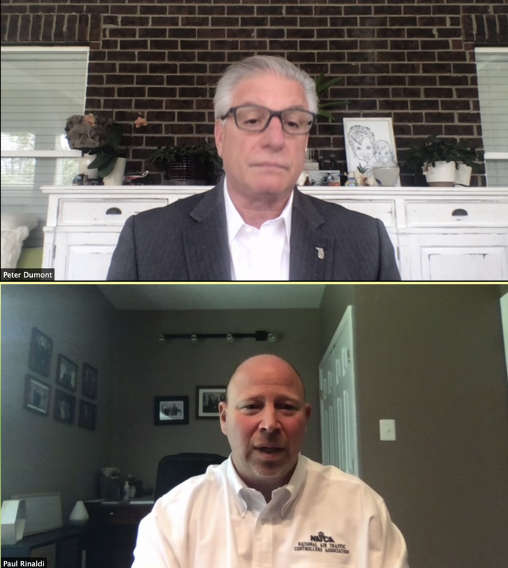 Paul said, "In the beginning of this, there was no playbook on what to do. As we got into the first facility incident at Chicago Midway (MDW), we were all waiting for guidance from the public health authority on what to do. While we waited, Midway was shut down for 14 days. We worked with the Agency to develop a complete process of what happens when an employee in a facility/office tests positive. As of today, we have had 115 FAA employees test positive and 43 facilities that have had to be shut down for cleanings." The Joint Crisis Action Team (J-CAT) arranges calls which includes all the stakeholders to make a determination on the level of exposure and its effect on the workforce and overall operation, making it safe for the next crew to come in. Paul also praised FAA senior leadership for the open dialogue, clear communication, thinking outside the box, and allowing us 100 percent to be part of the solution.
Paul said it probably wouldn't be until 2022 or late 2021 until the airlines get back to normal. In addition to affecting the airlines, this pandemic has also affected the Aviation Trust Fund and funding moving forward. "We want to keep as much normalcy in people getting their paychecks. However this does have a negative effect on the trust fund," he said. "It looks like the trust fund will be zeroed-out at the end of August, and then it will be difficult building it back up. There will be no safety net after that. In essence, the FAA will be funded out of the general fund. In a normal year, 90-95% of the FAA budget has come out of the trust fund, and now it will be coming out of the general fund."
Regardless of what happens with funding, Paul is appreciative of the FAA and the three companies NATCA works with (RVA, Midwest, and Serco) that deal with Federal Contract Towers. "All have been really good to work with," he said. "When a member at a contract tower tested positive for COVID-19, the FAA helped guide them in the process on what to do. We have really strong lines of collaboration with the Agency," Paul continued. "It's been tested many times, during the shutdown (in 2019) and obviously during this time. FAA Administrator Steve Dickson, Deputy Administrator Dan Elwell, and ATO COO Teri Bristol, along with the Secretary of Transportation Elaine Chao, have had open lines of communications. We're able to collaborate, we're able to solve problems, we're able to talk about those problems up front, and really get to it."
Paul concluded by continuing to emphasize his main focus is "the health of our members and the FAA employees, for sure. Everyone has to get back to work and show their value. Aviation is an economic staple. Things won't ramp up immediately. Operations won't go from 30-100% overnight. But once we open up and get back to the new normal, we want to make sure our facilities are robust and training."
To view the virtual fireside chat, please click here.