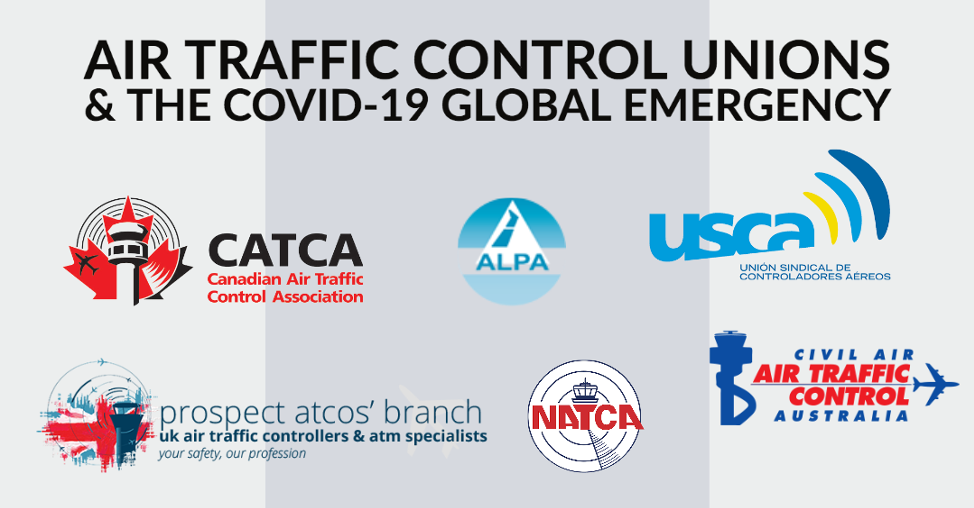 How COVID-19 is Affecting Fellow Members of The Alliance
NATCA President Paul Rinaldi and Executive Vice President Trish Gilbert are in frequent communications with the other members of the Global Air Traffic Controllers Alliance where they discuss what is happening with aviation traffic, air traffic control, the member unions of the Alliance, and air navigation service provider's (ANSP's) in member countries due to the COVID-19 global emergency.
The Alliance was formed in 2018 among leaders of like-minded air traffic control unions in the United States, Canada, the United Kingdom, Australia, Spain, and New Zealand. The partnership among NATCA, Prospect ATCO, CATCA, NZALPA, Civil Air Australia, and USCA (Spain) strengthens ties and establishes a collective voice to speak on a range of subjects.
Below is a synopsis of what is happening because of COVID-19 in other Alliance countries:
Australia (The Civil Air Operations Officers' Association of Australia) – Traffic is down 75-85%. In some parts of the country, general aviation is up, and some air carrier traffic has not declined due to flights only allowing a few passengers so as to social distance. The reduction in overtime and forcing ATC (air traffic control) to take leave now to reduce that liability later has helped with the ANSP's bottom line.
Canada (The Canadian Air Traffic Control Association [CATCA]) – Traffic is down almost 90% on average across the country with some carriers suspending operations. CATCA and NAV Canada worked tirelessly together to establish and implement an ad hoc scheduling system to allow and maintain social distancing within the workplace. All non-essential ATCO's are working from home while operational staff are now mainly working crew systems to avoid contact with others. Precautions have been implemented everywhere possible to limit exposure to others while at work.
ATCO trainees are primarily on paid administrative leave with the exception of those that were close to full qualification who remained in the operation.
In late January the latest round of Collective Bargaining concluded. Over the weekend the membership voted to defer back pay from April 1, 2019 as well as their salary increase due April 1, 2020. This will improve liquidity for NAV Canada.
New Zealand (The New Zealand Air Traffic Control Council [NZALPA]) – They are on a full country lockdown and closed borders so traffic is down 95%. Their ANSP has received a short term government bailout. The members offered to defer their pay increase with almost all of their membership voting for it. Their union (NZALPA) is made up of controllers and pilots. They have had many of their pilots (members and the bulk of their union) furloughed. Current trainees are not assured of employment.
Many regional towers have temporarily closed during the lockdown, but their CEO has proposed that some will close permanently to save costs, although this is being challenged. Without other cost savings there could be controller layoffs.
Spain (Unión Sindical de Controladores Aéreos [USCA]) – 2% of active controllers have tested positive with another 2.5% at home with symptoms. Traffic is 95% down compared to similar days last year.
United Kingdom (Prospect ATCOs' Branch) – Traffic levels across the U.K. network are down somewhere in the region of 90%. NATS currently has 1508 employees (including those on detail, trainees, and instructors) furloughed across all grades making use of the government's scheme. Staff are furloughed on 100% pay. The government's scheme has been extended until the end of June. The CEO has made a request of the Personal Contract Grades (Senior Management) to take a voluntary 10% cut in pay for three months.
As of March 4, both NATS and Prospect announced that the 2020 pay award, paid in April would be reversed and deferred. This was a union-led initiative. The pay issued for the first three months of the year would not be clawed back. This is a deferral of the pay award until negotiations can take place later in the year, and all pay-related matters such as movement up pay scales continue as normal.
The government recently announced a £92m bailout which in fact just an advance on route charges owed. Once the £32m of anticipated revenue and costs of £18m to DFT and CAA are removed it leaves an advance of £42. NATS monthly outgoings equate to £50m +. The U.K. government's advice remains that cash should be raised through shareholders. The Irony is that the U.K. government owns 49% of NATS and most of the rest are owned by airlines.
The ATCOs' Branch has called on the U.K. government, all ANSPs, and airport operators to form a Restart, Recovery and Engagement team to ensure that the Aviation sector has a measured and coordinated plan to ensure that no one makes any knee-jerk actions based on false traffic model scenarios.
New staffing measures agreed between Prospect and NATS management centrally, implemented in April to enforce social distancing and require designated sectors be opened for each core shift, leaving others to be deep deep cleaned on rotation.
They have smaller towers closed that they fear will not be opened again. Those members are furloughed as well. In the United Kingdom, towers are part of different ANSPs as they have a competitive bid on them.