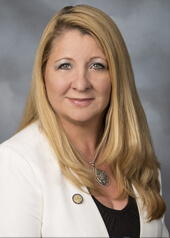 DOT Secretary Chao Appoints NATCA EVP Trish Gilbert to Women in Aviation Advisory Board
WASHINGTON – U.S. Secretary of Transportation Elaine Chao has appointed National Air Traffic Controllers Association (NATCA) Executive Vice President Trish Gilbert to the newly-formed Women in Aviation Advisory Board (WIAAB).
The WIAAB was established on Oct. 3, 2019, under the FAA Reauthorization Act of 2018. The purpose of the WIAAB is to develop strategies and recommendations that would encourage women and girls to enter the field of aviation. The objective is to promote organizations and programs that are providing education, training, mentorship, outreach, and recruitment of women for positions in the aviation industry. The strategies and recommendations will then be provided to the Administrator of the Federal Aviation Administration, Steve Dickson.
"I thank Secretary Chao for this tremendous honor and I look forward to working with the other dedicated members of the board in carrying out its important mission," said Gilbert, whose aviation career includes 21 years as an active air traffic controller at Houston Air Route Traffic Control Center and the past 11 years as NATCA EVP. "As an air traffic controller and representative of 20,000 aviation safety professionals I am proud and honored to serve on the WIAAB. We must create new paths – and strengthen existing ones – for students and aviators to pursue careers in aviation, particularly women, who are underrepresented in the highest paid professions of our industry."
Gilbert has served on critical boards and bodies before, including her ongoing appointment to the FAA's Drone Advisory Committee (DAC), a federal advisory committee that provides the FAA with advice on key Unmanned Aircraft System (UAS) integration issues by helping to identify challenges and prioritize improvements. Gilbert has always placed women's rights and inclusion among her priorities. She serves on the International Federation of Air Traffic Controllers' Associations (IFATCA) Equality, Diversity and Ethics Task Force and also sits on the AFL-CIO Committee on Women Workers. In 2018, the American Association of Airport Executives (AAAE) honored Gilbert by announcing the creation of a new permanently-endowed Women in Aviation scholarship in her name, recognizing her leading role in furthering opportunities for women in the aviation industry.
"The underrepresentation of women in STEM professions is not unique to aviation," Gilbert said. "The WIAAB gives us another opportunity to change that."
WIAAB members represent a diverse range of backgrounds and expertise, including those from major airlines and aerospace companies, nonprofit organizations within the aviation industry like NATCA, aviation and engineering business associations, the U.S. Air Force Auxiliary, Civil Air Patrol, and institutions of higher education and aviation trade schools.
Former U.S. Air Force Secretary Heather Wilson will serve as the chair of the board.
"The Department welcomes Dr. Heather Wilson and these accomplished advisory board members, who share a commitment and passion for encouraging women to access opportunities in aviation," said Chao.
Members are appointed to the WIAAB for the duration of its existence, which is anticipated to be a minimum of two years and will meet up to two times per year to carry out its duties.
CONTACT: Doug Church, Deputy Director of Public Affairs; 301-346-8245, dchurch@natcadc.org.
# # #
The National Air Traffic Controllers Association (NATCA) is a labor union and aviation safety organization in the United States that represents nearly 20,000 highly skilled air traffic controllers, engineers, and other aviation safety-related professionals. NATCA was certified in 1987 by the Federal Labor Relations Authority to be the exclusive bargaining representative for air traffic controllers employed by the Federal Aviation Administration. Today, NATCA is one of the strongest labor unions in the federal sector and represents a range of aviation safety professionals in 15 FAA bargaining units, 5 Department of Defense air traffic facilities, and 111 federal contract towers. These air traffic controllers and other aviation safety professionals make vital contributions to the U.S. economy and make modern life possible by coordinating the safe, orderly, and expeditious movement of nearly one billion aviation passengers and millions of tons of freight within the National Airspace System each year. NATCA is headquartered in Washington, D.C., and is affiliated with the AFL-CIO.