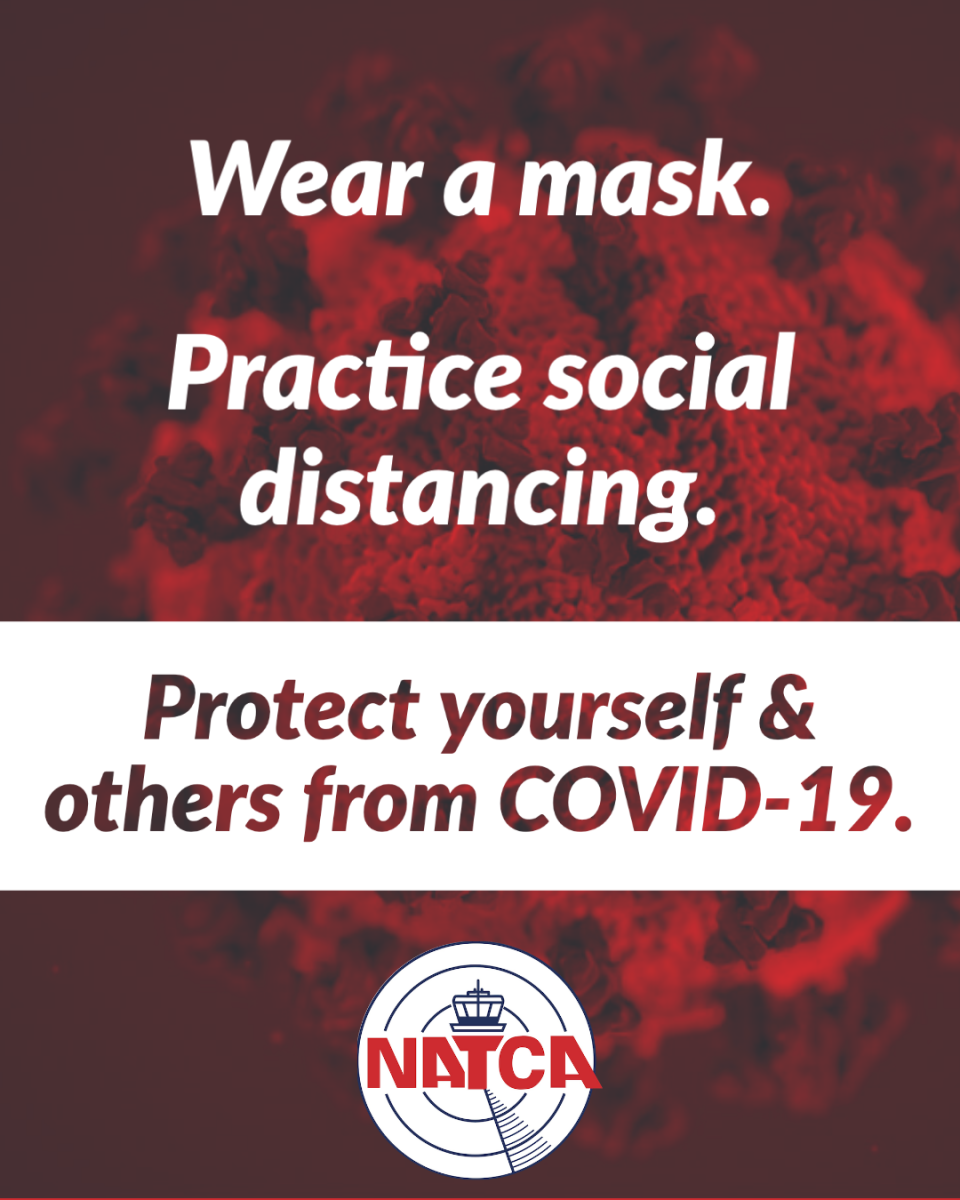 COVID-19 Update: July 12, 2020
It was just a few short weeks ago that we reported to you that the rate of COVID-19 cases in U.S. ATC facilities had decreased since the beginning of May. However, this pandemic continues to rage across the country. This week, National Institute of Allergy and Infectious Diseases Director Anthony S. Fauci said that the United States is "still knee deep in the first wave" of the outbreak. In many states, we have seen increased cases and hospitalizations. As the sharp increase in cases occurs across the country, June started a distressing trend that resulted in a 400% increase in total ATC positive cases of COVID-19.
The Southern Region (NSO) has had 39 confirmed positive cases since March 25, and 17 test results are still pending. Another 14 presumed cases came back negative. Of these cases, 58 are Federal Aviation Administration (FAA) controllers, nine are from tech ops, and three are Federal Contract Tower (FCT) controllers . A total of 35 NSO facilities have been affected.
The Southwest Region also has been hard hit recently, with 26 confirmed positive cases (18 FAA controllers, three FCT controllers, three from tech ops, and two contractors) from 17 different facilities since June 26. Eight more cases are pending. Southwest Regional Vice President Andrew LeBovidge stated, "While we confront the realities of the continuing pandemic, we are also faced with returning traffic demands. At every level – national, regional and local – our leaders continue to work across a broad swath of areas to find solutions that seek to protect the health and well-being of our members. Currency requirements, renewals of medical certifications, biennial skills evaluations – all the day-to-day details of our occupation, which once seemed so routine, take on new complexities as we function in this environment. As has been the case from the beginning, constant flow of communication (up from the facilities and down from the National and Regional levels) has been and continues to be key."
Region X (NRX) members will continue to telework for the foreseeable future. But when the word comes to return to their offices, NRX has formed the collaborative relationships necessary to do so in a phased and safe manner with complete involvement of the local Occupational Safety, Health and Environmental Compliance Committees (OSHECCOM) as guided by NATCA's national level OSHECCOM and OSHA committee. "Region X leadership has been in constant communications with the FAA concerning the phased restart of field work performed by our Airport inspectors, Aircraft Certification Oversight inspectors, Drug Abatement and Enforcement inspectors, ATO field engineers, and Acquisitions Quality Assurance members," NRX Vice President Brad Davidson said. "Whether our members work in the administrative office or field environments, there are safety processes and plans in place to protect our members."
NATCA is here to support you and your fellow brothers and sisters in every way possible. President Paul Rinaldi stated, "The challenges created by this pandemic – like every other we have faced – require our teamwork, solidarity, resolve, and dedication. These challenges affect every part of our aviation system and those fellow essential workers operating it. We are all in this together as an aviation community. We must remain committed to one another and continue to keep all of our habits and practices to keep our workplaces and each other safe. NATCA will continue to ensure our membership is protected first. That is the only way we can protect the National Airspace System."
Executive Vice President Trish Gilbert added, "Flexible schedules, masks, cleaning supplies, and expanded janitorial contracts have all been developed to provide the safest environment possible. We continue to urge our members to be safe, wear masks at work, practice social distancing whenever possible, and to look out for each other."
Where there have been confirmed or presumed positive tests, NATCA continues to follow the thorough and standardized process that our Union developed collaboratively with the FAA where we make determinations as to deep cleaning the affected areas, contact tracing, and quarantining those that meet certain criteria. All stakeholders including NATCA and Aviation Medicine work to make a determination on the level of exposure and its effect on the workforce and overall operation. NATCA's top priority always is the safety of its members and the goal of the cleaning process is ensuring that affected facilities are clean and safe for employees to return.

In cases where we have confirmed positive tests, the Regional Flight Surgeon's office conducts contact tracing to identify personnel who may be at higher risk of exposure and directs them to self-quarantine. When an employee tests positive for COVID-19, we are ensuring that all areas where the employee has been in the last 14 days undergo a Level 3 cleaning. When those areas include operational areas, facilities undergo an orderly draw down of services, and, if necessary, go ATC-0 while the cleaning ensues. This takes an enormous amount of coordination and hard work by our members and their representatives.
Do you have any additional questions or concerns? As always, any member can directly contact their regional leadership at the email below with any questions regarding COVID-19 related issues. Someone will respond and provide an answer as quickly as possible.