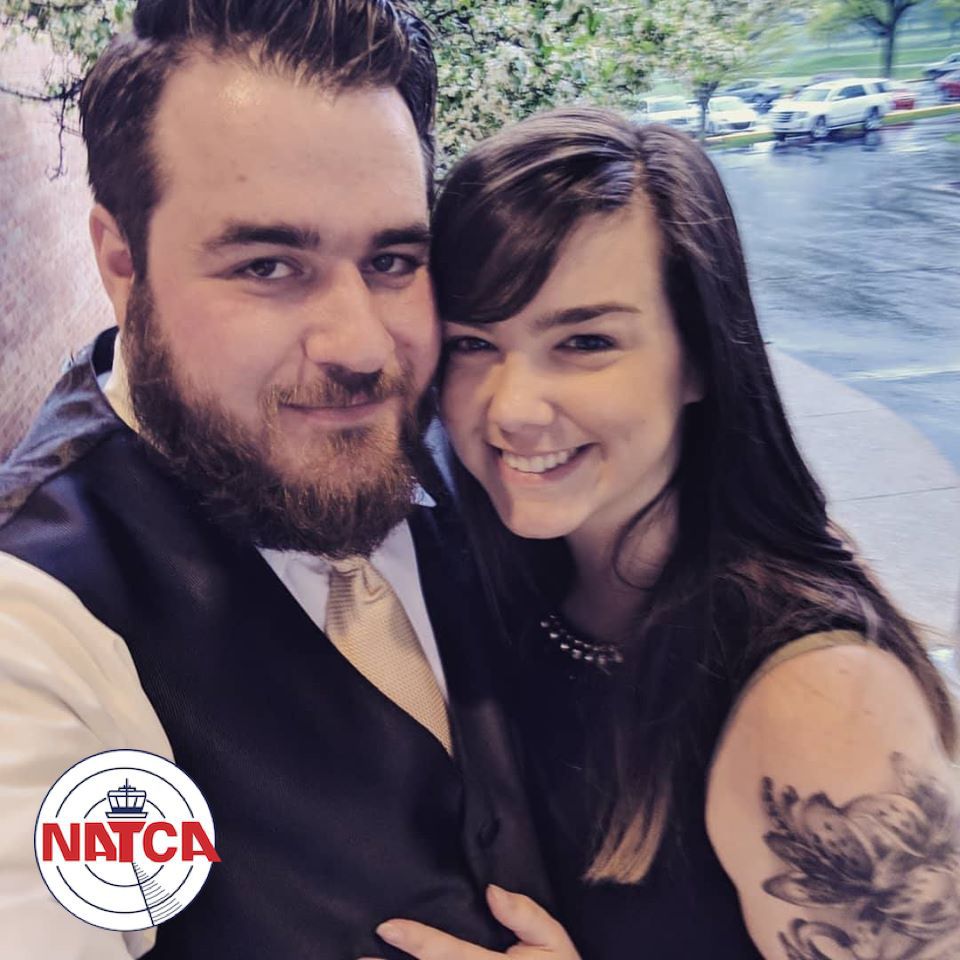 National Office Staff Employee Spotlight: IT Administrator Matt Heer
NATCA salutes our amazing National Office staff members who work each day, currently from home, committed to providing our members with the very best service and representation in organized labor. Our featured employee this month is Information Technology Administrator Matt Heer. (Pictured at left with his wife Stefani Heer.)

Where are you from?
I was born and raised in Texas. When my parents' jobs changed, we moved to Pennsylvania, where my parents previously lived before moving to Texas. To my knowledge, my twin sister and I are the only members of our family from Texas, and I've also lived in Maryland and Virginia.  

Where did you go to school, or what other education do you have?
I went to Indiana University of Pennsylvania. Not to be confused or associated with Indiana University. This school is located in Indiana, Pa., the Christmas Tree Capital and hometown of Jimmy Stewart.

How did you come to work at NATCA?
A college friend and now co-worker, NATCA Website Administrator Dan Whall, reached out to me and let me know that NATCA was looking for an information technology administrator.   

What's the most rewarding part of being a member of NATCA's staff? What's the most challenging?
I would have to say that the most rewarding part of being a member of the NATCA staff has been working in collaboration with the NATCA family of members on various projects. The biggest of which are events such as Communicating For Safety in Las Vegas every fall. Every NATCA staff member, including myself, working those events puts forth an incredible amount of work to make things happen as smoothly as they do. To me, it is very rewarding to be a part of the process that makes that happen, specifically the live stream coverage, and seeing it go as smoothly as possible, despite whatever last minute challenges present themselves.

Do you have any hobbies or any other activities you enjoy outside of your work for NATCA?
My biggest hobby outside of work is paintball. Whether it is just a recreational play day on a weekend, or a game with over 5,000 players in the Pocono Mountains, I love to get out and play. As part of those big player games in the Poconos, I am also part of the command staff for the Allied side during the scenario games and usually I am the Mission Director. In this role, I coordinate with all levels of command and the non-command players to direct players to certain areas of the field for missions throughout the day, and help maintain high morale with new players.  
My other hobby is playing video games. Whether it is a fast-paced looter shooter game, or building epic worlds or creations in Minecraft, I like to sit down and relax with video games.   

Has there been a favorite moment for you while at NATCA?
I would have to say my favorite moment while at NATCA was at CFS and getting to listen to Brian Shul while backstage working the live streaming of the event.