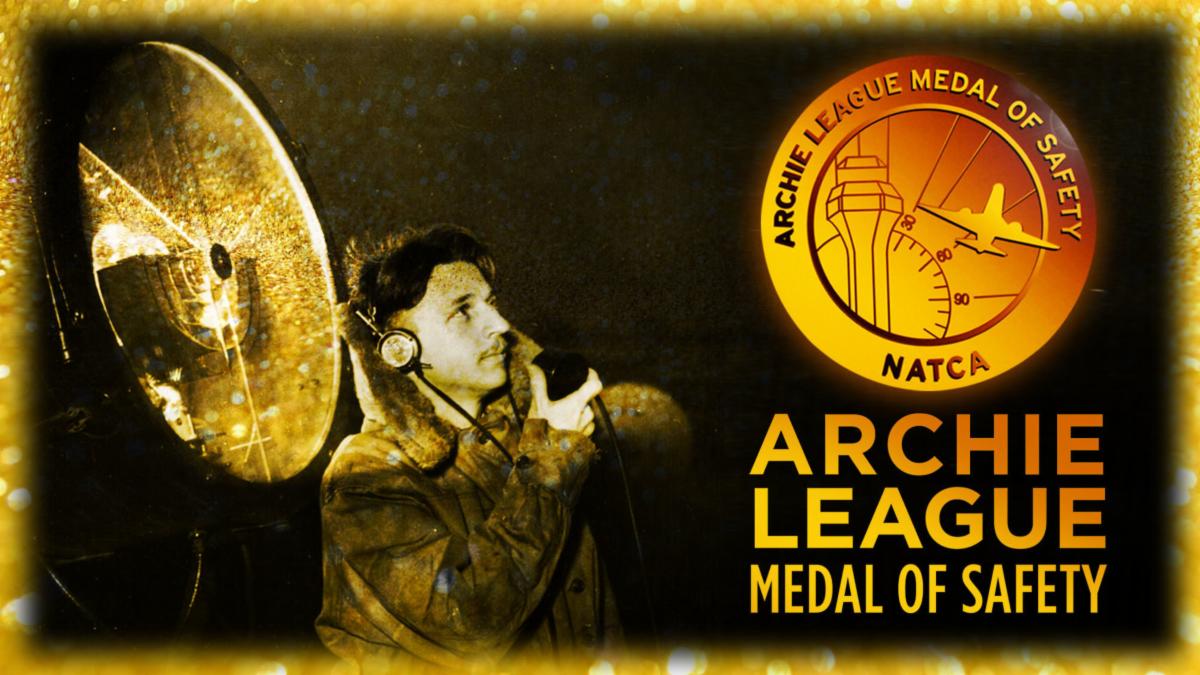 2020 Archie League Medal of Safety Award Spotlight: Southern Region – Marcus Troyer, Pensacola TRACON
We are beginning our series of introducing the 2020 Archie League Medal of Safety Award winners. Starting in this issue and continuing in the coming months, we will present their remarkable saves performed in the past year throughout the country. NATCA plans to recognize all of the winners at the 18th Biennial Convention in Houston on the evening of Wednesday, May 26, 2021.
The flying public doesn't always get to thank aviation safety professionals for the work you do daily, performing with 100 percent accuracy, 100 percent of the time. We at NATCA thank all of you for the work you do, keeping millions of passengers safe daily.
Southern Region: Marcus Troyer, Pensacola TRACON (P31)
It was like most any other ordinary summer afternoon in Pensacola, with a lot of weather, when Marcus Troyer plugged in for his shift at Pensacola TRACON (P31) shortly after 12:30 p.m. EDT. In the skies to the west, U.S. Coast Guard Lt. Commander Brian Hedges was the pilot and aircraft commander on an ordinary training mission in a newly-converted MH65E helicopter. But a short time later, Troyer and Hedges were joined in a search and rescue effort that was anything but ordinary and showcased the essential nature of their respective professions.
Thanks to their efforts, the life of the pilot of a Cessna 172 Skyhawk, Scott Jeffrey Nee, was saved after he crashed into the sandy bank of the Escambia River in a remote area of Jay, Fla., north of Pensacola near the Alabama border, and was seriously injured.
"They are heroes," said the plane's owner, Freddie McCall. "They saved a man's life."
(PODCAST: Listen here as Troyer and Hedges tell their story.)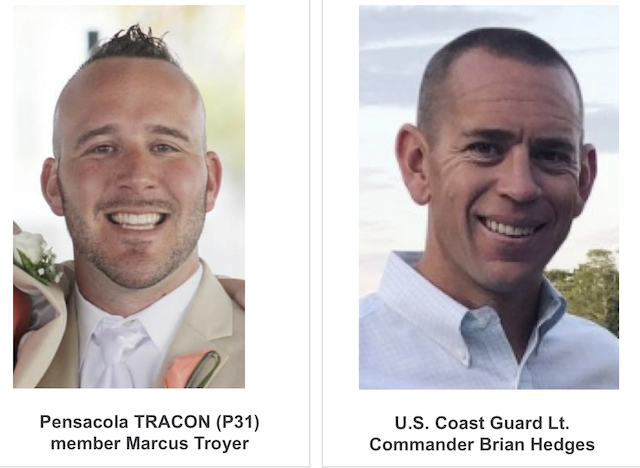 Troyer had just plugged in when McCall called the facility to report that he was missing an aircraft.
"We weren't talking to the aircraft at the time," Troyer said. "We went back and did a Falcon replay to try and see if we actually tagged him up or anything. We did not, so that complicated the situation." Troyer had experience doing quality control work and was well versed on search and rescue situations.
McCall, who used his own aircraft to look for Nee, located the crash scene and reported that to Troyer, who was in his 12th year of his Federal Aviation Administration career – all at P31 – through this event before initiating a transfer to Houston Intercontinental ATCT (IAH) earlier this year. "I used all my knowledge that I had from working at Pensacola and tried to get Navy helicopters to respond, but most of them couldn't do it because of fuel," he said, adding that the heavy thunderstorms in the area posed many challenges. A LifeFlight crew was in Pensacola but had just completed a mission and was in a mandatory cooldown period.
Soon after, Troyer contacted Mobile ATCT (MOB) and asked if they were providing service to any Coast Guard helicopters. He did this because he knew that the Coast Guard has a base in MOB airspace. However, that base is used strictly for training and aircraft testing, not search and rescue. A MOB controller advised Troyer they were talking to a Coast Guard helicopter and he requested them to switch the communications to Troyer's frequency. Troyer made contact with Hedges, explained the situation, and asked if they would voluntarily attempt to respond to the crash site.
"I felt like if anybody was going to be able to do a rescue and get this pilot out of there, it was going to be the Coast Guard," said Troyer, who spent the next 25 minutes vectoring Hedges to the crash site and helped get him around a strong line of storms. At that point, an EMS crew on the ground had reached the pilot and Troyer facilitated communications between them and Hedges.
"We had a very good crew but we didn't have a rescue swimmer on board so theoretically we were not SAR (search and rescue) capable," said Hedges, who has over a decade of experience as a Coast Guard pilot. He was joined on board by Lt. Commander Bob Lokar and Petty Officer James Yockey. Their base is the largest Coast Guard aviation training facility in the country. "This was the first search and rescue case in the MH65 Echo aircraft so it was kind of unique. We didn't plan it that way but our aircraft had an all-new glass cockpit and brand-new weather radar, which actually helped us that day."
Hedges said the unplanned SAR operation was made much smoother due to Troyer. "His demeanor, everything on the radio, was fantastic," Hedges said. "He painted a perfect picture of where we needed to go, what we needed to do, and who was on scene."
Once they reached the crash scene, Hedges said he had to keep the helicopter running at half power to prevent it from sinking into the soft sand on the riverbank. As it was, he said, the wheels were halfway down into the sand during the brief time he was on scene.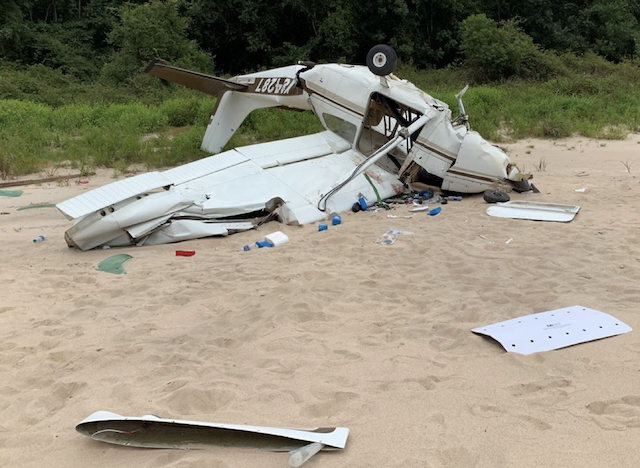 The crew soon took off with Nee and an emergency medical technician on board and headed to Sacred Heart Hospital in Pensacola. Troyer knew Hedges had never landed at that hospital before so he put him in touch with the LifeFlight pilot who was there and could walk him through the landing and any details he needed to know to arrive safely.
USCG Aviation Training Center Commanding Officer, Capt. W.E. Sasser, Jr., sent Troyer a letter of commendation for what he called Troyer's "exemplary response."
"The professionalism and expertise of your team helped my aircrew to safely navigate numerous hazards through the duration of the mission," Capt. Sasser wrote. "Your controllers were directly responsible for saving a life. I commend your team for their hard work, dedication, and expertise! Bravo Zulu and Semper Paratus."
After he left position following the event, Troyer said he went to his car to try and relax from the incredible adrenaline rush he was feeling. He said all he could think about was the condition of the pilot, and his desire to talk with Hedges to say thanks. Since the event, he and Hedges have talked several times and gotten to know each other. Troyer said he is appreciative to P31 colleague Dan Briscan for spearheading the effort to recognize him for this save, and had a suggestion for his fellow members who go through these types of events together as a team.
"Show your appreciation to your fellow brother and sister controllers," he said. "We all say, 'well, that's just part of your job,' but anytime somebody goes through it, the adrenaline's rushing, people handle things a little bit differently. But talk to them after. Give them some praise."