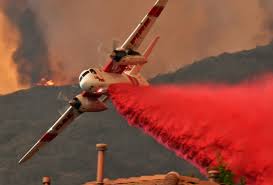 NATCA Members in the West Show Themselves to be Essential in Working With Crews Battling Wildfires
NATCA is proud to join others in the United States and throughout the world in celebrating the International Day of the Air Traffic Controller on Oct. 20. This special day honors all the men and women who work to make air travel the safest possible mode of transport.
The day also marks the anniversary of the founding of the International Federation of Air Traffic Controllers' Associations (IFATCA) on Oct. 20, 1961. NATCA is a member of IFATCA. It was created to further the interests of the air traffic control profession at the international level. IFATCA represents more than 50,000 air traffic control professionals in more than 130 countries.
On the International Day of the Air Traffic Controller, NATCA joined in recognizing aviation safety professionals globally as essential professionals. As a result of the pandemic, the world's aviation system is under stress like never before. But despite the challenges, these professionals in the U.S. and in other countries have continued working day in and day out to keep the airspace moving safely.
Here is an example of how U.S. air traffic controllers have again shown themselves to be essential aviation safety professionals:
California, Colorado, Oregon, and Washington are enduring a fire season of historic proportions.
On Aug. 15, there was a dry lightning storm over the Bay Area in California. More than 10,000 lightning strikes sparked 367 fires. There have been six large scale fires since then, and five of those six have been the largest fires in California history. Throughout this ordeal, aviation safety specialists have continued to work with the California Department of Forestry and Fire Protection (CAL FIRE) to set up temporary flight restrictions (TFRs) to keep general aviation and commercial airplanes out of the way of airplanes like CAL FIRE's McDonnell Douglas DC-10 that drop water and retardants to help contain the fires.
"Typically, when these fires happen, it's in a forest area, where there are not large airports," said Oakland Center (ZOA) NATCA FacRep Ronnie Williams. "A temporary tower will be set up to help with the extra workload. These airports that normally have 20 flights a day, increase to nearly 400 flights a day."
This year, fires have occurred in areas that don't usually burn. Smoke was impacting everyone, leading to eerie orange skies, and if the wind changed, it would have been dangerous for the public.
Members oversaw the use of drones to survey the area. Military drones have been used to fly over the fires and use infrared to find hot spots. The drones could be in the air for 16 hours at a time, 24 hours a day. Also, fire coordinators are in the air, going from fire to fire to do assessments.
Portland ATCT (PDX) members' experience with the wildfires affected their facility directly. "Portland TRACON (P80) is co-located and had to evacuate due to smoke and relocate to PDX to work their operations from there," said PDX NATCA FacRep Corrie Conrad. "At times, it would also get smokey in the tower. We were constantly working with tech-ops and management to get air purifiers and work on the ventilation system to get the smoke out of the tower cab."
No matter where our members were located on the West Coast, the FAA emphasized the importance of keeping the cargo planes in operation. Because of the coronavirus, cargo planes continue to carry personal protective equipment across the Pacific Ocean to the U.S. "The cargo airports have taken priority for the health of the nation," said Williams. "As essential personnel, we have to keep the cargo moving."