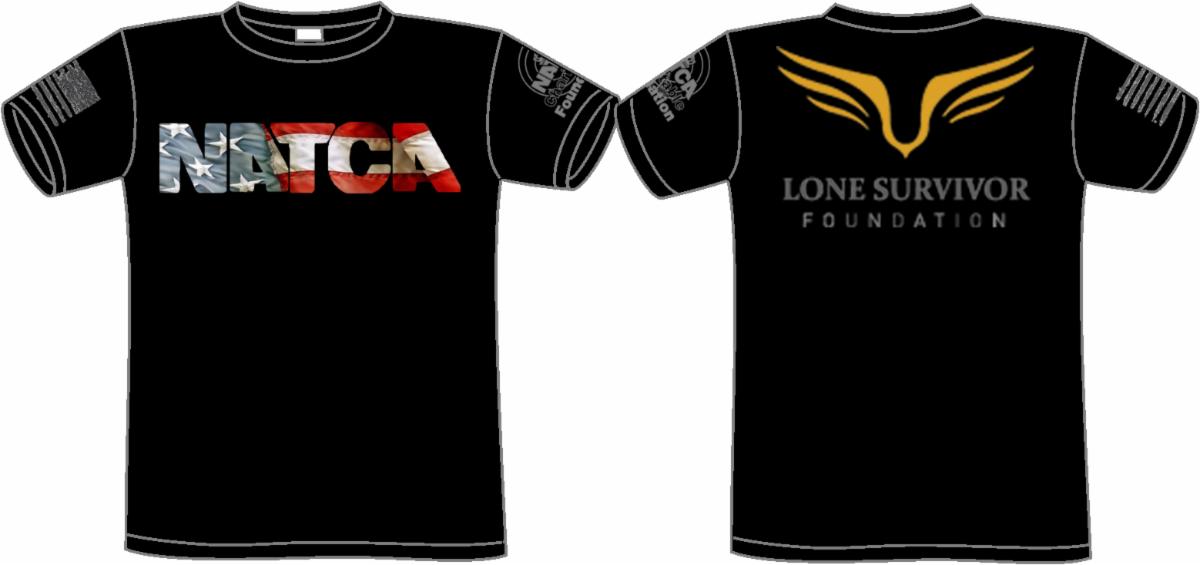 Order by Oct. 28 to Receive New Shirt by Veterans Day; Supporting NCF and Lone Survivor Foundation
With Veterans Day coming up, NATCA is offering a new T-shirt to honor members of our Union who are military veterans and support both the NATCA Charitable Foundation (NCF) and the Lone Survivor Foundation (LSF). Order yours by Oct. 28 to ensure the best chance of receiving it by Veterans Day on Nov. 11, via USPS First Class mail. 
Order your shirt from the NATCA store: 
unisex shirt | women's shirt.
LSF was founded in 2010 by Marcus Luttrell, the only survivor of a 2005 Navy SEALs mission in Afghanistan. Luttrell's Texas ranch was the center of his post-combat recovery. He wanted other military families to have the opportunity to step out of their daily routines and come to a place of peace; a place where they could obtain tools for healing while being surrounded by other people who understand them. LSF provides that opportunity while honoring the warriors that gave their lives in service to our country. LSF restores, empowers, and renews hope for wounded service members, veterans and their families through health, wellness, and therapeutic support.
LSF is one of the four charities that NATCA and NCF are spotlighting as part of the 18th Biennial Convention in Houston, May 25-27, 2021. Convention Committee member Lee Moore from Houston TRACON (I90), an Air Force veteran, stated, "The committee wanted to highlight Lone Survivor because it's a local charity that helps veterans with PTSD. A large percentage of NATCA members are veterans, including 80 percent of the members at my facility. A majority of that 80 percent have been deployed. There's a special connection of knowing what it's like to be deployed and the potential mental fatigue and PTSD that goes with that. Lone Survivor stands out as an organization that we have more of a sentimental connection to, because a lot of us have been in those shoes."
The shirt comes in both unisex and women's sizes. The women's shirt is a V-neck. Both shirts are USA-made and union printed. The $30 price includes shipping and handling. We will continue to take orders for the shirts through Veterans Day. Order your shirt from the NATCA store: 
unisex shirt | women's shirt.