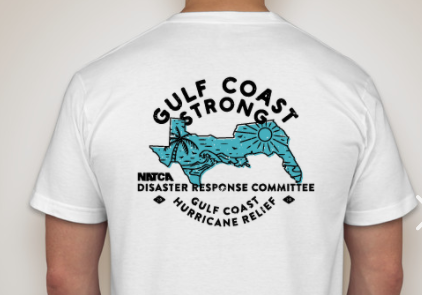 New Shirt Supports NATCA Disaster Relief Fund
The Disaster Response Committee (DRC) is selling Gulf Coast Strong T-shirts to raise money for the Disaster Relief Fund. Purchase your shirt here.
This year continues a full court press on the lives of our membership. From wildfires on the West Coast, a derecho in the Midwest, and the Gulf Coast being battered from hurricanes and tropical storms, we are prepared to assist NATCA members and their family members. 

NATCA established a disaster relief fund in 1992 in the wake of Hurricane Andrew in Florida. Following the devastating 2017 hurricane season, NATCA formed the DRC to manage the disaster relief fund and organize the relief process for NATCA members affected by a disaster. Due to the generosity of our membership, our fund has continued to grow and has provided assistance to those members affected when disaster strikes. 
However, due to the extreme challenges of 2020, we need your help today to replenish funds used to help dozens of NATCA members this year. We have set a goal of raising $25,000 by the end of 1st quarter 2021 to replenish from the 2020 challenges.

The DRC stands ready to assist fellow NATCA members. Your donation is always greatly appreciated. Learn more about the Disaster Response Committee.