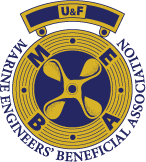 Union Members Feature: MEBA
We continue to highlight our union sisters and brothers who are also essential workers during the COVID-19 national emergency. Today we thank the members of the Marine Engineers' Beneficial Association (MEBA).
MEBA is the nation's oldest maritime labor union, established in 1875. 

MEBA was NATCA's parent organization upon the Union's founding and first few years, providing assistance. MEBA represents a large and diverse mix of engineers and deck officers in all aspects of the maritime workforce, as well as shoreside professionals at ports, offices, and in the service industries. The COVID-19 pandemic has affected MEBA members immensely as many face unprecedented restrictions and hardships, including being unable to leave their ships even when in a port and waiting for months for replacement, as quarantining procedure slows the rotation of personnel.

Click here to read more about how MEBA has fought for its members during this year's challenges.
Aviation Labor News

THE NEW YORK TIMES: Flight attendants face an uncertain future – This month, United Airlines and American Airlines furloughed more than 32,000 employees. Many of them are wondering when, or if, they'll fly again.
Flight attendants have taken on various roles in the public imagination over the last century: nurse, companion in the skies, doting provider, glamorous traveler.

Though commercial flights have become much cheaper and more frequent since the T.W.A. heyday, there's still an inherent magic to air travel that rests on the cabin crew providing safety and comfort. Read more
THE HILL: As frontline workers contract COVID-19, we're not doing enough to protect the traveling public – The same day that President Trump revealed that he and the first lady tested positive for COVID-19 — the U.S. Department of Transportation (DOT) rejected a petition by 33 unions representing frontline transportation workers for an emergency order to require passengers to wear face coverings when they travel on planes, buses, trains and ferries. We later learned the White House also blocked a similar CDC mandate, leaving the agency charged with protecting the health of Americans to issue, watered-down recommendations for mask usage on transportation. Read more
FORTUNE: Why stronger labor unions would speed up America's post-COVID recovery – Recessions always inflict the most pain on Americans in the middle and lower end of the income distribution range, destroying jobs, eroding wages and wiping out savings for those working in industries such as construction, manufacturing, hospitality and retail. 

But the crushing economic impacts of the COVID-19 pandemic have reached levels unseen in the last four decades, and the long-term scarring will be severe without intervention from Congress – not just in the form of emergency relief, but also with targeted policy solutions. 
   
One solution lawmakers should prioritize is a historic workers' rights proposal, given that defanged labor protections are a large part of the reason the downturn has been so devastating to those who can least afford it. We need to bring back fairness to an economy that is increasingly plagued by a fundamental imbalance of power between workers and employers. And at a time when our nation is engaged in a vital conversation about economic justice, we need to make union membership a civil right. Read more
CNBC: Southwest pilots' union pushes back on 10% pay cut proposal – Southwest Airlines pilots' union is pushing back on a company proposal to cut pay by 10% to avoid furloughs through the end of next year, the latest wrinkle in the carrier's efforts to cut costs in the pandemic.
Southwest is trying to preserve its record of never having furloughed workers in its nearly 50 years of flying, but CEO Gary Kelly warned earlier this month that it would seek concessions from the labor unions that make up the bulk of its workforce.

"Our goal is to protect every pilot job so we can be prepared to take advantage of revenue opportunities when customer demand returns," Southwest said in a statement. "Until then, we must also begin to restore our balance sheet by more closely aligning our loss in revenue with lower costs."Read more