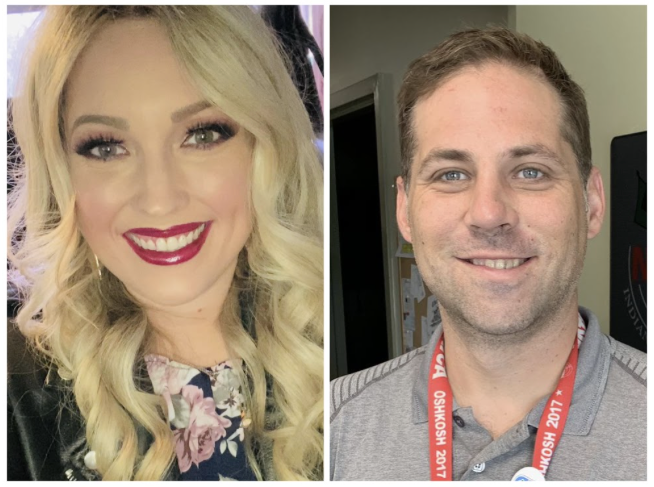 16th Annual Archie League Medal of Safety Awards, Winners' Spotlight: Great Lakes Region
Brittany Jones and Bob Obma, Indianapolis Center (ZID)
During any normal shift in Area 2 of Indianapolis Center (ZID) on a mid-March Saturday afternoon, assisting the pilot of a Cessna 172 Skyhawk who encountered icing conditions would have required the same knowledge, calm professionalism, detailed checklist of tasks, and supreme focus that experienced ZID NATCA members Brittany Jones and Bob Obma bring to work.
But this particular Saturday afternoon shift, on March 21, 2020, was the first in which three areas at ZID were closed after positive COVID-19 tests. With uncertainty swirling as the nation began its descent into the throes of the pandemic, the challenges involved with handling an emergency situation – like this Skyhawk – increased.
"Quite possibly the craziest week of my life that I can remember," said Obma, who had just been recertified three days prior to this shift after being off the boards for multiple years with a medical issue. "You're walking down the hallway and you pass these areas with yellow police tape marking them off. All the lights are turned on but there's no controllers. You could still see some random data blocks on the scopes. It just felt really strange."
Traffic levels were still high. The closure of much of ZID's airspace forced controllers to work on the fly and join together to come up with plans and make them work. There were re-routes around closed airspace, aircraft in Area 2 that are usually not worked in that lower altitude airspace (23,000 feet and below), and other situations that were not planned for.
"Everyone was already on high alert," Obma said. "Their energy was already revved up."
Dennis Tyner was piloting the Skyhawk. He departed Prestonsburg, Ky., headed for Lexington, Ky. He encountered icing conditions and requested a lower altitude from Obma. Unfortunately, because of the mountainous terrain, Obma was only able to get him down to 3,100 feet, which was not enough to get the ice off the aircraft. As an experienced pilot himself, Obma knew what Tyner was experiencing in trying to fly the aircraft. Obma declared an emergency for him before starting work to vector him around higher terrain and setting him up for an approach at an alternate airport in Morehead, Ky. Jones joined Obma as his D-side controller.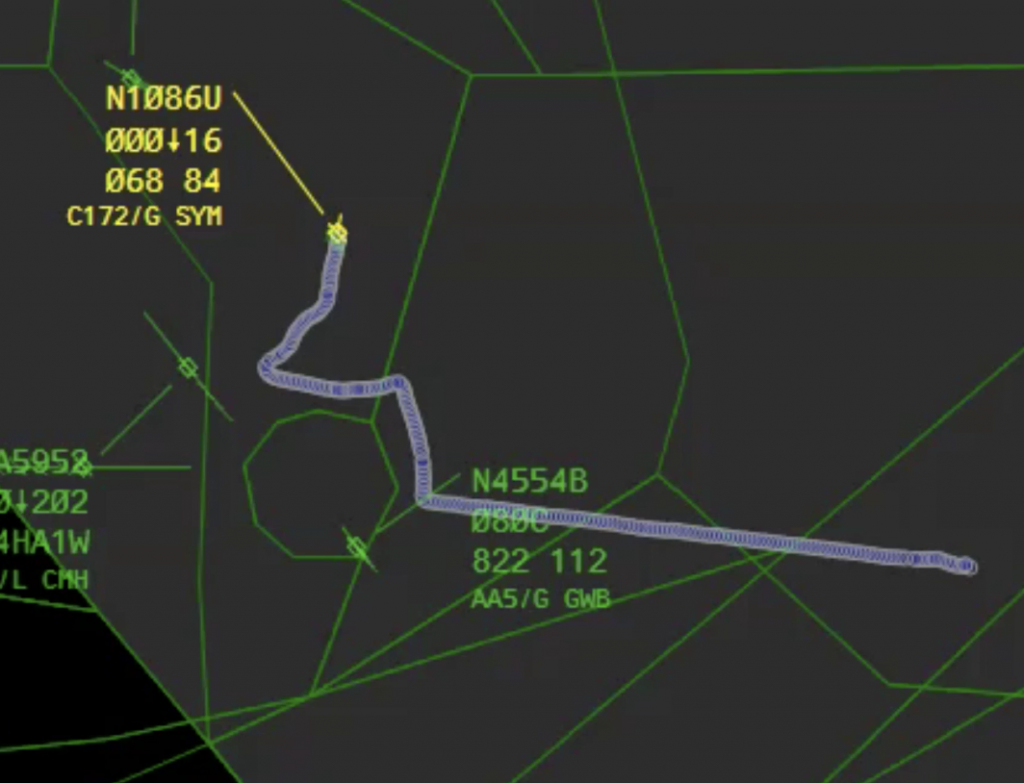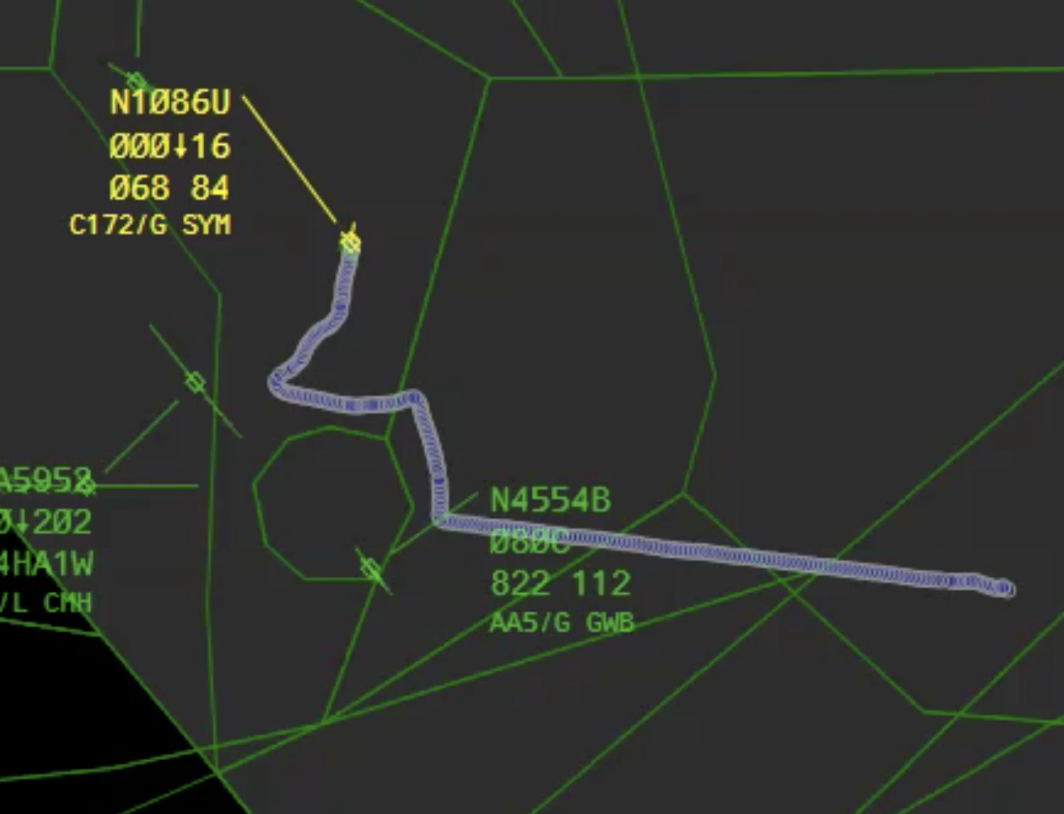 "My first instinct was to sit down next to him and get a briefing from him and get an idea of what was going on, and just help as much as I can," said Jones, who has been at ZID for all of her first six years on the job and is a second-generation controller whose father worked at Houston TRACON (I90). "Not only is the pilot's workload huge at this point, but Bob's workload is dramatically increasing at this point as well."
Jones knew that Morehead-Rowan County Airport was right next to Lexington ATCT (LEX) approach control airspace. She called them for information including wind and weather conditions to determine the best approach for Tyner to fly into the uncontrolled airport. She amended the flight plan with the new destination and pulled up the approach for Obma to read to Tyner. She also provided the phone number for the airport to their supervisor so that he could call and ask the airport manager to make sure the lights were turned on to their brightest setting to assist Tyner in obtaining a visual with the ground safely.
"That aircraft would not have had a good outcome without her," Obma said of Jones. "I was already having a busy sector. Without Brittany, there's no way I could have looked up approach plates, done all these other things, talked to facilities and maintained focus on looking at the pilot's airspeed and making sure the altitude was good. Her sitting down was the game changer in that situation."
Obma said the situation required Tyner to quickly get on the ground due to the amount of ice on the aircraft. Tyner couldn't descend and burn off the ice due to the minimum vectoring altitude, and couldn't climb either. Time was critical. But while it was only about 10-15 minutes until Tyner landed safely, Jones said "it felt like forever."
"It felt so much longer because we were just waiting for him to get the airport in sight and let us know he was safe," she said. "We were just holding our breath, thinking, 'come on.'"
Tyner called the Area 2 supervisor, Aaron Stone, after he successfully landed to express his gratitude. Stone said he could hear loud crashing noises in the background. Tyner told him, with a chuckle, that was the sound of the ice falling from his aircraft onto the apron.
Jones said the episode highlighted a truly unforgettable shift.
"It's one thing to come into the building and see people in hazmat suits cleaning everything. That's surreal enough," she said. "Then, to come in and be helping to basically save someone's life and be sure they get on the ground safely in these adverse weather conditions, yeah I would say it was definitely one of the most memorable days."
This flight assist marks the third time Indianapolis Center members have represented the Great Lakes Region (NGL) in the 16-year history of the Archie League Medal of Safety Awards, all in the last three years. Nicholas J. Ferro and Charles Terry won the award in 2019, and Daniel Rak won in 2018.