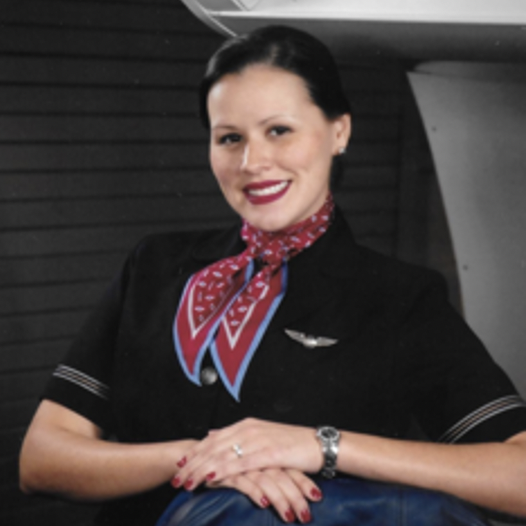 Aviation Labor News: How Flight Attendants are Coping During Pandemic
In addition to all the changes affecting our members in their facilities, many of our members also have family members and friends that are being affected by furloughs in the aviation sector. Krystal Donaldson, who is married to Dallas/Fort Worth TRACON (D10) FacRep Terry Donaldson, shares her first-hand account as a flight attendant affected by COVID-19 as part of the airline community:
My name is Krystal Donaldson. I am 37 years old and married to Dallas/Fort Worth TRACON (D10) FacRep Terry Donaldson with a 16-year-old high school junior at home. I am the youngest of four sisters and a native Texan. I was raised in the Houston Metroplex, but transplanted to the Dallas/Fort Worth (DFW) Metroplex after high school. I attended and graduated, with honors, from the University of Texas at Dallas with a Bachelor of Science Degree.

I began my career as a Flight Attendant with American Eagle Airlines in 2009, based out of Chicago. I was awarded a transfer to DFW several years later and transitioned to American Airlines (Main Line Carrier) in the summer of 2013. Following the US Airways merger in 2015, I became more actively involved as a member of the Association of Professional Flight Attendants (APFA). As an activist, I have helped spread information, raise awareness on contract negotiations, and pending votes as our two companies became one. With the current state of aviation, furloughs, cutbacks, and the impacts of COVID-19, I have continued to be active with APFA. I have assisted with rallies, pickets, social media campaigns, and other grass roots efforts to disseminate information and encourage activism with legislative activities and solidarity events. I love my career as an aviation professional and cannot imagine doing anything else.

Many of my brothers and sisters have been adversely impacted by the furloughs and the impacts of COVID-19 on our aviation community. The vast majority of my close friends, co-workers, and fellow activists have been furloughed, saving only a few who made the first round of cuts. Many of them have lost entire household incomes (pilots, flight attendants, dispatchers, and other joint aviation households), with no expectation of when or if a recall might come. This loss of income also comes with the loss of insurance, benefits, and the many securities that some take for granted daily.
I cannot express the level of frustration, anxiety, and anticipation-filled emotions that now rule every day. Watching the mail in hopes of receiving a letter of recall from American or a news story spreading hope of paycheck protection programs, has become a roller coaster of ups and downs not only for me, but for our entire family of aviation brothers and sisters. As a 100% union household, we understand the need for solidarity, activism, and strength in numbers. All of us in aviation, must continue to fight and support action from our leaders in government and industry to bridge the gap that 2020 has caused for many industries and occupations. While aviation is very close to home for me, it is not the only industry affected so massively or sorely.

As union brothers and sisters, we must continue to take care of each other. We have to check on each other and show our solidarity and unity when it is needed the most. In the darkest of times, our demons and tormentors become even harder to contain. We have seen suicide and mental illness take its toll on our aviation families. Check on your neighbors. Make sure your pilots, flight attendants, dispatchers, rampers, agents, and other members of our community are surviving. Some of us are not OK.

I am deeply humbled and always impressed at the level of solidarity and activism that NATCA brings to the aviation community and our families. It is exciting to be a part of such a robust organization as a family member and the welcome arms that have always been extended at events and functions. I have always been treated like a member of NATCA, even though I am only an associate member by marriage. Your solidarity and family of Union brothers and sisters is one to be proud of!

Thank you NATCA for always standing with us and for remembering us when times are tough.