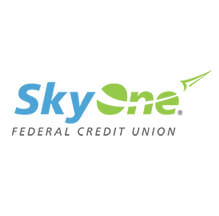 Open a SkyOne Account to Help Raise Money for Your Local
SkyOne Federal Credit Union is offering a unique opportunity to raise money for facility local accounts that bank with them: a $1,000 incentive that will be deposited directly to your local account.

What do you need to do to help your local get this bonus? Sign-up for an account by or before Dec. 31. This is for a new member account only, and any local that did not hit the bonus in October is eligible to continue towards that goal. SkyOne will count the number of accounts received toward the 20 needed. Additionally, just for signing up with SkyOne, you will receive a $25 Amazon e-gift card as a welcome offer. To open a new account with SkyOne, follow the steps below: 
Click here or use the link, https://refer.skyone.org/dina.
Enter your email and click GET STARTED.
Click on the first eligibility option and enter NATCA, or the second eligibility box for family (children or spouse).
Select YES in the promo code section and enter the facility/local three letter/number identifier.
Enter Dina Earl in the "How you heard about us" field.
Send your local FacRep a message that you completed the application. You can also send a message to Dina Earl, dearl@skyone.org.
 At least 20 members need to join from their respective local in order for the local to receive a $1,000 deposit. Additionally, the local will receive $10 for each member over the number needed (20) to join.
SkyOne Account Q&A

Does it have to be a local member? No, it can be a friend or family, just make sure they select YES in the promo code section and type in the local 3 letter/number identifier.

I am already a member, can I open a second account to qualify? No, it has to be a new primary owner name, however you can be joint on a family members account and qualify.

What is the minimum deposit? You need to deposit $5 in a savings account, and $20 in a checking account.

Can I just open a savings account to qualify? Yes.

Can I open accounts for my children or grandchildren? Yes, if you don't already have one established, you can open accounts for your children and grandchildren. An adult will need to be joint on all minor accounts and children 13 and over are able to have a checking account. Same deposit requirements as above.

What if my local doesn't bank with SkyOne? You can talk to your local leadership and the local can apply for SkyOne membership in the same time frame as the promo to participate.

What if my local doesn't want to move the local account over to SkyOne? You can always put "NCF" (NATCA Charitable Foundation) in the promo code. NCF already banks with SkyOne and has achieved the $1,000 promo. SkyOne will donate $10 for each new account that uses the NCF promo code. 

When do I get the welcome offer $25 Amazon e-gift card? 30 days after the new account is opened (not entered).

Additional account questions? Please contact Dina Earl directly at dearl@skyone.org or 310-487-1680. Good luck and let's raise more money for NATCA locals!