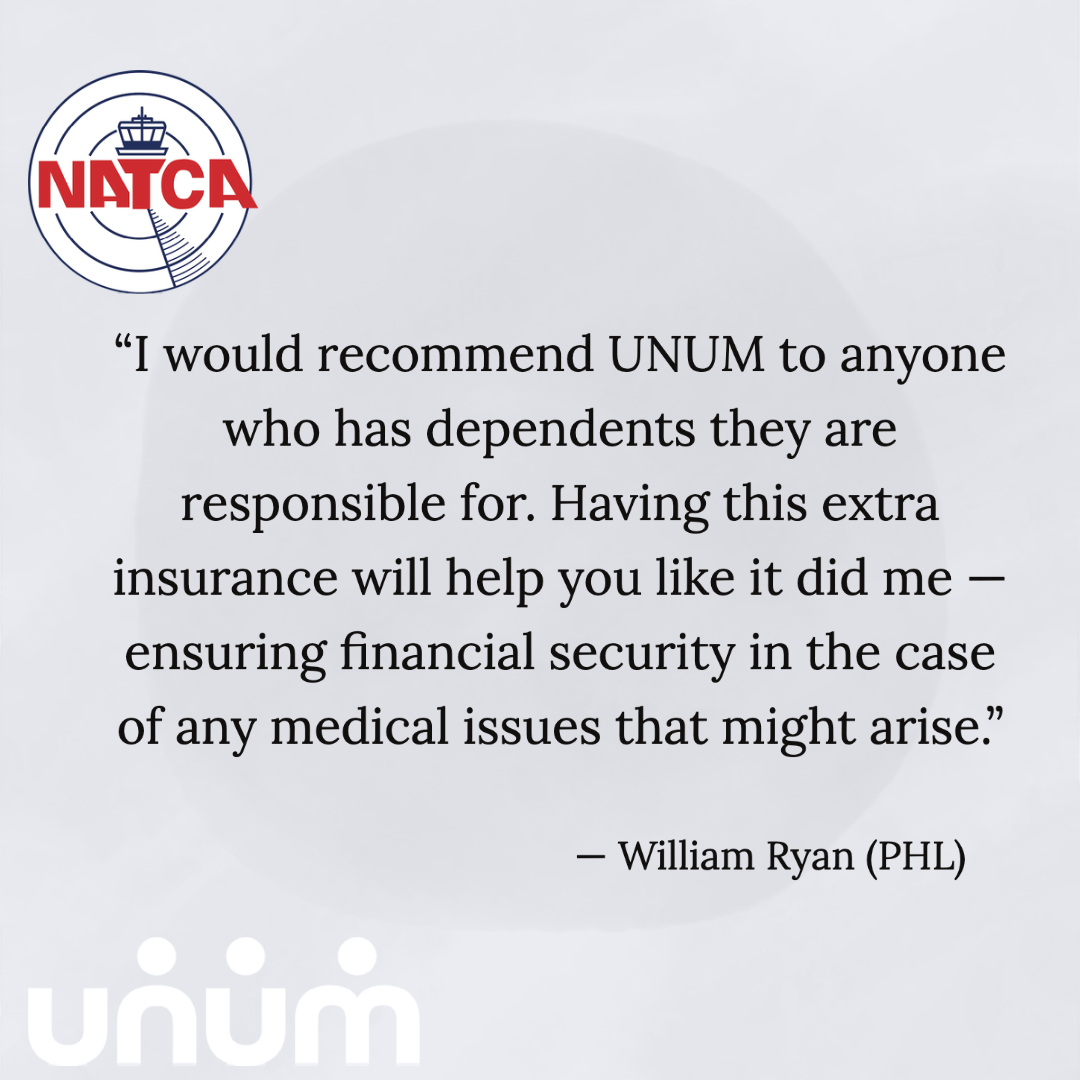 Deadline for Unum Open Season Approaches on Nov. 30
Don't Miss Chance to Get This Insurance That Takes the Financial Stress Away
The current open season to enroll in the NATCA group long-term disability (LTD) program from Unum is scheduled to end on Nov. 30. Unum is the insurance that provides protection in the event you lose your medical or are disabled. Having insurance grants peace of mind when the unexpected happens. Don't miss this opportunity to enroll.

Philadelphia ATCT (PHL) member and staff specialist William Ryan encourages all NATCA members to sign up for Unum during this open enrollment season:

"I have had Unum disability insurance since 2007. It has allowed me to make ends meet and help to take the financial stress away. I never thought I would need this, and wow, has it helped me with the time I have missed at work over this last year. I easily filed a claim with Unum in March 2019 and was helped by the NATCA disability team. I would recommend Unum to anyone who has dependents they are responsible for. Having this extra insurance will help you like it did me — ensuring financial security in the case of any medical issues that might arise."

Visit natcadisability.com for more information and to enroll. 
We are proud of the amazing benefits package that we offer our members, with one of the most valuable being the long-term disability (LTD) insurance from Unum. You've seen the member testimonials these past few weeks in NATCA's member publications and on social media. Today, we have a new video with an important message below:
Unum Prize Drawing Winner at ZID
Each week, NATCA holds a prize drawing from the members who have signed up for the Unum LTD insurance. This week, we would like to congratulate Indianapolis Center (ZID) member Robert Vaughan.

"I heard about Unum at work and received a mailer as well," said Vaughan. "The decision was easy to make and provided me the peace of mind while moving forward in my career. I appreciate having a NATCA contact available for this benefit. I had a small issue with enrolling and received a very quick response on how to fix the issue. I feel that every NATCA member should take advantage of this program."

Congratulations Robert. Thank you for supporting and participating in this important NATCA benefit. Members not enrolled should sign up today to participate and be entered into upcoming drawings.