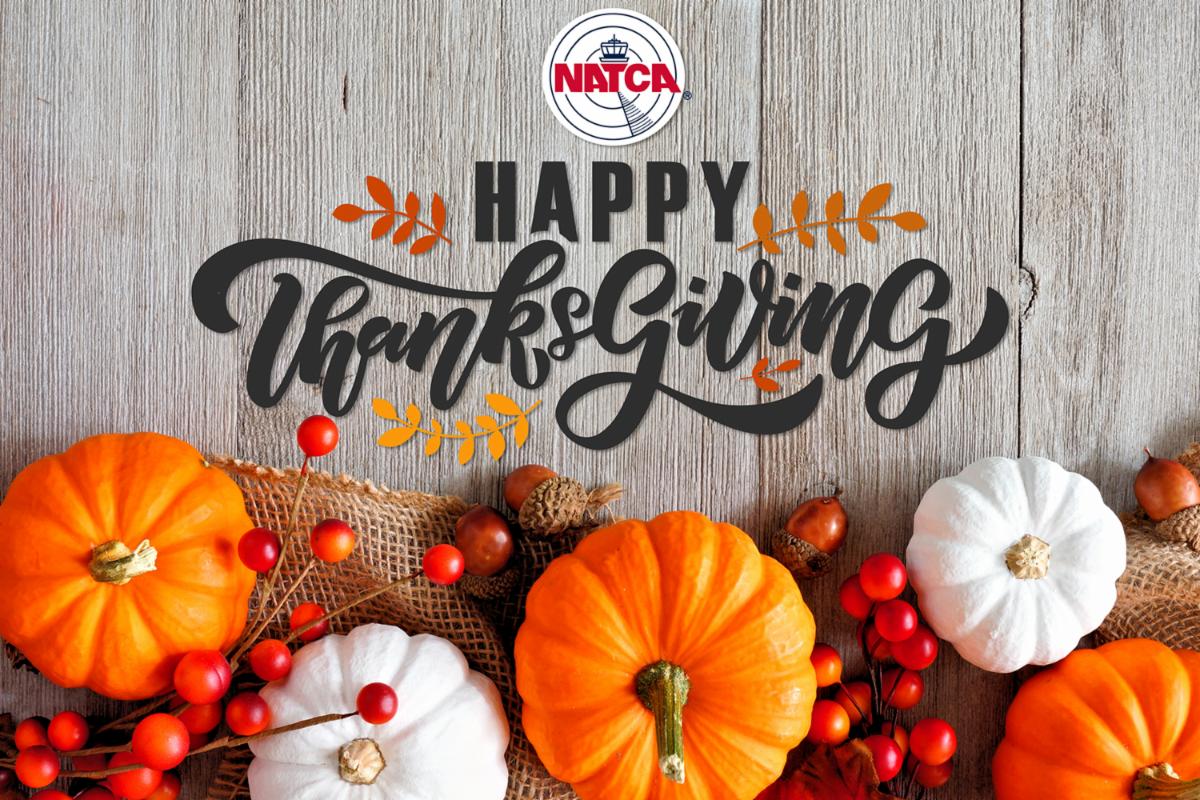 Happy Thanksgiving from NATCA
None of us could have imagined the sorts of challenges and tragedies we have faced in 2020. Still, as we celebrate Thanksgiving this week, we have many reasons to be thankful.
The news deserving the greatest thanks is that vaccines should be available for all Americans in the coming months. Afterwards, we will all be able to concentrate on getting back to "normal" and rebuilding our beloved aviation sector and the larger economy.
While every infection is one too many, our Union's collaborative efforts with the Federal Aviation Administration (FAA) have kept aviation safety professionals as safe as possible while we have done our essential work. The COVID-19 pandemic still rages, and the travel sector and commercial aviation have been hit hard. In spite of the pandemic, air traffic controllers and other aviation safety professionals have kept the National Airspace System (NAS) operating safely and efficiently so essential air traffic and cargo can keep moving. Our profession will play a vital role as drug makers and governments prepare to distribute billions of vaccinations globally.
NATCA is well known for our advocacy in Washington, D.C. The pandemic prevented us from holding our annual NATCA in Washington lobbying event. It also made our Election 2020 and Boots On The Ground efforts more challenging. Even so, our Union's collective voice continued to be heard loud and clear. NATCA members advocated for issues important to our Union, and NATCA members volunteered in many election campaigns to protect the NATCA Majority in Congress.
While some NATCA members were affected by unprecedented and very destructive hurricanes, floods, tornados, and wildfires this year, the NATCA Disaster Response Committee was there to monitor these tragic events and provide necessary assistance to help the affected members start rebuilding their lives.
The NATCA Charitable Foundation has similarly continued its activities. This year, NCF helped organize a number of fundraising efforts to grow its important support to vital charities. NCF raised a record amount with its 25 for 25 campaign – nearly $90,000 – for NCF and the American Foundation for Suicide Prevention. These fundraising efforts are especially noteworthy, because they were all done virtually.
Of all the things that we celebrate this Thanksgiving, our greatest blessing has been how our NATCA family has come together in solidarity this year. We have been there to support each other, defend our profession and the NAS from the pandemic, and advocate for an even stronger aviation sector in the future. This year, many NATCA locals returned support that other unions provided to us during the last government shutdown, by providing meals, protective equipment, and other supplies to medical personnel and other emergency responders dealing more directly with the pandemic.
Challenging times test us. Together, we have overcome everything we have faced this year. Our great Union remains strong. And the future of NATCA promises to be even stronger.
We thank you for being an important part of our NATCA family. We wish you and your loved ones a happy Thanksgiving.