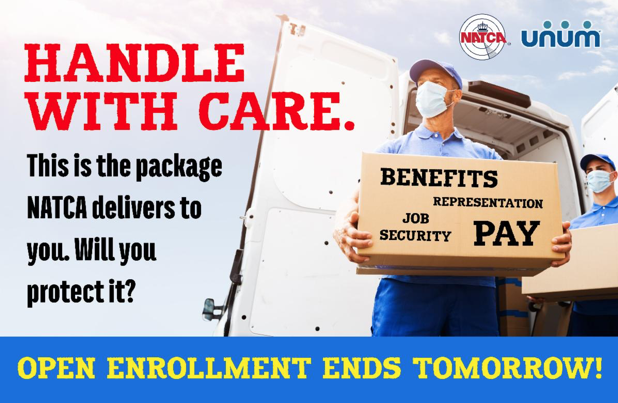 Is Your Income Insured with Unum? Open Enrollment Ends Dec. 10
We are proud of the amazing benefits package that we offer our members, with one of the most valuable being the NATCA group long-term disability (LTD) program from Unum. This is an opportunity exclusive to NATCA members. The current open season to enroll in the NATCA group LTD program from Unum is ending tomorrow, Dec. 10.

Do you have a back-up plan in the event you lose your medical and become disabled? View the video with an important message below:
Having insurance grants peace of mind when the unexpected happens. Unum is that insurance that provides protection and peace of mind in the event you lose your medical and are disabled. Don't miss this final opportunity to enroll.

Chicago TRACON (C90) member Michelle Eddy shares why she is so glad she had Unum when she needed help the most: 

"I signed up for Unum long-term disability insurance shortly after I was hired in the Agency. At the time I felt that I would probably never use it but it was nice to have a safety net. Fast forward 19 years, I was diagnosed with colon cancer 20 months before I will become eligible for retirement. Just the year prior to my diagnosis, I thought about canceling the insurance since I was so close to retirement. I am very thankful I never made that call. My husband is retired so I am the primary source of income. When I got diagnosed there were so many concerns; what will the surgery recovery time be like, how long will chemotherapy take, will I be cured and go on to enjoy my upcoming retirement? 

"The last thing I wanted to think about while battling cancer was my finances. I called one of the Unum reps, and she explained the whole process and sent me the paperwork to fill out. The process was super easy and the insurance is actually much better than I had previously understood. This insurance has allowed me to stay at home when I need to and focus on my treatments and getting better. I believe every member should have this insurance. Many of us believe that they are healthy, have plenty of savings and leave, and it won't happen to us. When a catastrophic accident or illness happens it is crucial to be able to focus on your health and your family, and not worry about your financial obligations."

Visit natcadisability.com for more information and to enroll. 
Unum Prize Drawing Winner at C90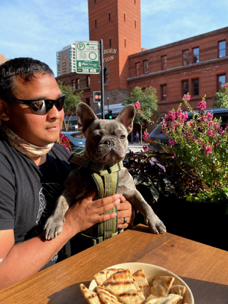 Each week, NATCA has held a prize drawing for the members who have signed up for the Unum LTD insurance. This week, we would like to congratulate Chicago TRACON (C90) member Arnulfo Bravo. 

Says Bravo, "The reason for me signing up is because of all the recent uncertainty, and at the same time seeing some of my fellow union members unable to work from different situations. I felt like I needed someone on my side, and my (NATCA) brothers and sisters have told me that this is a great program and that it has helped them tremendously."

Congratulations Arnulfo. Thank you and the many others who have supported and participated in this important NATCA benefit. 

Members not enrolled can still sign up. Tomorrow, Dec. 10, is the FINAL DAY.