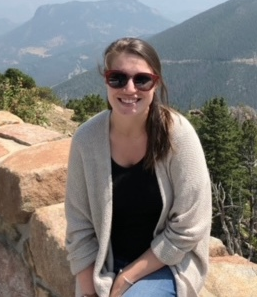 National Office Staff Employee Feature – Olivia Hughes
We have an amazing National Office staff that our membership can be very proud of. They are committed to providing our members with the very best service and representation in organized labor. Today, we introduce you to the newest member of NATCA's staff, Executive Administrative Assistant Olivia Hughes, who joined our NATCA family in August 2020. 

Olivia works closely with both of us. It is not easy to start a new job while working remotely, because you don't have the luxury of knowing what any of your fellow employees even look like. But Olivia has eagerly embraced her position with energy and flexibility and has been warmly received by the staff.
Where are you from, or what places have you lived?
I am from Washington, D.C.
Where did you go to school, or what other education do you have?
I went to St. Lawrence University in upstate New York.
How did you come to work at NATCA?
I was working with a staffing agency and they introduced me to NATCA.
What's the most rewarding part of being a member of NATCA's staff? What's the most challenging?
The most rewarding part is knowing that I am part of a mission and cause that involves a deep level of support that NATCA has for its members. The most challenging part was starting my new position during COVID -19. I wish I was able to meet everyone face-to-face to see how things operate in "normal times."
Do you have any hobbies or any other activities you enjoy outside of your work for NATCA?
I really enjoy traveling.
Has there been a favorite moment for you while at NATCA?
Given the current remote environment, my moments are limited. However, I really enjoyed participating in NATCA 101, which afforded me the opportunity to learn the history of unions and NATCA.
My favorite band is: Grace Potter and Red Hot Chili Peppers
My specialty meal to cook is: Pasta with meat sauce
My favorite comfort food is: Soup
My favorite book I could read over and over is: The Great Gatsby
The best place I've ever travelled to was: The Galapagos
My favorite sport is: Soccer
The one chore I absolutely hate doing is: Emptying the dishwasher
Candy or Chocolate: Candy
In my spare time, I enjoy: Watching movies/ TV