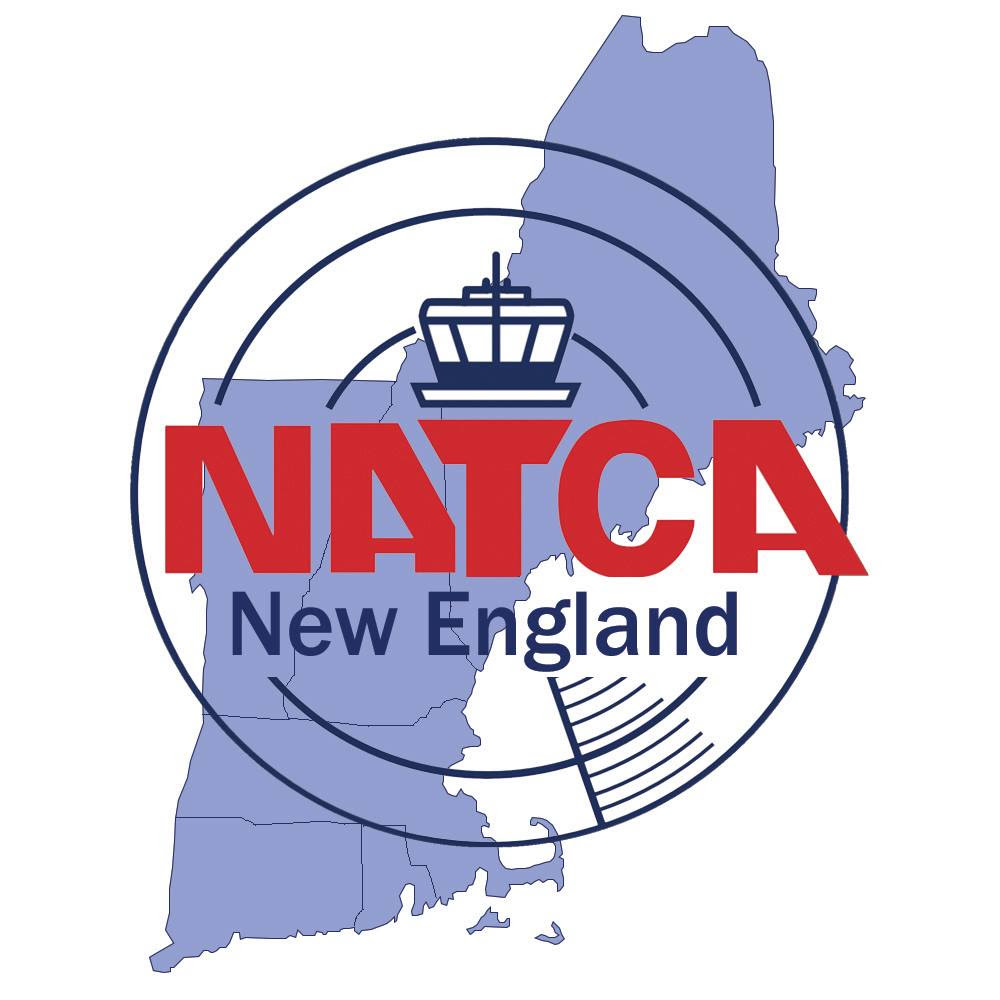 January 2021 New England Regional Update
From Mick Devine, NATCA New England Regional Vice President
"E Pluribus Unum" is a Latin phrase meaning "Out of many, one." It was the motto proposed for the first Great Seal of the United States by John Adams, Benjamin Franklin, and Thomas Jefferson in 1776. It certainly has great meaning for modern day successful unions. We always preach to our Reps to know where you were, where you are, and where you want to go. You cannot successfully navigate the trajectory of where you want to go without knowing the other two.
Knowing where you were, where you are, and where you want to go works for each of us personally, but more importantly for this conversation, is how it fits with our labor union. We were able to successfully navigate the anti-union executive orders (EOs) authored by White House Chief of Staff Mick Mulvaney and issued by former President Trump without major harm. Our collective bargaining agreements (CBAs) protected us from the majority of those EOs until the CBAs expired. Those EOs have been rescinded by the current administration and no longer threaten our union's existence. For other labor unions, the effects of those EOs will be long lasting.
Many times, as union leaders and members, you find yourself in a fight for something that either doesn't affect you or it won't affect your members, but members who have not yet been hired. Look back in 2006, during the lead up to the white book. The FAA, according to the FAA Administrator Marion Blakey, was looking to severely cut back on all of our salaries in order to be "in line with the rest of the employees in civil service." NATCA was given a chance to save all their pay going forward and just go with a huge pay cut for all new employees who had not yet been hired. That is quite the crossroads for our membership to be put into. They didn't even know the people they were fighting for so hard. They didn't know the people they would be making huge sacrifices for. There's one thing NATCA knew at the time—right and wrong. We would never be taken seriously going forward if we sold out our future membership for our own short-sighted benefit. Those new members are us. Out of many, one!! Would our generation rise to meet that same challenge?
Our generation has been through a lot as well. We own the 1440, which are the controllers who were hired under one pay scale and forced to the B Scale of the white book. We have the Per Diem at the academy group, the furloughs during the sequestration in 2013, the title 49 issue which fixed the loophole that allowed the imposed work rules, and the longest government shutdown in US history, just to name a few. This generation has also answered the bell when the time was needed, not to fix our issues from the past, but to ensure they never happen to the next generation of us. Where you were, where you are, and where are you intending to go!
"E Pluribus Unum" is not only the early motto of this country but one we should think about as a collective group fighting for the same cause. That is exactly what this union is. Our collective spirit will always be the strongest weapon we have, and we have to remember that sometimes this fight doesn't affect you, but that doesn't make it any less important. You always hear that as a parent, you want to pass on a better life to your children than the one that you had. That same mantra goes for NATCA. We must hand the next generation a better NATCA than we were given, and demand that they do the same. We owe it to those that fought for us before they ever knew we existed.
---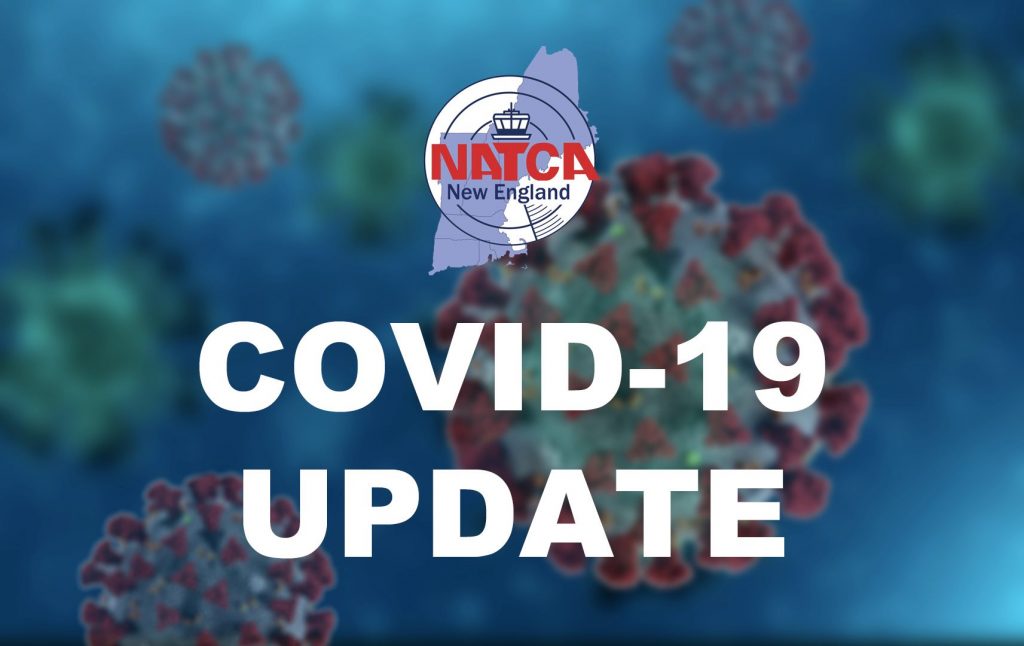 We continue to be engulfed by all things COVID. What we brief today is changed tomorrow, and sometimes comes back into the picture. There was never a playbook for this and so we continue to write it, make mistakes, learn from them and make it better. Currently, we have had just about 50 positive cases inside of New England since the start of the pandemic, and there have been at least 15 deaths FAA-wide, so this continues to be a major risk and will be treated as such. Highlights of where things stand today, as I write this:
---
Schedules
We continue to have a mix of BWS, two teams, and three teams. BWS facilities fall under the carry-over MOU which was signed at the end of last summer/ beginning of the fall. Until your facility is at 80% of its historic traffic levels, the ATM and FacRep will negotiate COVID Staffing Numbers for each pay period. Once they hit 80%, they are back to their original MOU as constructed.
Two and three teams still need to be practicing crew sterility. There should not be bridge shifts for 24-hour facilities. Excused Absence continues to be prevalent and you remain recallable during those times. Each and every one of you should know the exact shift you are on while on excused absence.
---
COVID Testing
We have an agreement with the FAA that you will receive two days excused absence to receive a COVID-19 test. This does not need to be "precoordinated" but does need to be reported to get your time converted. The intent of this is to try to get our members to stop selfishly coming into work with symptoms.
---
COVID Vaccine
An agreement has been reached at the national level with regard to the COVID-19 vaccine. Both parties had interests in not having a facility shut down as a result of all its members getting the vaccine on the same day. As you are aware, each shot you get requires two days of medical disqualification. Thus, the FAA and NATCA at the local level will work together to determine how many people they can let off the schedule to get the vaccine each day and how they will administer that. If the employee works with the agency, they will receive two days of excused absence for their medical disqualification days. If the employee gets the vaccine without coordination, and that is your absolute right, then the time spent away will be on your own sick leave. Facilities on two and three crews will lean towards their employees getting their vaccines on their excused absence days away from the facility which has already been built into the schedule. Your FacReps have a copy of the national agreement and should already be working with the ATM to get this up and running. While the FAA is attempting to acquire enough vaccines to administer to its entire front line workforce, right now we are still at the mercy of the municipality in which we live or work.
---
Routine Level 3 (RL3)
There is a new procedure being tested across the FAA's "Focus 40" facilities (which happens to be 83 facilities), including A90, with BOS and ZBW starting soon. Each facility will receive a level 3 cleaning every day as a replacement for one of the level 2 cleanings. These cleanings can be done without going ATC-0. The only caveat is that you cannot be on a position while it is being cleaned. It involves moving a position to somewhere else in the operation while it is being cleaned. It should be more than 10 minutes for the product to be applied, wiped off, and dried before you can work on that position again. There have been over 3,000 confirmed cases nationwide since the beginning of the pandemic, and the amount of ATC-0s has been extraordinary. This will hopefully cut down on those numbers moving forward, especially with the sheer volume of COVID-19 vaccine flights flying each day across the nation.
---
Masks
Right now, the mask agreement we have with the agency is unchanged. You must wear a mask anywhere in a facility where you cannot maintain a social distance (6 feet). As you may or may not be aware, President Biden issued an executive order mandating masks to be worn on all federal property at all times. As with the anti-union EO's from the previous administration, they do not trump our current agreements, MOUs, CBAs, etc. I do foresee our agreement changing very soon to fall in line with the Executive Orders, mandating that masks be worn at all times.

---
Labor Management Relations
From Scott Robillard, NATCA New England ARVP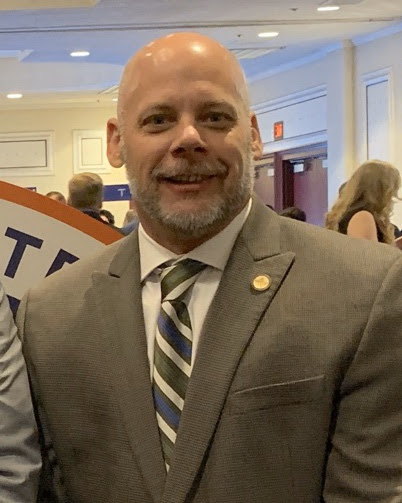 Hello New England,
President Biden has reversed the Executive Orders (EO) implemented by the previous Administration that negatively affected NATCA and its membership. However, that wasn't the only thing in the new EO. First, let's revisit how we got here.

On October 1, 1993, President Clinton (42) issued Executive Order No. 12871, which set the table for many of the advancements NATCA made in the 1990s including the 1998 Collective Bargaining Agreement nicknamed the Green Book.

The EO did so by making negotiable topics such as numbers, types, and grades of employees as well as technology, methods, and means of performing work. This was the first time in NATCA's brief history that it was able to bargain over these elements of our employment.

President Bush (43) issued Executive Order No. 13203, which canceled former President Clinton's EO on February 17, 2001. What followed was eight years of hostility towards NATCA, including Imposed Work Rules (IWRs) on multiple NATCA bargaining units.

President Obama (44) issued Executive Order No. 13522 on December 9, 2009. This EO provided for pre-decisional involvement, but not negotiability to the same sections of the law. President Obama also directed the FAA to return to the table with NATCA. This ended the IWRs and resulted in the 2009 Collective Bargaining Agreement nicknamed the Red Book. It also facilitated many of the agreements that are still standing to include the 2016 Collective Bargaining Agreement nicknamed the Slate Book.

President Trump (45) issued Executive Order No. 13812 to cancel former President Obama's EO on September 29, 2017. President Trump then issued several EOs specifically designed to damage or eliminate all federal Unions.

Coming full circle, President Biden issued Executive Order No. 14003 on January 22, 2021. President Biden, in Section 1, makes a bold policy shift by stating "Career civil servants are the backbone of the Federal workforce," and [it is the] policy of the United States to encourage union organizing and collective bargaining."

In Sections 2 and 3, President Biden removes several damaging EOs, some of which were set to take effect if President Trump had earned a second term.

In Section 4, President Biden takes us all the back to October 1, 1993, and directs the head of Agencies that they SHALL elect to negotiate over the subjects set forth in 5 USC 7106 (b) (1) and "…numbers, types, and grades of employees or positions assigned to any organizational subdivision, work project, or tour of duty, or on the technology, methods, and means of performing work…" are again negotiable.

In the 20 years since President Clinton's EO was removed, NATCA has matured and grown. We have seen good times and challenging times; sometimes overwhelming times. Looking forward, I am excited to see how well we are able to advance the welfare of the Union and the member as well as the National Airspace System.

To protect the future, you need to know and understand the past!
---
Alternate Regional Vice President
From Curt Fischer, NATCA New England ARVP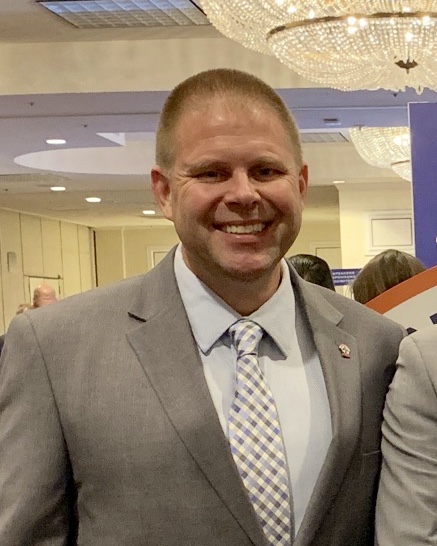 What a difference a year makes. In January 2020 we were engaged in visiting our members and raising the alarm concerning the potentially disastrous, NATCA ending, effect the executive orders could have on our profession. A true David and Goliath moment. AFGE twenty times the size of NATCA was getting destroyed. Veterans Affairs and Education Departments and the Environmental Protection Agency were revoking existing union contracts and imposing unilateral management edicts on their workers. At points, it felt like only a matter of time before we got hit. Like a car skidding off the side of a road, eyes closed, bodies tense waiting for the impact. January 20th collectively our Union was finally able to breathe a sigh of relief. The long wait was over and the Executive Orders that sought to destroy our organization no longer hung over our collective heads. NATCA not only survived but it came out the other side stronger than before. You could see it in NATCA New England in the weekly Facrep meetings and you could see it Wednesday night in the virtual town hall meeting. Leader upon leader is engaged. Engaged in safety, engaged in training, engaged in covid response and cleanings, engaged legislatively, and engaged in labor relations. This year we will continue to grow the ranks of our NATCA volunteers. All you need to do is step forward and ask to help.
---
Legislative Activism
From Andre Jean, New England Legislative Chair, and Jamie Green, New England NLC Alternate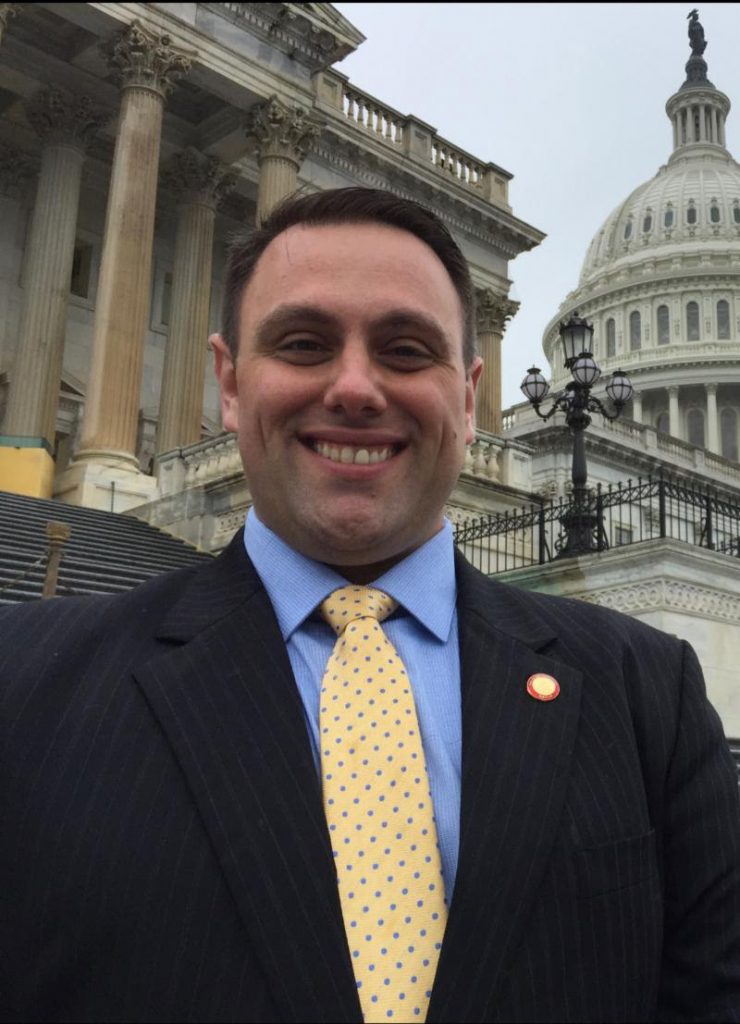 President Biden Sworn in as 46th President
On January 20th, President Biden took the Presidential oath and officially became the 46th President of the United States. Shortly after this, he signed an Executive Order that revoked earlier Executive Orders issued under President Trump.
The revoked Executive Orders had multiple negative effects, including (1) expediting the process for removing federal employees in performance-based adverse actions; (2) reducing the use of union representational official time government-wide and requiring unions to pay for office space on federal property; (3) reducing the subjects that agencies and unions can negotiate; and (4) reducing both the time it takes to negotiate a CBA and the costs contained within them.
You can read more about these Executive Orders on NATCA's website here
---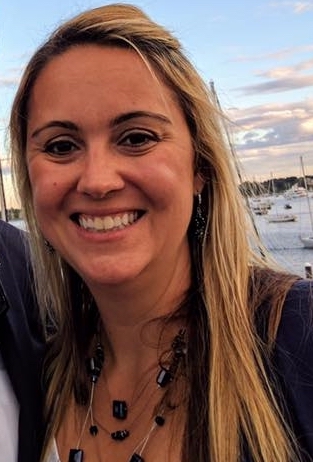 117th Congress
On January 3rd the 117th Congress was sworn in and officially began. Both the House of Representatives and, with the recent results of the Senate runoff elections in Georgia, the Senate has a Democratic majority.As a reminder, all legislation from the previous Congress that was not passed is no longer valid and will have to be re-introduced. This is the case for H.R. 1108, the bill that would provide stable funding for the FAA in the event of a government shutdown. However, Rep. DeFazio (OR-04) has expressed that he intends to continue working on this legislation and introduce in this new Congress. So, you will start seeing news about this with a new House bill number, more on this as it develops.
---
1% Pay Raise
At the beginning of the year, President Trump proposed a pay increase of 1% to all federal workers. And while the Senate was considering a pay freeze, Congress eventually decided not to act on it and let the President's proposal go into effect. You should see this increase in your last Earnings and Leave Statement.
---
FAA Appropriations (Funding)
With one week left in the last Congress, an appropriations bill was finally passed and signed by the President which prevented a government shutdown. With this legislation passed along with the previously passed FAA Reauthorization bill, there is no threat of a government shutdown until September 30, 2021.
---
NDAA
This year's National Defense Authorization Act (NDAA) included a fix to the loophole in the Paid Parental Leave Act that unintentionally left out some federal employees. This bill was vetoed by President Trump for a number of reasons but the veto was overridden by Congress and these benefits are now in place for all federal workers.
---
Annual Leave Carry-Over Increased
Also included in the recently passed NDAA was a provision that allowed for an increase in the amount of annual leave to be carried over into 2021. This provision does not technically apply to FAA employees but Administrator Dickson has decided to apply OPF's guidance in the FAA. A maximum of 300 hours of annual leave can be carried over from last year to this year. This extra annual leave does not have any cash value and will not be allowed to be carried over to next year. The implementation of this is still being negotiated. If you have any questions, please contact your FacRep.
---
Facility Spotlight – Barnes ATCT
From Andrew Brennan, BAF Facility Representative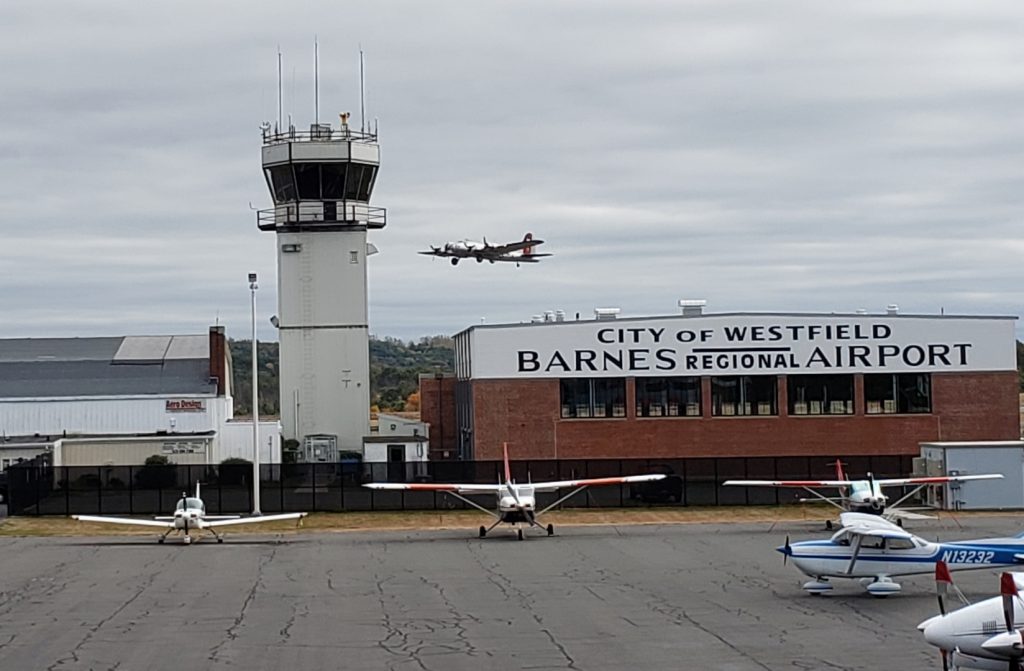 BAF ATCT is a federal contract tower that has 4 members who unanimously voted to join NATCA in August 2020. The local E-board consists of 2 members: Andrew Brennan (President/Treasurer) and Laurie Addoms (Vice President/Secretary).
BAF ATCT provides service to all types of traffic. The majority of the aircraft are general aviation. The airport has 2 flight schools, 2 repair facilities, and a restaurant located within the main terminal. Several corporate jet aircraft are based at BAF and Gulfstream Aviation has a large maintenance facility on the field which has a steady flow of aircraft seeking service.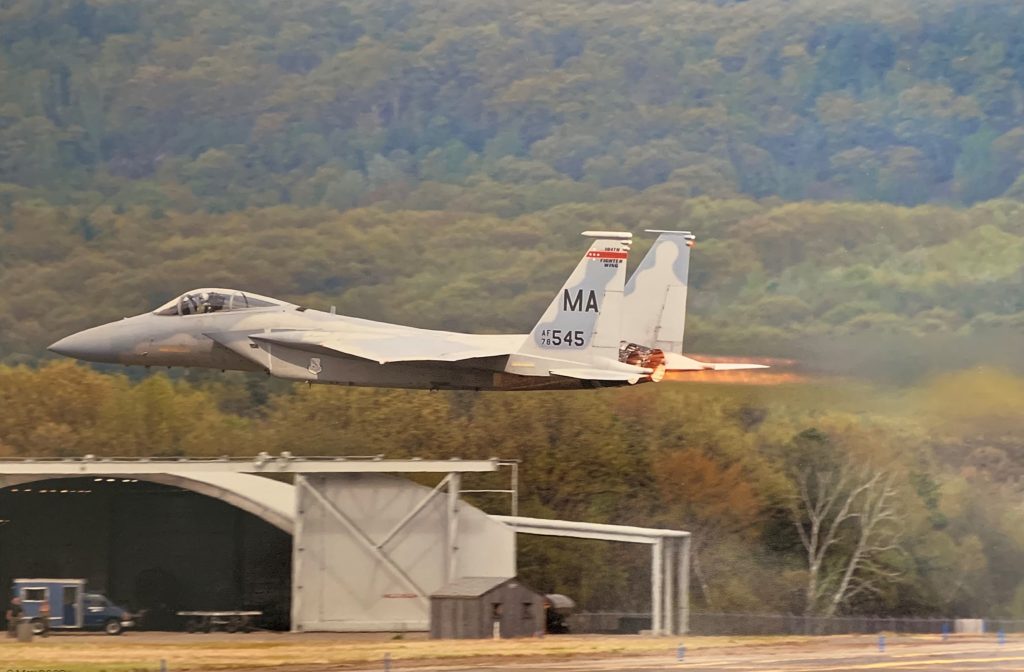 The Massachusetts Army National Guard has a facility operating UH-60 and EC-45 helicopters. BAF is also home to Air National Guard 104th Fighter Wing and its F-15s.
The diversity of traffic and varying pilot skill levels can be quite challenging, at times. The airport has everything a pilot could want. Multiple approaches for training, FBO services including rental cars, and controlled airspace by NATCA controllers.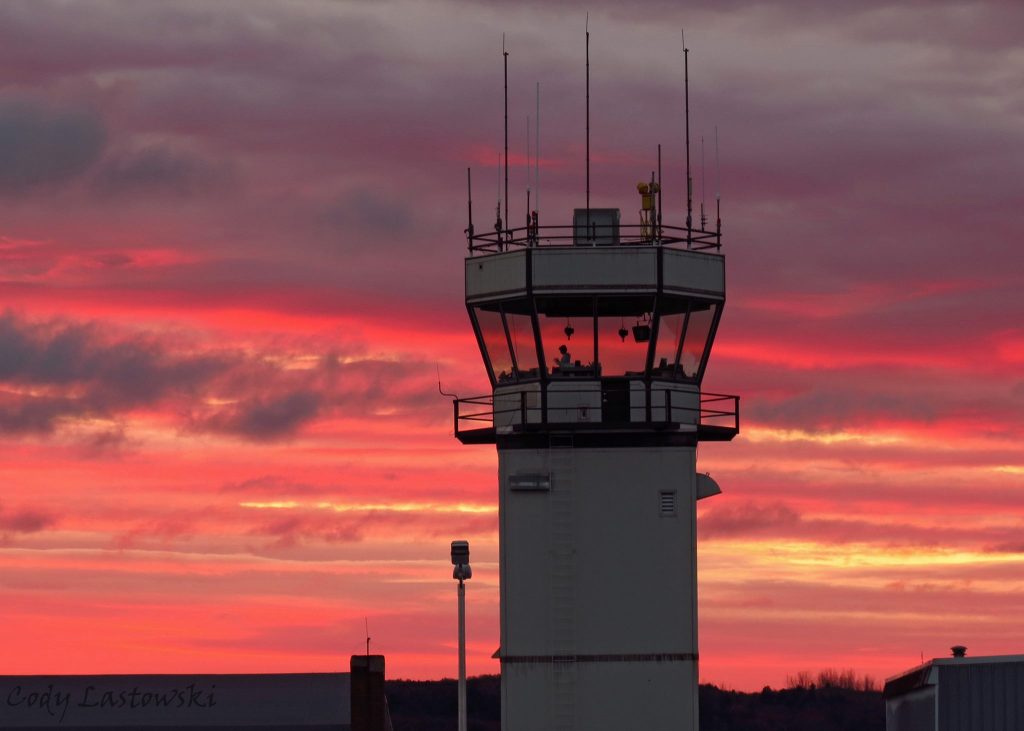 On a personal note, it is great to be back in the active NATCA family. During my FAA career, I was a longtime BDL FacRep and CT Legislative Coordinator. As a lifetime NATCA member that started in the FAA before NATCA was chartered, it has been amazing to see the growth and development of NATCA into a world-class organization. It is quite astounding that it was created and built by my fellow controllers. I never realized the sway NATCA had in the federal labor arena until I went to Lobby week. Elected officials wanted to talk to controllers, love to visit our facilities, and supported our causes across party lines. I am encouraged to see all the new, young NATCAvists stepping up to the challenges and continuing the work.
---
Highlighted Monthly Actions
From Lisa Fulford, NATCA New England Training Rep

Happy New Year! This month I worked on setting up a training Gmail account, which will be utilized by myself and facility training reps. Per the new 3120.4R each facility has a designated training rep, who will work with the facility Training Administrator (TA).

In the Gmail account, we will keep a training spreadsheet, important training documents for each facility, as well as training data. The training spreadsheet keeps track of each facility's trainees, training team members, positions training, certifications, and any notes or comments the facility training rep deems important. This will be helpful in tracking training data as well as provide a place for TRB reps to go to gather basic data for a pending TRB. The training spreadsheet will keep track of certifications during Covid, as well as hours utilized on each sector. We will use the data to determine future training that may be needed when traffic levels increase.

I reviewed training data for each facility with Ed Angel, which FAA HQs sends out weekly. Ed also pulls data from Business Objects, which shows us each trainee's hours for the day/week and the daily/weekly average. The report gives a more accurate picture of what is occurring, as HQs data is a weekly average for all trainees who received training within the week. Therefore, the data for facilities who are on Covid schedules does not accurately reflect the average per trainee. I met with facility training reps on Zoom the last week of January. We discussed their role as well as goals for facility training programs. We reviewed the Gmail account, the training spreadsheet, and training data. We will be having bi-monthly telcons to increase communication, help solve issues, and review changes in the 3120.4R.

Reach us at TEBWTraining@gmail.com or email me at lisa.cyr@natca.net
---
From Seth Myers, NATCA New England Safety Rep

ARIA

Aviation Risk Identification and Assessment (ARIA) was rolled out in October 2020. ARIA was a replacement for TARP which was scheduled to run in the background for 90 days. As of now, TARP is no longer running and ARIA is a stand-alone system. There are few things to remember as we move forward. ARIA measures potential risk, TARP measured compliance. ARIA is acomputer system that automatically analyzes radar and other surveillance data about flights in U.S. airspace in almost real time. ARIA identifies situations that may constitute safety issues, then prioritizes them for deeper investigation. ARIA looks at all aircraft within 8.33 miles of each other regardless of altitude. If the system shows risk it triggers a barrier analysis review process (BAR) which is done at the service center. The service center during the BAR process may initiate a combined safety barrier review (CSBR) which will be done locally. The CSBR process will be done collaboratively within your facility. Terms like electronic occurrence report (EOR) and risk analysis events (RAE) are no longer utilized as they were associated with TARP. You will now see and hear terms like the ones discussed above, barrier analysis review (BAR), and combined safety barrier review (CSBR).
LSC monthly meetings and safety discussions

Your FacReps, Local Safety Reps, and LSC members have been working to re-instate the PFS programs such as the LSC's meeting and having monthly face to face discussions with theworkforce. These meetings and discussions are important. They supply not only national information and trends but are also meant to mitigate local issues and raise awareness.

Local content during these discussions is important and one of the best ways to address issuesat your facility. System service reviews, traffic management reviews, combined barrier analysis reviews, and local submissions from members can be discussed. These safety programs should be evaluated and reviewed together with your LSCs during these discussions. Your input and concerns are vital.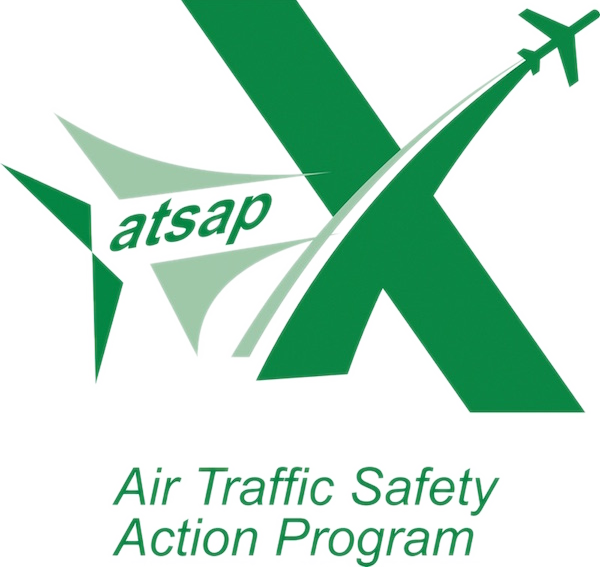 ATSAP Submissions and LSC Submissions

Remember that ATSAP submissions and LSC submissions are different. Simply checking the box "share with your local safety council" on the ATSAP website does not mean your LSC will obtain the entire submission. Important elements may be left off that your LSC may need. Checking the box on the ATSAP website allows your LSC to go and find your de-identified submission in the PFS portal. Checking the box does not send a copy to your LSC, or a notification to your LSC of your submission. ATSAP submissions are extremely important and need to be filled out, but at the same time please inform your LSC of the issue through the format you have at your facility. If you do not know how to submit a safety related issue at your facility, reach out to an LSC member or your FacRep.

In our region we have been trying to highlight and work on NOTAM issues. It is a national andlocal issue needing your help and attention. If you find a safety issue with NOTAMs please submit an ATSAP. This could be for either the notification or dissemination process. Examples ofthis could be a safety related problem with the format for a NOTAM, the equipment that you use to find them, or the regulation we are required to follow for NOTAMs. If you identify anissue please take the time to fill out an ATSAP. The ERC needs data points and we need to help them get the data.

We are trying to grow our safety network not only in the NAS but here in New England. Your FacRep and LSC's cannot do it alone. A safety mindset requires ongoing effort and continuousimprovement. We have many tools and programs available to foster and increase safety here in New England and throughout the NAS. ATSAP and Local Safety Councils are some of the besttools we have to effect change of identified issues locally and nationally. These programs only work if you have both a strong safety climate and culture. Thank you for all you do day to day to keep our national airspace system the safest in the world. What you do every day you go to work matters. Reach out to your FacRep, Facility Safety Rep, or LSC to see how you can get more involved in our safety programs and systems.
---
From Matt Murray, NATCA New England OSHA Rep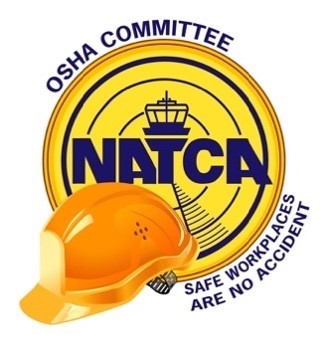 Over the last few months, COVID has begun to hit New England pretty hard. This has resulted in numerous ATC Zero events for Level 3 COVID cleanings. These cleanings have been one of the places NATCA and The OSHA Committee have been working hard for the membership.

As COVID cases started popping up inside of our buildings across the country, NATCA and the Agency have been working together to ensure that these cleanings are safe and productive. With help from the OSHA Committee, NATCA and the Agency have come to an agreement on how the process should take place and specifically which chemicals will be used to clean and sanitize the buildings. We now have a standard list of preferred, and vetted, chemicals to use in the Level 3 cleanings.

One of these chemicals was Bioesque. While Bioesque was vetted through our Certified Industrial Hygienist and approved for use, Regional OSHA Reps began hearing complaints about the product leaving a terrible odor and causing headaches. After some brief discussions with the Management, OSHA Committee Chair Karena Marinas, convinced the agency to immediately stop using Bioesque.

The OSHA Committee was also involved in creating the new Daily Level 3 Cleanings procedures, statements of work, and approved chemical list that will be tested at select facilities, including A90, ZBW, and BOS in the beginning.

This is your NATCA OSHA Committee working hard to protect your health and safety every day.

As a reminder, Article 53 Sec 10 of the Slate Book, requires the agency to provide a Safety Data Sheet (SDS) for every chemical brought into our buildings "prior to use or storage."

As your OSHA Rep, I am always here to vet these chemicals to ensure they are safe and being used in an appropriate way.
---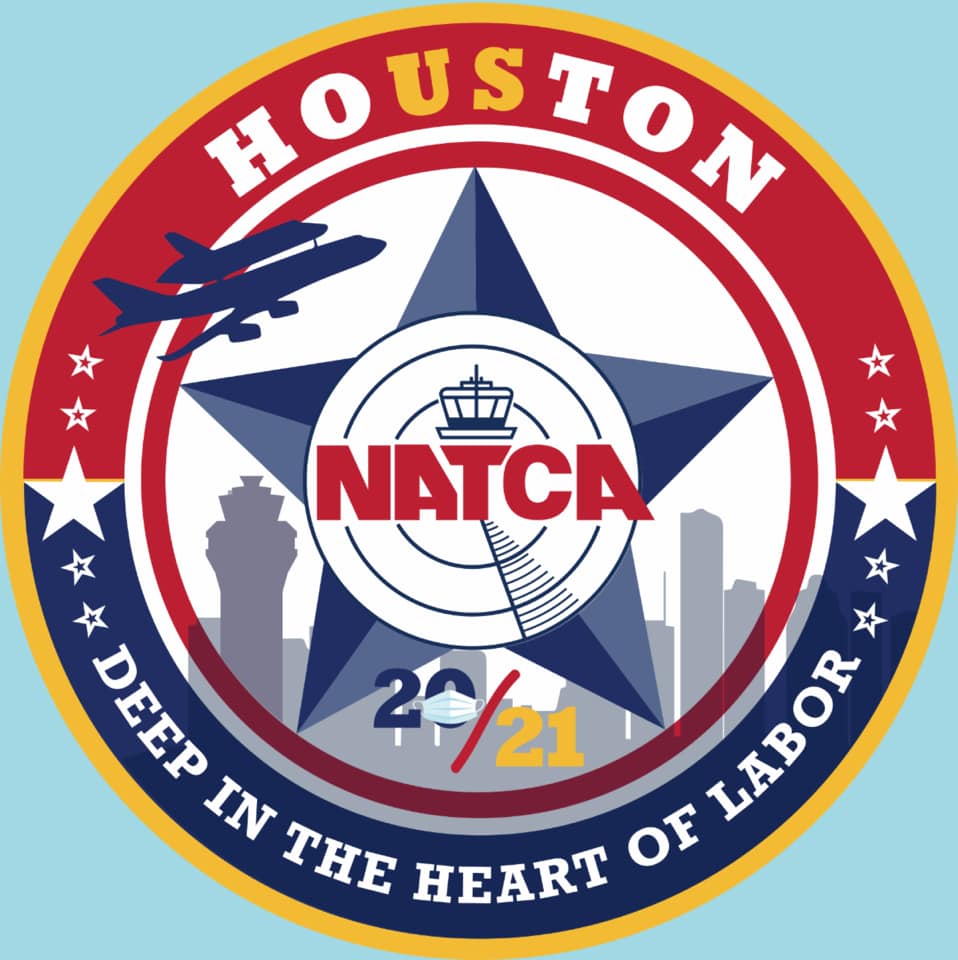 The National Executive Board has concluded that in order to hold the biennial convention where it is safe for our members to travel and gather, we once again must reschedule the event, which had been scheduled for May 25-27, 2021. The new dates are August 10-12, 2021 at the Marriott Marquis in downtown Houston.
---