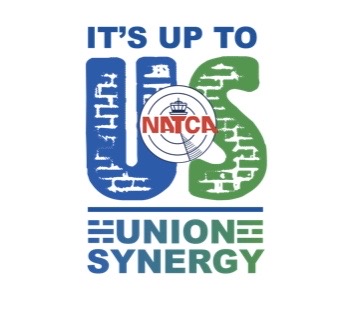 Union Synergy Committee's Second Town Hall Focuses on Involvement
More than 580 NATCA members watched the second Union Synergy (US) Committee virtual town hall on Feb. 10. It was a discussion on how NATCA can continue to engage our membership, further build our volunteer army, and inspire the next generation of members to step up and help propel us into the future.
Eight members who represent a broad cross-section of our activist core described their journeys to becoming involved in NATCA: John Bratcher (Fort Smith ATCT, FSM), Stephen Cooper (Charlotte ATCT, CLT), Brad Davidson (Engineer/Great Lakes Region, Region X Vice President), Aubrey Farrar (Washington National ATCT, DCA), Dawn Johnson (Atlanta Center, ZTL), Jamie Sanders (Denver/Centennial ATCT, APA), LaKecia Shuron (Reading ATCT, RDG), and Eric Yates (Indianapolis Center, ZID). The town hall was moderated by US Committee member Adrienne Turley (Atlanta ATCT, ATL), and Southwest Regional Vice President Andrew LeBovidge.
"There is so much work to be done, and it requires all of our members to be involved to accomplish that work," LeBovidge said in opening the panel, which shared helpful points and suggestions to get new members engaged, and not-so-new members more engaged, in the work of our Union.
A key theme among many of the panelists' paths to involvement was seeing a need and finding themselves rising to the occasion.
"I think we can agree we each have a purpose in this Union, but we must find it and take consistent steps to work towards it," Turley said. "It's not always a tap on the shoulder to do something. Sometimes it takes you raising your hand."
All the panelists cited different opportunities for learning in NATCA, especially attending classes, meetings, and national events.
Getting involved, as the panelists reiterated, begins with education. During the global pandemic, in-person gathering and education has been replaced with virtual gatherings, like those in the NATCA US Facebook group. Out of more than 1,000 members in the US Facebook group, more than 940 were active in the group in the past month, including 814 on the day of the town hall. Because of the town hall, activity in the group increased 483 percent over the previous week.
"We need you to be here because we need to hear what it is you have to say," Shuron said. "Because your input is important, just like everyone else's is, and we're trying to move this Union forward. And if you want to be a part of that, then be a part of that."
Watch the town hall to hear all the stories of lessons these leaders learned, challenges and barriers they faced, and moments of inspiration and motivation they encountered along the way. Join the NATCA US Facebook Group to watch now, and learn more ways to begin your activist journey.