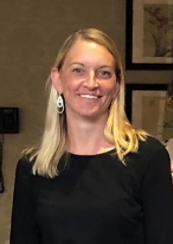 Atlanta Center Member Receives the 2020 Steve Hansen Safety Advocate Award
The Steve Hansen Safety Advocate Award is presented to a NATCA member who has made extraordinary achievements and has worked tirelessly on NATCA's behalf to be a leader in furthering the cause of aviation safety. While each winner has contributed their skills, dedication, and work ethic in different ways, with varying areas of expertise, there is one thing that ties them all together: they are all passionate about safety and aviation.
Congratulations to the 2020 award recipient, Atlanta Center (ZTL) member Cher Oxenburg.

Hired in March 2005 at ZTL, Oxenburg has served in multiple roles and on various committees within NATCA, including on the Communicating For Safety Planning Committee, the ATSAP Analyst Team, and the National Safety Committee (NSC). She is also a NATCA Academy instructor.

"For nearly a decade, I had the pleasure of working with Cher," said retired member and former NSC Chair Steve Hansen. "During that time, she was deeply involved in representing the NATCA membership by serving in multiple roles as a safety rep at the national level. Her dedication to the membership and commitment to the safety of the NAS (National Airspace System) is amazing."

"Cher Oxenburg is one of the most committed NATCA representatives I've had the honor to work with," added NSC Chair Chrissy Padgett. "Regardless of the challenge that is placed in front of her, she will accept it and work through it with grace and perseverance."

"It is an honor to receive this award," said Oxenburg. "I'm so thankful for the opportunities I have to work with so many of the amazing members of the NATCA safety team."

Click here to view the past recipients of the Steve Hansen Safety Advocate Award.