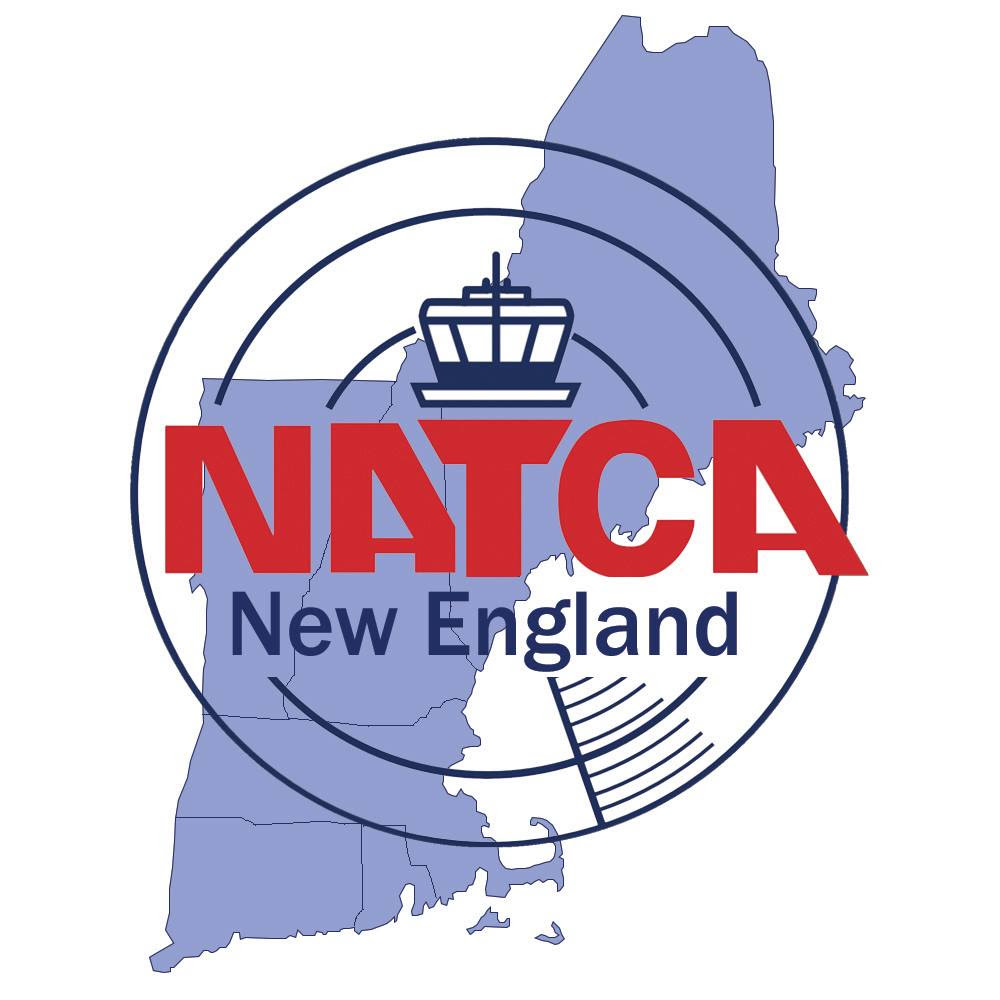 February 2021 New England Regional Update
From Mick Devine, NATCA New England Regional Vice President
Many an aviation professional has desired the protections of a union. NATCA remains the premiere aviation union in the world. We not only represent air traffic controllers in the FAA but many, many more. We represent engineers, test pilots, airports, and many other safety professionals in our Region X. We also represent Federal Contract Tower (FCT) employees as well as civilian controllers in the DOD. New England represents controllers at 6 FCTs (HYA, ORH, BVY, OWD, LWM, and BAF).
We spoke many times at each facility last year on the anti-union Executive Orders (EOs) that the former President had signed and what it meant for our union and its future. We discussed the impending contract negotiations for our multi-units whose contract expired this year. That was always the first contract we referred to when speaking about who was first up on the EO chopping block. We failed to recognize the DOD facilities. Unlike our FCTs and FAA facilities, where loads of facilities fit under one contract, the DOD is different. Each facility in the DOD carries with them their own contract with their employer. That leads us to Marine Corps Air Station (MCAS), Cherry Point, NC.
The DOD at MCAS Cherry Point sent over to NATCA their intention to open up their 16-year-old contract for renegotiations to get them in line with the EOs. I was named to that contract team along with three others, which has taken up a lot of my time and energy lately as we prepare for contract negotiations. What is very interesting is how the EOs play into those negotiations.
Before an employer and labor union enter into contract negotiations, they must first negotiate ground rules. Ground rules are an agreement as to how negotiations will go. For instance, how many days will you meet, where will you meet, how long you will meet, what type of negotiating (traditional vs. interest-based), what will be in the rooms, who will pay, etc. Ground rules are what set up negotiations to be successful or unsuccessful.
We first received our ground rules proposal early last year, and they did, indeed, adhere to the EOs. Negotiations were mandated to be traditional, and the timeline to finish negotiations was aggressive and unrealistic. While we began our initial negotiations, the COVID-19 pandemic reared its ugly head, which stalled everything. The DOD had made it very clear that their intention was to get the contract into compliance with the former president's harmful EOs. NATCA's hands were tied and we were mounting a full-scale defensive posture to try to hold onto as much as we possibly could for the betterment of our members there. It was also a trial run for all CBAs going forward. Due to the pandemic, negotiations were put on hold until the end of 2020, beginning of 2021.
As you are well aware, President Biden has rescinded the old EOs through his own EO, and it is very labor-friendly. There are three types of negotiable categories—prohibited subjects, mandatory subjects, and permissive subjects. Prohibited subjects of bargaining are usually referred to as "management rights" and are just that, prohibited from being bargained. Mandatory subjects of bargaining are equally as obvious, they are those subjects that the employer is required to bargain. That leads us to permissive subjects of bargaining. Permissive subjects are those things that the employer may negotiate at their sole election, meaning it is completely up to management if they would like to or not like to bargain. The former president's EOs forbid the agency from bargaining those topics. Those specifics are set forth in 5 U.S.C. 7106(b)(1). That provision states:
(b) Nothing in this section shall preclude any agency and any labor organization from negotiating—
(1) at the election of the agency, on the numbers, types, and grades of employees or positions assigned to any organizational subdivision, work project, or tour of duty, or on the technology, methods, and means of performing work.
President Biden's EO not only reversed the prohibition to negotiate these permissive subjects of bargaining but went even further and made them mandatory subjects by ordering the federal government to negotiate over these items.
Try to put yourselves into the minds of the negotiating team for NATCA with this new mandate. It shifts NATCA's position from total defense to quite the opposite. We now have to look at the contract through a totally different lens. We now have the Presidential mandate through executive order to get the contract in compliance with this new EO, and not the old, anti-union ones.
Why do I bring this up? NATCA is a multi-faceted organization that prides itself on three major platforms to be successful—traditional labor relations, legislative, and through industry. While we have activists who specialize in one or more specific avenues, the fact remains that they are all intertwined. Sometimes the successes you have in one field for various reasons have a major impact on another. Sometimes the answer to one avenue's problem rests well within the success of another's. In this specific case, our brothers and sisters from MCAS Cherry Point can thank the hard work, focused energy, and activism of our legislative team for their ability to work with the new president and congressional and senate leaders to get these harmful executive orders removed and replaced with something that betters our members—even without ever realizing the effects they'd have on Cherry Point.
What does this mean for you? No matter which field/fields of NATCA you choose to get involved with, no job is ever on an island. Everything we do at every level of this organization is a building block for future endeavors, and maybe in something you may have never considered. Everything we do is interconnected and equally as important. We see that in our region as well. The success of our Labor-Management Relations (LMR) team has an effect on the successes of our training team, which has effects on our safety teams, which also has effects on our legislative team, which can come full circle and have effects on our LMR team. This is why we place so much trust and keep trying to raise the bar for every leader in this region, service area, and national union alike. Every job is equally important in its own way and can have positive or negative effects on another. If you want to get involved, talk to your FacRep. There is so much work for us to do collectively to take our facilities, our region, and our union from good to great, and we can only do that with you.
---
Labor Management Relations
From Scott Robillard, NATCA New England ARVP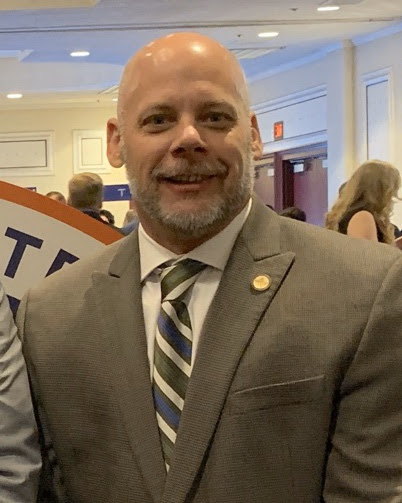 Hello New England,
If you read the NATCA New England update regularly or attend our regionals meetings, you will hear a consistent theme:
Where were you?
Where are you?
Where are you going?
This month, I will take a look at Controller-In-Charge (CIC) position and try to help provide some perspective on what it is, where it came from, what you should be doing, and how it got this way.
Most times, when you hear about the 1998 Collective Bargaining Agreement ("Green Book"), you hear about "reclass" and the creation of the AT pay bands that broke us out of the limited GS pay scale. But there was also a change to CIC—and it changed significantly.
Prior to the 1998 CBA, you were not paid to work CIC and as CIC you had limited control of the operation. What the landmark 1998 Green Book introduced was this language in Article 18:
Section 2. When assigned CIC duties, an employee shall be given sufficient authority to fulfill the responsibilities of the assignment. General guidance and goals for the shift shall be conveyed in facility directives and/or during the shift/area position briefing. Section 3. CIC premium pay shall be paid at the rate of ten (10) percent of the applicable hourly rate of basic pay times the number of hours and portions of hours during which the employee is assigned CIC duties.
While the pay is obvious, it is the language in Section 2 that set the stage for the current language that exists in FAAO 7210.3 2-6-1. An employee shall be given sufficient authority to fulfill the responsibilities of the assignment. This concept (the ability, training, and authority to actually do the job) is exactly what the intent of the Agency's Order on Watch Supervision is today. Prior to the contract change in 1998, FAAO 7210.3 did not reach this far.
FAAO 7210.3 2-6-1 identifies that it is WATCH SUPERVISION that is fully and completely in control of the operation. Watch Supervision is performed from what I call the "WATCH DESK". It is from here that all the tasks of managing the operation are performed. From things like the processes of leave requests (approves/denies), directs position relief, makes training assignments, and monitoring/managing traffic volume/flow. Obviously, this is not a full list.
In many facilities, it is common for a manager to say something like "well, you may be on the desk, but it is still my shift and I am in charge". FAAO 7210.3 2-6-2 H would disagree.
h. An individual is considered available for watch supervision when he/she is physically present in the operational area and is able to perform the primary duties of the function. If the supervisor/CIC leaves the operational area or is engaged in an activity which will interfere with or preclude the performance of watch supervision duties, then another qualified individual must be designated to supervise the watch.
Under Article 18, it would be very reasonable for an OS to give direction to the relieving CIC. Something like "assign training to employee X, or open sector Y" is normal and expected. But it is required to be in the briefing, on the recorded line, AND giving at the time of relief. They cannot manage from the peanut gallery! See FAAO 7210.3BB
Sometimes FAA Managers are confused that an Operations Supervisor or Operations Manager has some sort of "inherent" authority by their position that extends to how a shift is being run. Well, they don't. Sorry to all the managers who read this: it simply is not true.
Watch Desk/Watch Supervision is where operational control is held. If you wanted any reinforcement or additional evidence, look at any FAA announcement for an Operational Supervisor. What you will find under the responsibilities section is a list of things like "Serves as a member of the management team to improve organizational performance and to meet strategic goals," and "Continuously reviews work processes to assure that results meet the agency's mission and the customer's needs, add value to facility services, and are efficiently achieved." But it is the last line of every OS bid in the responsibilities section that should get your attention: "When assigned as Watch Supervisor, assumes overall management and supervision of the control room."
Where am I going with this? Well, if your facility has a policy that restricts the operation of Watch Desk based on WHO is assigned to it, please go talk to your FacRep.
Side note: After the 1998 CBA, the GOA was asked by Congress to look at the FAA's agreement with NATCA and the expanded use of CICs. It is an interesting read.
---
To protect your Rights, you have to Know Your Rights!
NATCA Locals negotiate and reach agreements all the time. But what happens when the Agency decides to change a National Order and that order conflicts with a local MOU? Since this month I focused on CIC, for the Know Your Rights section, we will stay with CIC.
Circumstances: Because of historic problems with leave approval and misunderstandings at the facility level on whether or not a CIC can approve annual or sick leave, BDL Tower enters into negotiations for a CIC MOU. The facility completes and signs a short MOU with one section. It says: Section 1: An employee shall be given sufficient authority to fulfill the responsibilities of the assignment.
Subsequent to the MOU being signing, the FAA Changes FAAO 7210.3, Section 2-6-1 to say, "Only a member of management can approve annual/sick leave". The Agency's national change puts the FAAO 7210.3 into conflict with the BDL Tower CIC MOU.
Question: Is the BDL Tower CIC MOU null and void based on the FAA Order change OR does the FAA Order change not apply to BDL Tower because of the MOU? You decide!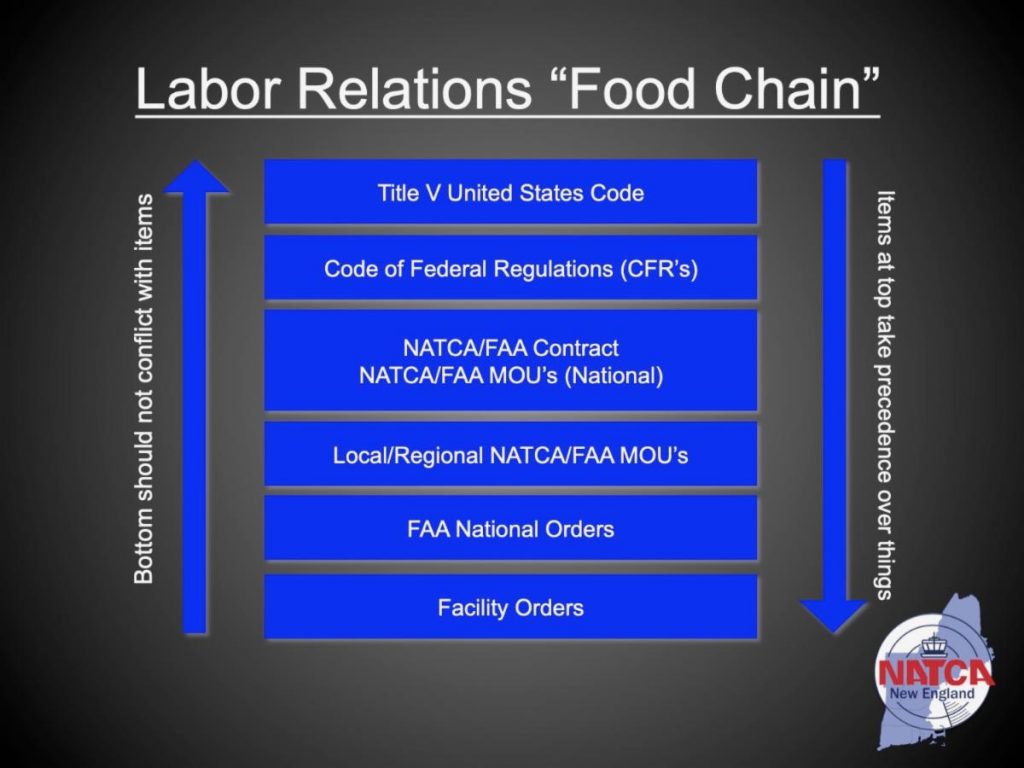 ---
Alternate Regional Vice President
From Curt Fischer, NATCA New England ARVP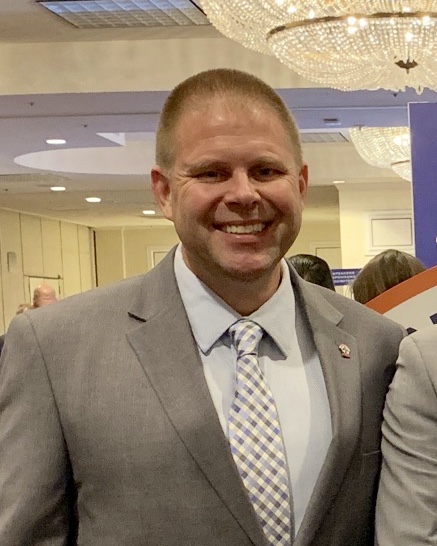 In this month's update, Mick takes us back 16 years ago to the DOD on MCAS Cherry Point contract renegotiations and Scott goes a bit further back to 1998 in explaining the origins of CIC. Their write-ups got me thinking about where I have been. It has been a scant two months since handing over the reins of FacRep to Nick Marangos at A90 and it already feels like a lifetime ago. So, to help me adjust my focus on where I have been so I can better ascertain where I am going, I turned to New England's own, Danyell Fairburn (BED), a member of NATCA's Historical Committee. On the NHC's webpage, they have a NATCA history timeline. I encourage you to take a moment and click on the link. Even better, sign up for NATCA 101 (which is held on the 15th of every month) to learn more about NATCA's history and develop a foundation for personal involvement. Jennifer Dickinson (BOS) of NATCA Reloaded Committee, can assist in getting you signed up on the portal (link in her update below!).
As I worked my way down the timeline, I was reminded that I joined NATCA only two years after the signing of NATCA's first contract in 1989. The first representation of non-FAA controllers by NATCA was in 1990 when MCAS Cherry Point joined and in 1997 the Engineers and Federal Contract Towers joined NATCA to have a voice and the right to collectively bargain. Looking at NATCA this way changes my perspective as I recognize really how young and how personal our organization is. When we have been successful it has been because our members have come to the realization that they were NATCA and that their contributions could make a difference.
When our team pulls together in the same direction, when we are on the same page, and when we communicate among our members effectively, we will take our Union from good to great. But we still have room for improvement. At the Regional level, we are working to implement improved methods of communication among our Reps so we are better able to stay on the same page as we grow and expand our teams and reassign work. We are engaging with New England's six represented Federal Contract Towers with the help of FCT Rep Gordon Greene (PVD). Gordon has proven invaluable at working closely with our new members in our contract towers. At the facility level, we are tasking Bryan Krampovitis (BDL) to provide further assistance to FacReps in a push to resolve issues at the local level where able prior to elevating.
We need you at the local level to encourage others to stay informed, engage with their local e-boards, and continue to get involved and participate. Be on guard for complacency which can manifest itself with COVID schedules and lack of personal interaction. Our Regional monthly newsletters are beginning to show a reduced rate of opening. With a lack of get-togethers and a reduction of time together in our buildings, we are noticing participation in other areas slipping. The fact that you have read this far tells me you are willing to do your part. Now is the time to take the next step and encourage others to do theirs!
---
Legislative Activism
From Andre Jean, New England Legislative Chair and Jamie Green, NATCA New England NLC Alternate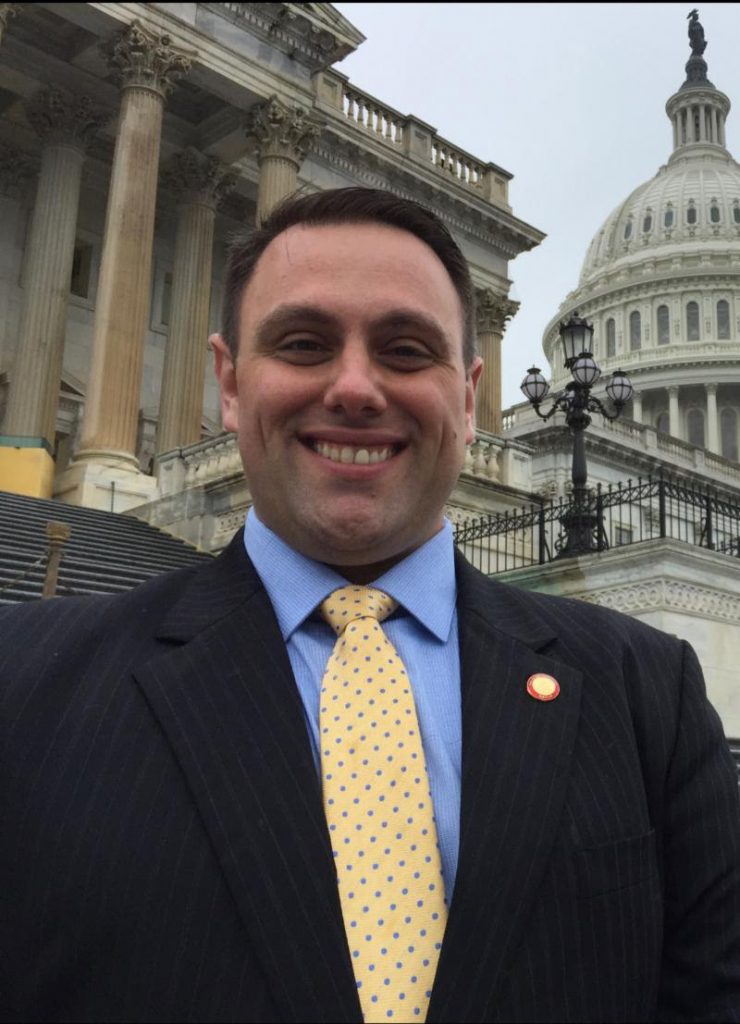 117th Congress
Both chambers were in session up until the end of February. The Senate will be in session throughout March while the House will be in recess for the first two weeks of the month.
As a reminder, all legislation from the previous Congress that was not passed is no longer valid and will have to be re-introduced. This is the case for H.R. 1108, the bill that would provide stable funding for the FAA in the event of a government shutdown. However, Rep. DeFazio (OR-04) has expressed that he intends to continue working on this legislation and introduce it to this new Congress. So, you will start seeing news about this with a new House bill number, more on this as it develops.
1% Pay Raise
At the beginning of the year, President Trump proposed a pay increase of 1% to all federal workers. And while the Senate was considering a pay freeze, Congress eventually decided not to act on it and let the President's proposal go into effect. You should see this increase in your last Earnings and Leave Statement.
FAA Appropriations (Funding)
The current Transportation Housing and Urban Development (THUD) appropriations bill provides funding for the FAA up until September 30. Presently, Congress is focused on a COVID relief package but, once that is done, it's expected for them to work on transportation issues and funding for the next fiscal year.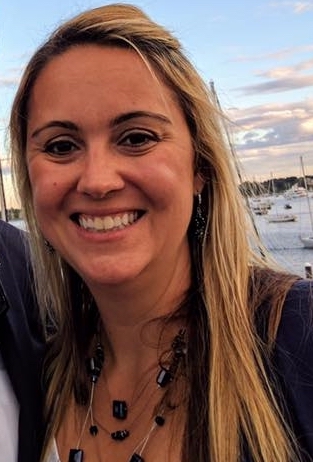 President Biden is expected to release a 'skinny' budget in March and a 'full' budget in May. While this budget does not have the force of law and Congress is under no obligation to follow this budget, it does give us a good indication of when to expect Congress to work on funding legislation.
NDAA
This year's National Defense Authorization Act (NDAA) included a fix to the loophole in the Paid Parental Leave Act that unintentionally left out some federal employees. This bill was vetoed by President Trump for a number of reasons but the veto was overridden by Congress and these benefits are now in place for all federal workers.
Annual Leave Carry Over Increased
Also included in the recently passed NDAA was a provision that allowed for an increase in the amount of annual leave to be carried over into 2021. This provision does not technically apply to FAA employees but Administrator Dickson has decided to apply OPF's guidance in the FAA. A maximum of 300 hours of annual leave can be carried over from last year to this year. This extra annual leave does not have any cash value and will not be allowed to be carried over to next year. The implementation of this is still being negotiated. If you have any questions, please contact your FacRep.
---
Benefits Spotlight
Do you know of all the benefits NATCA has available to you?

NATCA has partnered with many companies and organizations to provide special benefits and discounts to its members.
Each week this month, we will be highlighting Home and Auto benefits available to NATCA members. Check out our Facebook or Instagram for more details on these benefits!
If you just can't wait and you need to know now, you can check out all of the benefits available to you now by clicking here.
---
Highlighted Monthly Actions
From Seth Myers, NATCA New England Safety Rep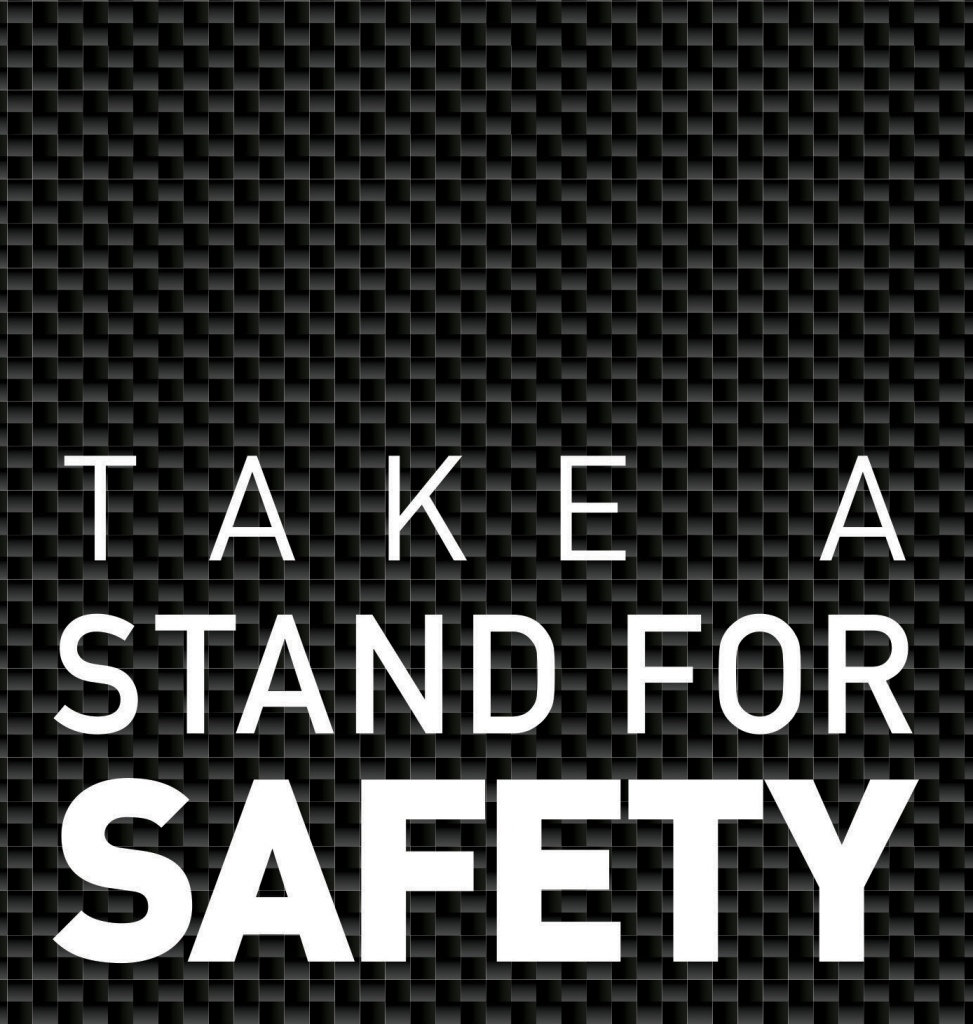 One of the many Partnership for Safety missions is to facilitate the identification and mitigation of hazards at the local level through the use of collaborative Local Safety Councils. Local Safety Councils and their respective programs were paused during 2020 due to the COVID pandemic. LSCs were approved to resume work prior to the start of the year. The PFS program is outlined in JO 7200.21. Reach out to your facilities FACREP or Local Safety Rep if you have specific questions. Here are a few general questions often asked below.
Question: What does a Local Safety Council do?
Answer: Local Safety Councils collaboratively identify and mitigate local safety hazards. They review safety issues and perform post occurrence analysis at the direction of the Air Traffic Manager and NATCA Facility Representative, to determine systemic causal factors and risk.
Question: Who comprises the Local Safety Council?
Answer: A Local Safety Council is comprised of, as a minimum, one management and one union representative as designated by the NATCA Facility Representative and the Air Traffic Manager. Additional representatives can be agreed upon through mutual agreement at the local level.
Question: How often do they meet?
Answer: LSCs should meet once per month or as mutually determined by parties at the local level.
Question: What kinds of issues does a Local Safety Council handle?
Answer: Local Safety Councils convene to explore and develop mitigations/propose solutions to locally identified operational safety concerns.
Question: What happens when an LSC recommends a change?
Answer: Local Safety Council activity depends upon the scope of the change. Potentially an LSC could recommend changes in the Standard Operating Procedures (SOP's), Letters of Agreement (LOAs), or other operational procedures. The LSC may also recommend and sponsor a Safety Risk Management Panel (SRMP) in order to perform a formalized safety analysis of identified hazard(s).
---
From Lisa Fulford, NATCA New England Training Rep

During the month of February, the facility Training Reps and I met via Zoom to discuss their roles and responsibilities, per the new 3120.4R. We also reviewed the ATM's and/or Training Administrator's (TA) roles and responsibilities, which are detailed in Chapter 2. The facility Training Reps and I will be meeting monthly for training on the new .4 as well as discussing changes being made to facility training orders, classroom and lab instruction, and OJT hours and success. You have a say, and you have the ability to add value and input to training in your facility; all you have to do is speak with your Training Rep!
The Training Reps and I will be keeping track of requests for OJTI class, OJTI Cadre class, and TRB Rep Training. This will ensure we keep an accurate list within the region of who needs/wants to go classroom. We also have approval for the Training Reps to attend Collaboration Training. This will help ensure we understand collaborating with management, as well as improve our ability to make changes to training with your facility's TA.
Do you know what the new .4R says about Certification Skill Checks and OJTI recommendations? From Chapter 6:
8. Certification Skill Check. A CSC is an evaluation to determine if a trainee demonstrates the knowledge and skill level necessary to certify on a position.
a. The CSC must:(1) Be conducted following a Training Team meeting where a majority of the team members recommend a CSC. The OS must be among the majority.(2) Be conducted upon reaching 100 percent of Target Time.(3) Be conducted upon completion of Supplemental OJT Time.(4) Be performed by the trainee's OS/STMC or their designee, as identified in the facility training directive, who maintains familiarity or currency on the operational position.(5) Include a review of applicable OJT documents.(6) Not count toward OJT Target Time.(7) Be conducted via direct monitoring during normal workload conditions.(8) Be documented on FAA Form 3120-25, -26, -27, -32, -36, -45 or an electronic equivalent and include a description of performance.
Reach us at TEBWTraining@gmail.com or email me at lisa.cyr@natca.net with questions, comments, and suggestions.
---
From Jeff Aulbach, NATCA New England Professional Standards and RESPECT Rep
The Professional Standards Committee continues to work on the local level to address workplace issues on a peer to peer basis and from issues submitted by management in lieu of discipline. Each facility in the region has a locally based Pro Standards counselor, with the larger facilities having more than one to handle the more numerous cases. These committee members are supported by a district wide chairperson. There are approximately 25 chairpersons throughout the country who report to a three person national committee. The district chairs and the national committee handle cases that are forwarded to them by the local committees.

The RESPECT Program will be returning to the facilities in the region after a COVID hiatus. The program was just getting started in New England last winter when all activities were shut down. Local FAA and NATCA teams have recently posted several items that reiterate national leadership's commitment to treating everybody with respect and the continuation of the RESPECT program. Look for RESPECT briefing to resume soon after COVID restrictions are relaxed.

Don't know who your Pro Standards rep is? Ask your union rep or your District Chair at: psbos@natca.net.
---
From Jenny Dickinson, NATCA New England Reloaded Rep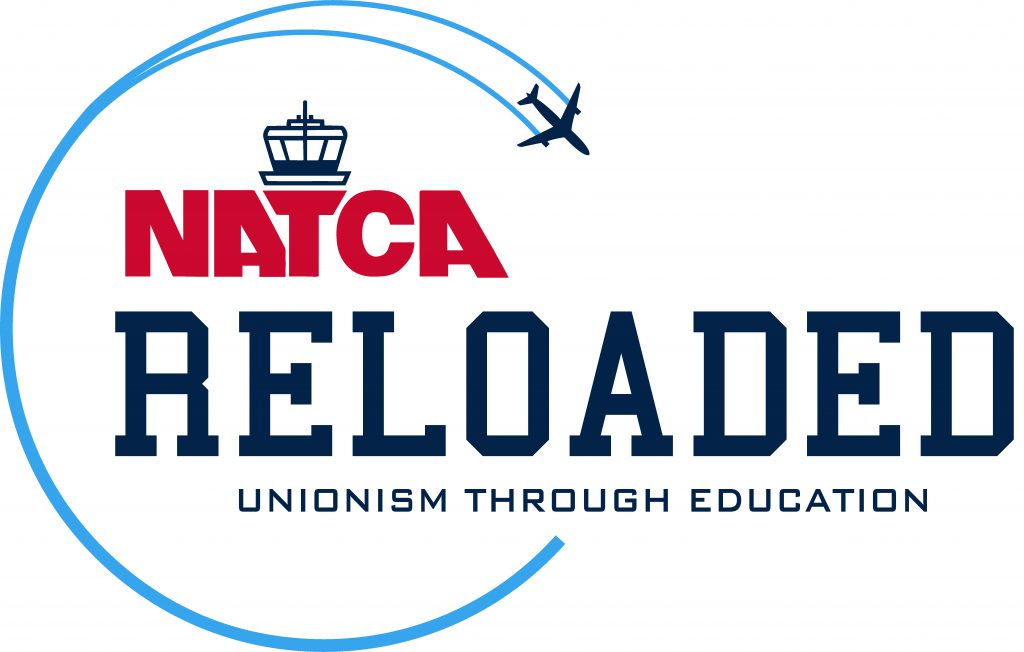 One of my favorite things about the courses that we teach through NATCA Reloaded is that the content offers positive and constructive information that is applicable to our professional lives on a daily basis. As a result, you end up walking away with a great deal of insight into how valuable you are, not only to your workplace but also how valuable you are within our union. We offer classes such as Collaborative Leadership, Critical Thinking, and Having a Difficult Conversation just to name a few.  We are currently developing three new classes with the hope that they will be completed and approved by the time Convention happens. Additionally, we are teaching NATCA 101 and our other classes via Teams every month until we are able to teach in person again.  If you have a spare hour, please come spend it with us! I promise that you will not be disappointed. Check out the NATCA Portal to sign up and view the monthly classes. Please reach out if you have any questions. Hope to see you all soon! 
Knowing is not enough; we must apply. Willing is not enough; we must do. -Johann Wolfgang
From Jim Basford, NATCA New England Drug & Alcohol Rep
I hope everyone is doing well. This month I want to talk to you about help. When you are working combined positions and it gets too busy or something rare is happening what do we do? We split it. Did we spit it because we did something wrong? No, as professionals we don't split it because we don't know how to do our job, we do it because an extra set of eyes and ears provides a layer of protection.
"Wait, I thought this was the DAC section. Why are we talking about splitting positions?"
Under the CBA Article 73 Section 2:
"the Principal Facility Representative, or his/her designee, shall be released on official time for the purpose of performing representational duties."
Why is that? Well Section 3 states:
"An employee who wishes to have a Union representative present during the testing process shall be permitted to do so, provided a representative is readily available, and the collection/test is not delayed. The employee shall notify the supervisor of his/her wish to obtain representation as soon as the employee learns that he/she is to be tested. The representative will be permitted to observe the actions of the collector/BAT, but will not interrupt or interfere with the collection process in any manner. The employee will be allowed to confer for a reasonable period of time not to exceed ten (10) minutes prior to and ten (10) minutes immediately after the sample collection process has been completed."
Did the collector rub his/her nose while you were in the stall providing a sample then touch the inside of your collection cup with their hands? Do you have to give your social security number for the paperwork? Did you select your own container? If it is alcohol testing, did they do an air blank in front of you? Did they show it to you? Did they ask you if you had anything to eat, drink, or smoke within 15 minutes? Did you take that 15-minute wait time? What is the procedure if you blow more than 0.00 for a BAT? Besides the CBA, what order covers drug and alcohol testing procedures?
NATCA teaches a very informative class for reps with all the ins and outs of these procedures. While normally those classes are taught in LAS, we had a great turn out in Nashua in 2019 for a NACTA New England only class and got close to twenty NNE reps trained. We hope to be able to do another NNE class in the future. If you are interested in possibly taking the class talk to your FacRep about what is entailed.
My final question for you is: if you pay dues to help protect you, why would you not ask for the help?
---
NATCA Disaster Relief Committee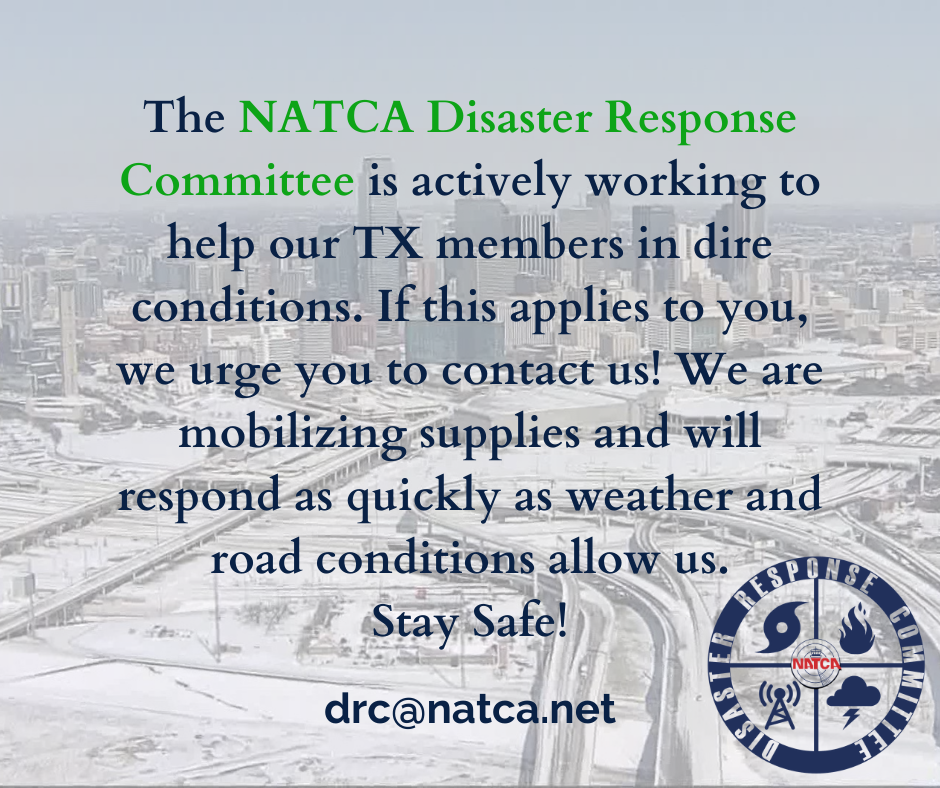 Due to severe temperatures, many members in the Houston & Fort Worth metropolitan areas are facing burst water pipes, power, and water outages. Your donation directly supports this cause and others like it in the future.
Please consider donating to the NATCA Disaster Relief Fund. All of the money collected is used to purchase supplies, equipment, and basic life essentials for NATCA members impacted by disasters. The following methods can be used to provide financial donations:


-PayPal your donation to natcarelief@natcadc.org
-Sign up for automatic payroll deduction: CLICK HERE
-Mail personal checks, payable to "Disaster Relief Fund":
NATCA
Attn: Accounting Department
1325 Massachusetts Ave. NW
Washington, D.C., 20005
-Donate through GoFundMe HERE
NATCA established its disaster relief fund in 1992 in the wake of Hurricane Andrew in Florida. Due to the generosity of our membership, our fund has continued to grow and has allowed NATCA members to help those affected after Hurricanes Katrina and Rita (2005), Ike (2008), Sandy (2012), Matthew (2016), Harvey (2017), Irma (2017), and Maria (2017), and the 2016 flooding in Baton Rouge, La.
When disaster hits, whether it is a hurricane, tornado, flood, wildfire, or man-made incident, the Disaster Response Committee stands ready to assist fellow NATCA members. Your donation is greatly appreciated.