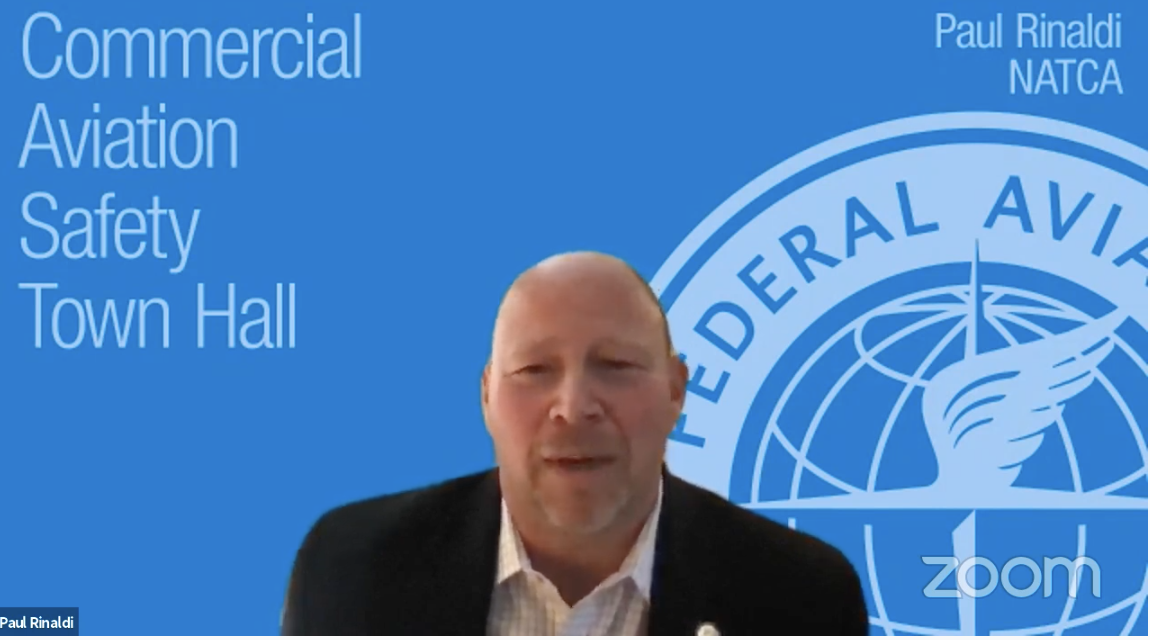 Rinaldi Praises Collaboration in Dealing With COVID-19 During FAA Safety Town Hall Panel
NATCA President Paul Rinaldi spoke as part of the Federal Aviation Administration's (FAA) virtual Commercial Aviation Safety Town Hall on Tuesday, Feb. 23. Other panelists included FAA Administrator Steve Dickson, FAA Deputy Administrator Bradley Mims, Air Line Pilots Association, Int'l (ALPA) Aviation Safety Chair Capt. Steve Jangelis, and representatives from other labor and aviation groups.
Rinaldi and Dickson pointed out that it has been approximately a year since NATCA worked with the FAA to deal with the first positive COVID-19 cases among the air traffic operation workforce.
"Through communication and collaboration, I'm proud of what we developed on the fly," Rinaldi said. "There was no plan and no playbook to go by. We established constant telcons to make sure every time we had a positive or possible positive we could do contact tracing.
"We really worked this crazy balance of keeping the system up and running and protecting the workforce at the same time. It is still ongoing and continuing to evolve. It has been an incredible journey; keeping the safety of the workforce first and foremost, and keeping that system up and running and a huge success."
"[NATCA's] leadership in working with our managers and facilities has been absolutely critical to our nation's success, and not just that of the aviation system," Dickson said.
"It's a profession that you can't socially distance," Rinaldi said. "Even when you can wear a mask, at times you're 18 inches apart. We established the backup crews, and that was a change to their negotiated watch schedules, and that was a tremendous thing to do. But with very little complaining, they understood what we were trying to do. We were trying to protect them from this disease and at the same time keep the system up and running."
"Air traffic controllers are very resilient," he added. "We smile sometimes at their ingenuity to keep air traffic moving when a facility went down due to a positive COVID-19 case. From working outside with hand-held radios from the top of a parking garage to see the runway and work airplanes in and out of Palm Beach, to going to airlines' operation ramps in big airports and using that as a backup, it is really amazing the will that they have just to keep the system up and running and to run it safely and efficiently."
Over the past year, there have been more than 3,500 positive cases of COVID-19 in the FAA workforce.
"Honestly I'm very proud to say there has been very little disruption to the National Airspace System," Rinaldi said. "We were able to keep that system up and running and keep them safe."