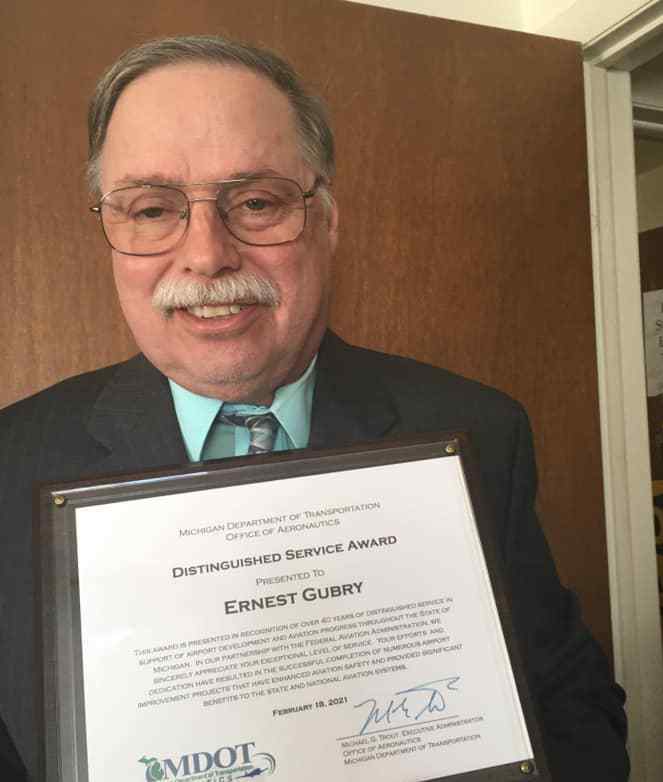 Region X Member Ernest Gubry (EGL) Recognized for Distinguished 40-Year Career
The Michigan Department of Transportation (MDOT) Office of Aeronautics recently presented a Distinguished Service Award to Region X member Ernest Gubry, a civil engineer in the Great Lakes Region. The award recognizes Gubry's 40 years of distinguished service in support of airport development and aviation progress throughout the State of Michigan.
"I've had the great pleasure to work with a lot of good people within the FAA and local communities in both Michigan and Ohio to advance airport development," Gubry said. "I'm proud of all the things we've accomplished together for aviation safety and the flying public. I also extend my thanks and love to my wife Sally and my sons for their support over my career."
"In our partnership with the Federal Aviation Administration, we sincerely appreciate your exceptional level of service," Executive Administrator of MDOT Office of Aeronautics and Director of the Michigan Aeronautics Commission (MAC) Michael Trout wrote as part of the award. "Your efforts and dedication have resulted in the successful completion of numerous airport improvement projects that have enhanced aviation safety and provided significant benefits to the state and national aviation systems."
Congratulations to our Region X brother upon your retirement and this well-deserved accolade!