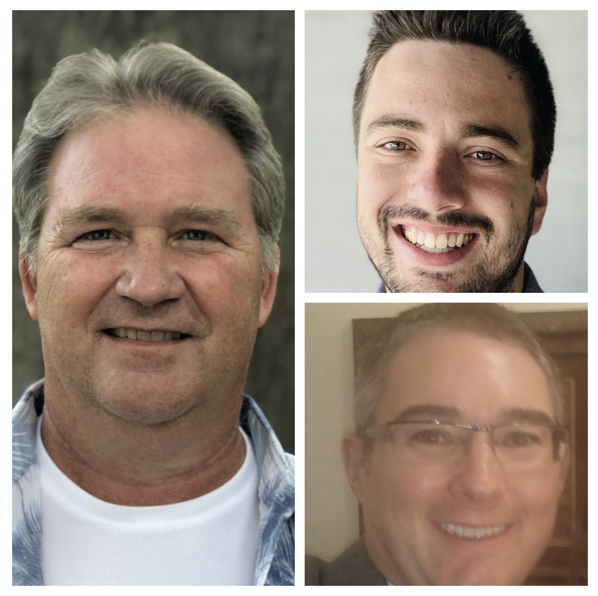 16th Annual Archie League Medal of Safety Award Winners' Spotlight: Central Region (ICT)
Dean Hittner, Hunter Rubin, and James Smart, Wichita ATCT (ICT)
In 1929, the Aeronautical Chamber of Commerce dubbed Wichita, Kan., the "Air Capital of the World." Nearly a century later, with a world-leading total of aircraft manufactured, it could be argued that Wichita's busy-and-getting-busier airspace above six airports and McConnell Air Force Base makes it a strong candidate to keep that title. That presents clear situational awareness responsibilities and unique challenges for the air traffic controllers at Wichita ATCT (ICT).
ICT sits on the western edge of the city. On the eastern side, there are three airports lined up in a row, north to south, including two — Colonel James Jabara Airport (AAO) and Beech Factory Airport (BEC) — that are only three miles from each other with similar runway layouts. McConnell AFB is only six miles south of BEC. ICT member Hunter Rubin (pictured above, top right) grew up loving aviation as the son of retired controller Barry Rubin, who worked at Fairbanks ATCT (FAI), Albuquerque ATCT (ABQ), and Albuquerque Center (ZAB). Hunter said he found the perfect facility for him in ICT where each day brings the steady rhythm of traffic as volume rises and fills each radar scope.
"Once you start seeing all the VFR targets tagging up, and traffic picking up here and there, we're like, 'OK, here they come,'" said Rubin. He notes that they often open up a second and third radar position because "that east side of Jabara, Beech, and McConnell is just so congested. Everybody watches that area a little more carefully."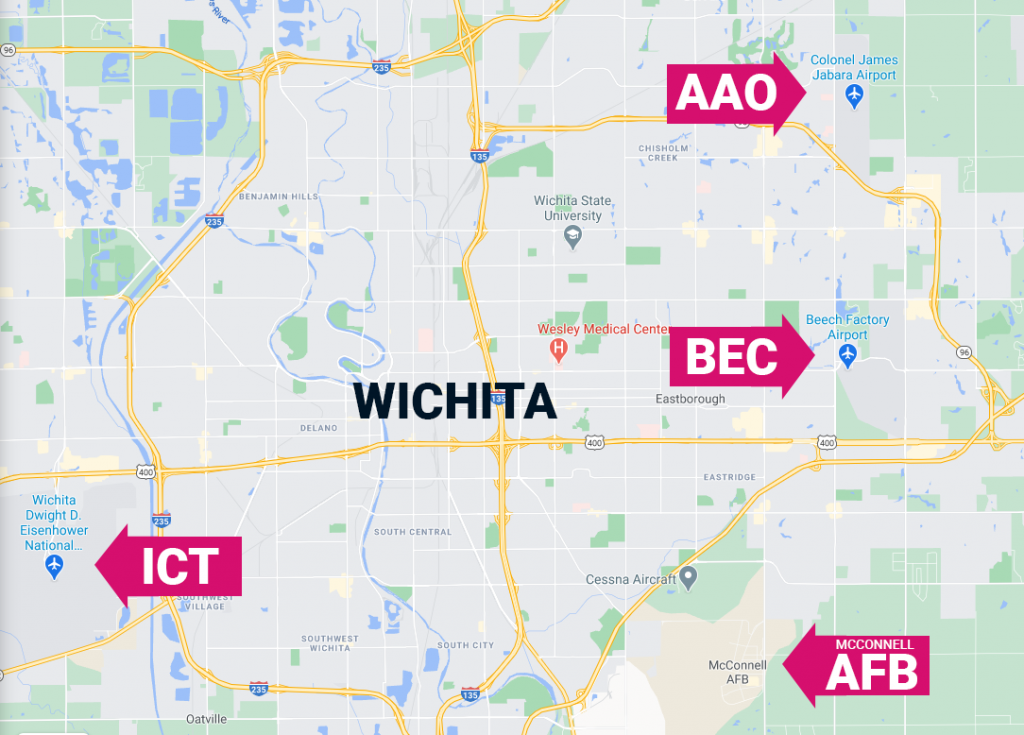 AAO was the site of one of the most notable examples of a wrong airport landing in modern aviation history. In 2013, the crew of a massive Boeing 747 Dreamlifter cargo airplane, arriving from the northeast, mistakenly landed at AAO, a non-towered airport, instead of at McConnell AFB which sat just nine miles away in the distance. That was three years before Rubin started his career at ICT, but every controller at the facility knows situational awareness is critical. The rule is, "if you see something, say something."
Midday on a Wednesday in January last year, Rubin saw something and immediately acted to prevent a wrong airport landing. Toward the end of his shift, Rubin was working the radar data position issuing clearances to aircraft at AAO and BEC. Fellow ICT member Dean Hittner was providing on-the-job training to James Smart (pictured above, bottom right) on the radar east position. A Cessna Citation 680, coming in from the southeast, was being vectored for a visual approach into AAO. It was a clear VFR day and the Citation pilot called the airport in sight from 20-30 miles away.
The Citation was instructed to descend to 3,000 feet and the expectation was that the pilot would follow the established procedure into AAO of crossing the airport at midfield and entering the downwind on the west side. The pilot requested to cancel IFR, which is common and encouraged so that the one-in, one-out operations with AAO and BEC can proceed efficiently. The pilot also requested to switch to the Common Traffic Advisory Frequency (CTAF). Smart approved the request and instructed the pilot to remain clear of the Class Delta airspace at BEC. The tower at BEC called and requested takeoff clearance for Gulf Coast Aviation Flight 94 off runway 1, which Smart approved.
Rubin then saw the data tag on the Citation disappear. Suddenly, the aircraft was rapidly descending to 2,000 feet, which was not normal to him. Worse, the aircraft was now deviating off course and turning to the left, pointing to BEC.
"It just didn't seem right. It wasn't feeling right," Rubin said. "I just think he had the wrong airport at the wrong point. I wasn't expecting that target to disappear the way it did. That caught my attention."
Rubin quickly alerted Smart and Hittner and they called BEC to advise them. The controller at BEC canceled the Gulf Coast Aviation flight's takeoff clearance and broadcast on the CTAF for the Citation to go-around. Rubin saw the Citation's data tag come back up at 2,300 feet as he passed over BEC. The quick action taken by Rubin, Smart, and Hittner averted both a wrong airport landing and a very dangerous situation of the Gulf Coast Aviation flight taking off into the path of the Citation. There is no taxiway at BEC other than a midfield crossing. Thus, there is normally an aircraft on the runway back-taxiing to the departure end or holding in position. In this event, the Gulf Coast Aviation aircraft had started its takeoff roll when its clearance was canceled.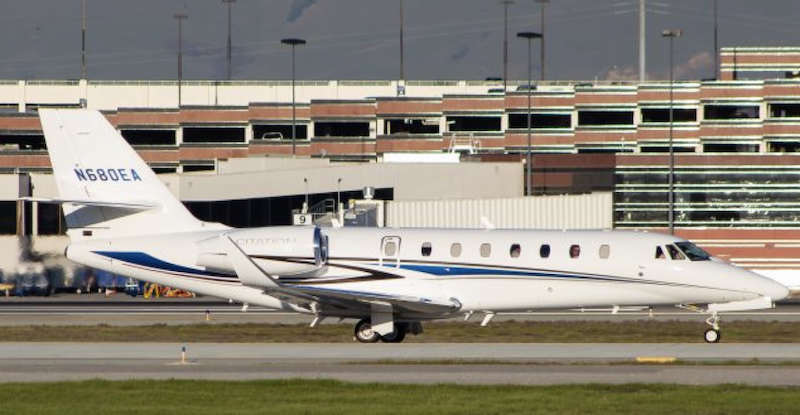 "They were probably on a collision course," Rubin said.
Rubin says he is very excited about winning the Archie League Medal of Safety, which he calls, a "really cool honor." More importantly, he adds, it is validation of the importance to always say something if you see something.
"Whether you're a trainee or a 25-year veteran, if you see something not right, you say it," Rubin said. "When you do it, and you get the recognition, you think, 'people are watching and they do appreciate what I'm doing.' It's just a really cool feeling.
"As human beings, we know what should be right and what's not right, and the same thing with air traffic controllers. If it's not right, or doesn't look right, say something. The worst they can say is, 'that's how it's supposed to be.' But the best thing ever is if you can save dozens or potentially hundreds of lives."
Hittner, Rubin, and Smart are the first winners of the Archie League Medal of Safety Award from ICT since Mark Goldstein received the honor in both 2005 and 2006. Additionally, the three ICT members won a quarterly NATCA Central Region Safety Award.
PODCAST: Listen as ICT member Hunter Rubin discusses how this event unfolded, and how ICT controllers handle their busy airspace, in this episode of The NATCA Podcast. Click here to listen.