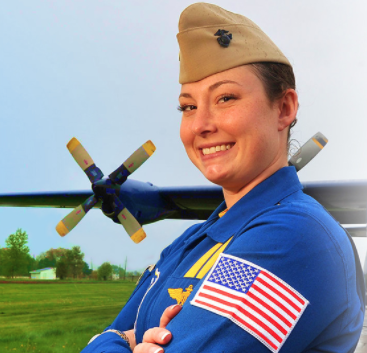 Women's History Month: Part 1 of 4 – Interview With Maj. Katie Cook, First Female Blue Angels Pilot
The National Air Traffic Controllers Association (NATCA) is very honored to introduce the start of a four-part conversation between two incredibly inspiring women in the world of aviation.
NATCA's own Jamie Sanders, an air traffic controller at Denver Centennial Tower (APA), who is also an experienced pilot, recently sat down for a virtual interview of Major Katie Cook, the first female pilot in the storied history of the great Blue Angels team of the United States Navy.
Major Cook is a third-generation military aviator. Her paternal grandfather served during World War II, Korea, and Vietnam. Her father had a 26-year long career in the Navy and was an F-18 fighter pilot. Carrying on the family legacy, she joined the Marine Corps after graduating from the U.S. Naval Academy in 2008. She made the choice to go into the Marine Corps, after spending time training with Marines in Quantico, Va.
During her time in the Marine Corps, she was one of the few female pilots to fly combat missions during her deployment to Afghanistan for Operation Enduring Freedom. After that, she spent time on assignment in Uganda, and had already accrued over 400 combat flight hours. It was during her time in Africa that she was approached by a Blue Angel pilot, who encouraged her to apply for the coveted flight demonstration team. Following an extensive interview process, Maj. Cook was officially the first female Blue Angel, and became the pilot of the Lockheed C–130 Hercules named "Fat Albert."
Jamie grew up in an aviation family as well. Her father was an American Airlines pilot and her great aunt, Emily Howell Warner, was the first female commercial airline pilot. At 15 years old, Jamie began flying lessons out of Denver Centennial and got her private pilot license when she was 16. She had planned on flight instructing. However, the tragic events of 9/11 froze all hiring of flight instructors. She decided to take out a loan and partner with another pilot, flying all over the country to build flight time.
After a little over a year, she came back to Colorado to finish her degree in Aviation Technology and began flight instructing. Jamie got her first airline job flying for Great Lakes Aviation, out of Denver International Airport in 2003. In 2009, Jamie was hired with Allegiant Air. In 2011 she was selected by the Federal Aviation Administration to start training at the ATC academy in OKC. At the time, her husband had been furloughed from United Airlines for seven years and she was pregnant with her first child. Jamie was ready for a career change, and ATC was the perfect fit. She worked at Pueblo ATCT (PUB), then Colorado Springs ATCT (COS) before transferring in 2019 to APA.
In this first episode of the four-part series, Jamie and Major Cook discuss their careers and their background. Listen to the podcast below: