Occupational Safety and Health Administration (OSHA) Committee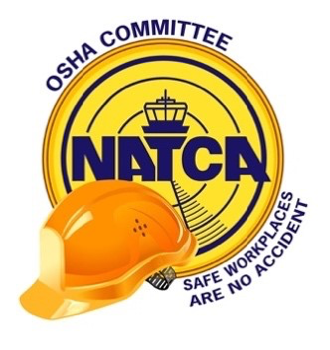 Karena Marinas (ZLA) is the Chairperson of NATCA's OSHA Committee.   
Background: The NATCA OSHA Committee endeavors to assist NATCA representatives and members to identify, understand, prevent, and seek remedy for occupational safety and health (OSH) issues. The committee is comprised of a NATCA OSHA representative from every region. Each OSHA representative works with their service area-level management counterpart in the FAA's Environmental Occupational Safety and Health (EOSH) Services group and represents NATCA on their respective Regional Occupational Safety, Health and Environmental Compliance Committees (OSHECCOM). Additionally, the committee Chairperson collaborates with the EOSH Services Group manager at FAA Headquarters, represents NATCA on the National OSHECCOM, and works with NATCA's Certified Industrial Hygienist (CIH) to address indoor air quality (IAQ), water quality, and other issues.
Chair Update
Hello NATCA Family!
Our committee met recently and developed some goals for the coming year. We have decided to create a monthly outreach and education topic that will align with our virtual training webinars and help our Principal Facility Representatives (PFRs) and membership learn more about keeping their workplaces safe. We also discussed the need for a new virtual training that will be developed by Mark Sellek, Matt Murray, Xavier Rivera, Krissy Lewendowski and Geoff Bacci. The topic will be Construction Meetings and will be coming just in time for many construction projects to start opening up as COVID rates fall and temperatures start rising again. Our goal is to have it ready by April, so stay tuned!
For this month, we want to focus on what we are calling "OSHA Rep Basics," to align with our upcoming OSHA Committee virtual training. We have developed a great digital handout for PFRs and NATCA OSHA Reps to learn what they can do as a new representative for OSHA issues. The handout includes steps to take locally, Collective Bargaining Agreement (CBA) articles, and training recommendations. Please reach out to your regional OSHA Representative if you would like a copy. Additionally, be on the lookout for some funny meme-style reminders about when your regional OSHA representatives might need you to call them (wink).
Also, this past month, I have worked with Andrew LeBovidge and Dean Iacopelli on a workgroup with the FAA for determining a plan for distribution of N95 Respirators for voluntary use. N95 respirators can provide an increased protection against airborne viruses, if used properly, and OSHA and National Institute of Occupational Safety and Health (NIOSH) provide specific requirements and recommendations for their use. For our purposes, if they are provided for voluntary use, the employer only needs to inform us of specific items, which we have collaborated on distribution via video training. In the video, you will hear possible reasons to contact your personal healthcare provider before use. This recommendation came from our NATCA Certified Industrial Hygenist (CIH), Geoff Bacci, as he believes it is important for people with certain health conditions (even temporary illnesses) to consult with their doctors before using N95 respirators. The group continues to make plans for logistics and distribution, but when they arrive at your facility, feel free to reach out to your regional OSHA representative with any questions.
Speaking of Geoff Bacci, our committee hosted a new virtual training with Geoff on Airborne Viruses. As you can imagine the topic was pertinent for the current Pandemic, but also gave great insight for cold and flu season. The topic was well-received and covered questions around HVAC systems, UV light systems and more. If you have questions about this topic, please reach out.
Finally, we received a briefing from the FAA on AVS's Confined Space Entry program. The order is extensive and the topic well-covered. One major concern we presented, however, was for training. It was not as clearly spelled out as it should be, especially for identification and training on Permit-required confined space entry, so NATCA will be pursuing the issue further with the FAA before implementation.
That is all for now from the Chair. Please stay safe and be healthy. And, as always, THANK YOU for all you ALL DO! 
Regional OSHA Representative Updates 
NWP 
Karena Marinas (ZLA) is the NWP OSHA Representative and NATCA OSHA Committee Chairperson
Our family at Montgomery (MYF) has experienced no less than two flooding incidents in the past month, and we are helping them navigate the difficulty of ensuring the issues get fixed properly without causing further indoor air quality and mold issues or any other safety and health issues during repair efforts. It is always crucial to call your OSHA NATCA representative any time your work environment is disturbed to make sure we can follow the processes for fixing and evaluating the situation closely.
Further, our regional OSHECCOM met last week and discussed everything from injuries to OSHA visits and more in the region. One crucial topic was the discovery that Establishment (facility level) OSHECCOMs were not being held at the facility levels, as they are supposed to. Please remember that social distancing and the Pandemic did not change the responsibility of FAA Management to ensure regular Establishment OSHECCOM meetings. If anything, it actually helps us see that our collaborative efforts for workplace safety and health are more important than ever and a strong OSHECCOM in your facility can make your workplace safer and healthier.
Finally, we continue to monitor routine cleanings for COVID-19 protocols. If you have questions or concerns, call me. I can help ensure processes are correctly applied and have our NATCA Certified Industrial Hygienist review chemicals for safety.
NSO 
Mark Sellek (ZJX) is the NSO OSHA Representative and the NATCA OSHA Committee Vice Chairperson
Pensacola (PNS) ATCT was able to reoccupy the permanent facility during the second week of February after the facility's stairwell pressurization system passed inspection.
All of the Southern Region's Focus 40 facilities have rolled out RL3 cleaning programs and are either approaching the end of the 14-day test or have entered the QC spot check phase. The Southern Region has avoided several ATC-0 events due to the program. Solicitation has begun for the program at facilities outside the Focus 40 group.
The COVID-19 caseload saw a significant drop over February, with the hopes of the trend continuing into March.
NNM
Krissy Lewandowski Portland (P80) is the NNM OSHA Representative and Patrick Long Seattle Center (ZSE) is the Co-representative
We have continued working with Seattle Center (ZSE) VP/OSHA Rep regarding RL2 cleanings. Cleanings are improving as of this update. Will continue to follow up.
Additionally, we worked on an Ice-related fall issue with Portland (PDX)/Portland Tracon (P80) which resulted in the need for a short-term alternate egress route due to an immediate safety risk. The temporary route was communicated and implemented, and the issue has since resolved.
Finally, the PDX/P80 construction project is moving forward without issues.
NEA
CJ Jacques (PHL) is the NEA OSHA Representative
No updates.
NCE 
Dan Sherritt (DSM) is the NCE OSHA Representative
No updates.
NGL
Xavier Rivera (ZID) is the NGL OSHA Representative.
All of the Great Lakes Region's Focus 40 Routine Level 3 Cleaning sites have been activated. There are still a few under the 14-day testing phase, but the rest that have incorporated the cleanings nightly, and the Facility Representatives have reported back with very few issues.
NNE
Matt Murray (ZBW) is the NNE OSHA Representative 
I helped one facility deal with acquiring a new space heater for the tower cab. I also had discussions with the PFR of Providence (PVD) Approach after they went through a level 3 cleaning and people reported headaches after the procedure. We talked about how the process should have gone and while the contractor did not do anything wrong, they should have waited a little longer before allowing people to re-occupy the freshly cleaned rooms. They waited 10 minutes, but they were also spraying the rooms (non-operational) and they should have waited 20-30 minutes.
NSW
Deb Stewart (CRP) is the NSW OSHA representative
Deb has been working with many facilities throughout the Southwest region after the winter storm. The region experienced flooding and water intrusion issues that have required assistance from NATCA's CIH Geoff Bacci.
Additionally, after not having water for a period following the storm, water testing was required and done in many facilities. The FAA originally did not intend to test for metals, etc., in the water, but Deb worked with her management counterpart and the SECMs in the region to make sure the testing was done correctly and completely.
Region X
Homer Benavides (EGL) is the Region X OSHA Representative
No updates.
 NAL
Larry Trottini (FS4) is the NAL OSHA Representative
I am handling OSHA an inspection issue in ENA as well as working numerous COVID issues in almost every facility in AK. The Routine Level 3 (RL3) cleanings started in Anchorage (ZAN)/Anchorage Tracon (A11) /Kenai (ENA). Meanwhile, the state of Alaska mandates have expired.
Additionally, I am working numerous Tech Ops issues throughout the state due to limited travel. I have escalated the Sitka (SIT), Barrow (BRW), and Ketchikan (KTN) backup power issues.
Finally, travel issues for the ENA academy have been worked out and Juneau (JNU) construction is going well.