NATCA Leaders Give Words of Wisdom in Honor of Women's History Month (Part II)
In celebration of Women's History Month, many of NATCA's female leaders from locals around the country shared their responses to a series of questions. We will continue to feature their statements in this and the next issue of the NATCA Insider, on our Union's social media, and on our website. In this issue, we are featuring selected responses to three more questions:
How can your peers and brothers and sisters help create a more inclusive and equal environment, especially for women and other underrepresented groups?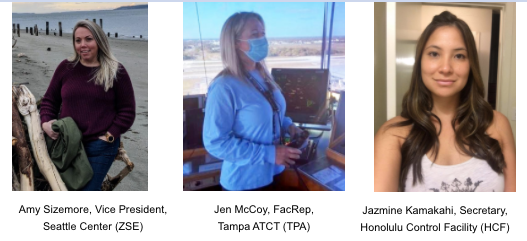 Listen to people then empathize and blend what you've learned into your daily life. Each one of us has something special that can be built upon to create a wonderfully diverse tapestry of experiences. – Amy Sizemore, Vice President, Seattle Center (ZSE)
We should hold an unwavering expectation that not only ourselves, but also our peers, do not participate in misogynistic, bigoted, or otherwise discriminatory rhetoric in the workplace. It is equally important to recognize subtle, yet systemic sexism, racism, and homophobia that can take place right under our noses – just because you may not be directly impacted does not mean it doesn't exist. Openly reject intolerance, embrace compassion, and do it proudly – this will inspire a sea of change! – Jen McCoy, FacRep, Tampa ATCT (TPA)
Treat everyone with respect and kindness. A little aloha goes a long way! – Jazmine Kamakahi, Secretary, Honolulu Control Facility (HCF)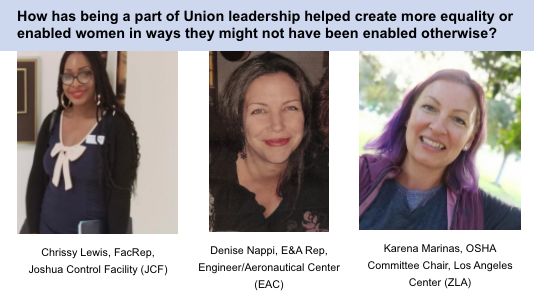 Becoming a part of Union leadership helps inspire other women to take that leap towards leadership. Sometimes seeing examples give tangible evidence that you can do it too. The person that inspired me to be more involved with legislative activism was a woman. Diversity brings different ideas, perspectives, and experiences. I truly believe with more opportunities and more tangible examples of representation and women in leadership will become the norm. – Chrissy Lewis, FacRep, Joshua Control Facility (JCF)
As a young woman that aspired to be an engineer from a strong family, I know what support looks like. It's hearing you can do it, its encouragement. NATCA has been there for me to help push my technical points and support me when things got tough. Through my years in the FAA, I have grown accustomed to being the only female engineer at the table. Joining NATCA, and later becoming a representative, broadened my experience to see that there are other women in roles like mine seeking similar goals. This normalizes the playing field to be inclusive and equitable. – Denise Nappi, E&A Rep, Engineer/ Aeronautical Center (EAC)
I have personally been able to interject a differing opinion or idea into many NATCA meetings and gatherings that I feel might have gone unrealized if a woman wasn't in the room. I feel these small interactions make a difference because offering perspective is a crucial part of being the change we want to see. It has taken a lot of courage and dedication and, sometimes even hard honesty with my male peers, but I have seen minds change and grow and have benefitted from their perspectives as well. – Karena Marinas, OSHA Committee Chair, Los Angeles Center (ZLA)
Who is your favorite historical female figure? What do you admire about her?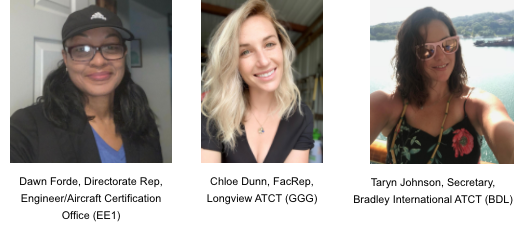 Shirley Chisholm, who was born in my hometown of Brooklyn, N.Y. Chisholm was a U.S. congresswoman from 1969-1983 and was one of the founding members of the National Women's Political Caucus, a committee founded to increase the number of women in all aspects of political life. I admire Chisholm's dedication to the belief that every day is an opportunity for personal and professional growth. One of my favorite Shirley Chisholm quotes is, "Service is the rent that you pay for room on this earth." – Dawn Forde, Directorate Rep, Engineer/Aircraft Certification Office (EE1)

I have come to admire Maya Angelou. She was an American poet, memoirist, screenwriter, actress, and civil rights activist. She's written poetry that speaks to courage, overcoming hardships, personal power, and expresses the struggle against society and racism. Through her work, I believe she encourages people to face their trials and hardships, look for the positive, and never give up. One of my favorite quotes from her is, "I've learned that people will forget what you said, people will forget what you did, but people will never forget how you made them feel." – Chloe Dunn, FacRep, Longview ATCT (GGG)

Florence Nightingale. When women weren't allowed to learn medicine, she basically constructed a whole new discipline of taking care of wounded soldiers. She is now credited for being the founder of modern nursing. – Taryn Johnson, Secretary, Bradley International ATCT (BDL)

To read more from these members and other female NATCA leaders, please visit the NATCA website.