A Look Back at 30 Years of Conventions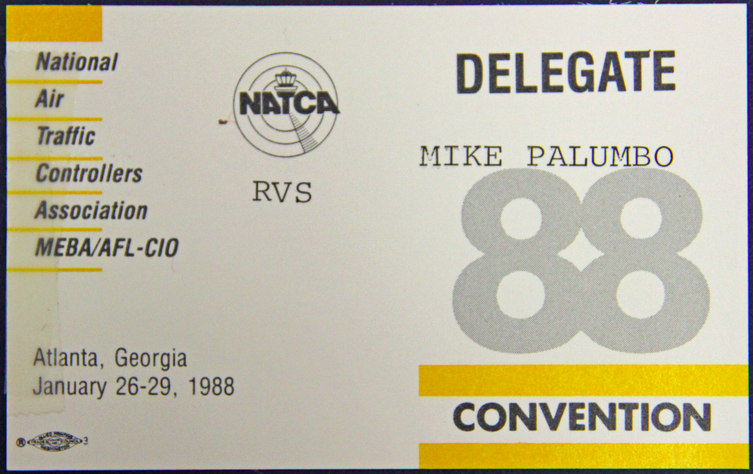 Retired member Mike Palumbo's delegate badge from the 1988 Atlanta Convention. Palumbo is the only NATCA member who has attended every convention in NATCA's history.
1988: Atlanta: NATCA's Second Biennial Convention
Theme: "Getting Down to Business"
Celebrated as a turning point for air safety

Issues:

Establish Constitution, Finance, and Safety Committees and their structures

Defined "Active Member" as a controller who has been certified in the preceding two years or a developmental in a training program

Limited the right to vote or hold office to "Active Members" only
1990: Las Vegas: NATCA's Third Biennial Convention
Theme: "Together in Unity"

Issues:

Dues increase

Initiation fee

Establish that elections are to be held at the same time every year

Establish that the National Executive Board (NEB) is responsible for creating NATCA policy

Membership to be granted to Department of Defense controllers

Beginning of NATCA Fiscal year changed to January 1

Strengthening operations of the Union

Convention body agreed to ask President George H. W. Bush to allow fired PATCO controllers to reapply for new positions in the FAA
1992: San Antonio: NATCA's Fourth Biennial Convention
Theme: "Pride — Purpose — Unity"

Issues:

Unlimited terms for national and local officers

Increased dues for members

Changed minimum dues rebate to $112.50

Changed the title of "Regional Representatives" to "Regional Vice Presidents"

Expanded approval process for annual budget

Created a pay schedule for national officers
1994: Tampa: NATCA's Fifth Biennial Convention
Theme: "Solidarity and Brotherhood/Sisterhood"

Issues:

President Bill Clinton's administration's plan to restructure the air traffic control functions of the FAA into a quasi-government corporation

Direct Priority Placement (DPP) agreement for bargaining unit members from the level 1 contracted out towers

Reflected NATCA's growth as the "voice of working air traffic controllers"

Transportation Secretary Federico Pena addressed the convention body as the first Congressional speaker at a Convention in NATCA's history

MEBA President Gene DeFries addressed the convention body
1996: Pittsburgh: NATCA's Sixth Biennial Convention
Theme: "Forging a More Perfect Union"

Issues:

Delegates vote to extend membership to include corporate and associate memberships

Establish national seniority system

Debated future affiliation with MEBA versus AFL-CIO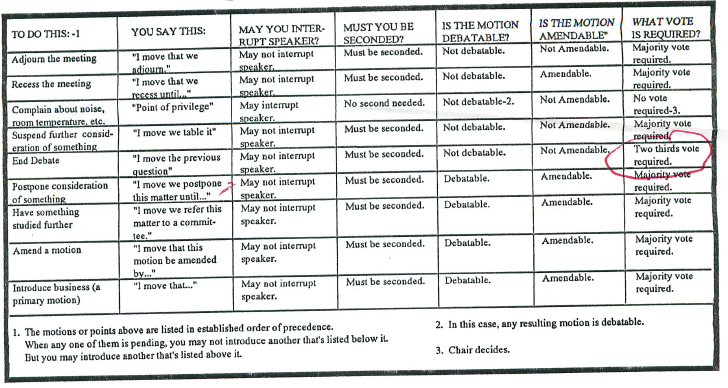 A 1990s Robert's Rules of Order cheat sheet.

1998: Seattle: NATCA's Seventh Biennial Convention
Theme: "Where the Union Reigns"

Issues:

Establish use of Robert's Rules of Order at this and all future conventions

Engineers gained full voting rights

Decided to give the National Executive Board an allotted sum to purchase NATCA Headquarters

Union leadership touted that the Union "grew up" at this convention
2000: Anchorage: NATCA's Eighth Biennial Convention
Theme: "Prospecting NATCA's Future"

Issues:

Engineers passed amendments to the constitution to reflect the Union's diversity beyond air traffic controllers

Passed bylaws to honor individuals for service to the Union

Three areas remained unchanged: seniority, dues structure, and organizing efforts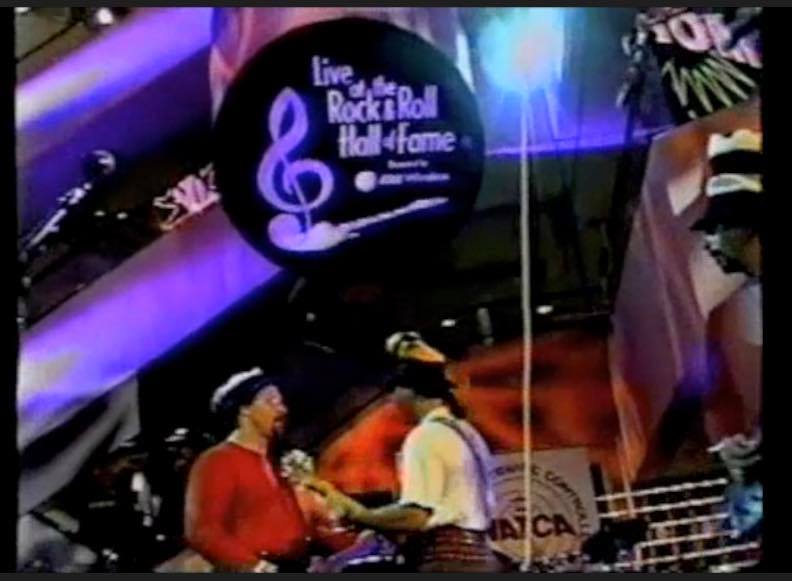 Several NATCA members in bands performed on the Rock and Roll Hall of Fame stage during the 2002 convention, including Great Lakes Regional Vice President Bryan Zilonis (pictured left) with his band, Something Orange.
2002: Cleveland: NATCA's Ninth Biennial Convention
Theme: "Rockin' the Labor World"

Issues:

Engineers were now recognized as "Region X"

Privatization

Then AFL-CIO Transportation Trades Department Executive Director (now President) Ed Wytkind addressed the convention body
2004: St. Louis: NATCA's 10th Biennial Convention
Theme: "The Spirit of Labor"

Issues:

Making the general public aware of staffing problems within the National Airspace System

A panel of NATCA counsels evaluated the impact of elections on various issues important to NATCA

Heated debate over NATCA's national seniority system

Rep. Peter DeFazio, D-Ore., addressed the convention body
2006: Boston: NATCA's 11th Biennial Convention
Theme: "NATCA Revolution"

Issues:

Discussion on Air Traffic Contract negotiation impasse process and briefing on content of impending work rules

Seniority debate continues from previous convention

Debate on if retired members could run for NATCA leadership positions

Turning point in the Union's history

Air traffic control contract negotiations reached impasse and the clock was ticking leading up to the FAA unilaterally imposing its last best offer: the dark days now referred to as the "White Book"
2008: Miami: NATCA's 12th Biennial Convention
Theme: "Hurricane NATCA"

Issues:

Delegates showed strong support for the Obama-Biden Presidential ticket in the upcoming presidential election

Discussion centered on fighting for fair collective bargaining rights, as the negative toll taken by the White Book continued

AFL-CIO President John Sweeney addressed the convention body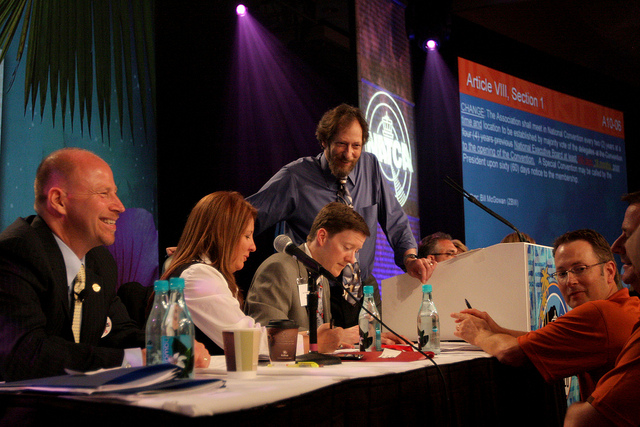 NATCA President Paul Rinaldi, Executive Vice President Trish Gilbert, former NATCA President Barry Krasner, and National Legislative Committee Chairman Steve Weidner at the front table during the 2010 convention.

2010: Honolulu: NATCA's 13th Biennial Convention
Theme: "Ohana"

Issues:

Heightened focus on safety

Embracing the idea of learning from the past and building for the future

Hawaii Governor-Elect Neil Abercrombie addressed the convention body

Rep. Mazie Hirono, D-Hawaii, addressed the convention body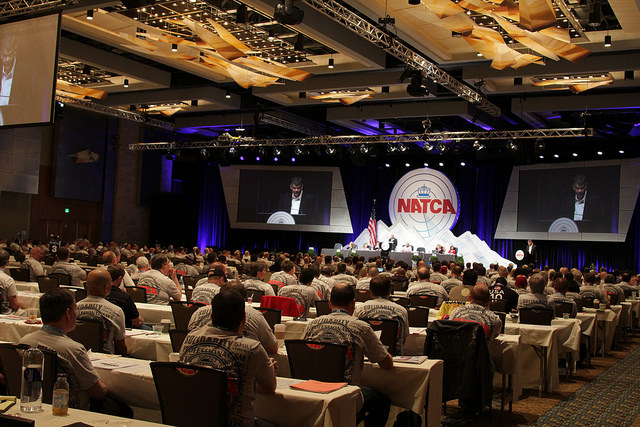 The 2012 convention body.

2012: Denver: NATCA's 14th Biennial Convention
Theme: "A Mile High Reaching Higher"

Issues:

Debate on Union policies regarding the constitution

Seniority/seniority policy is again debated

Banning of write-in votes for local elections

Passing a measure to allow more freedom in appointing members to the Convention Planning Committee in order to have more input from past convention planners

Celebrated Union's 25-year anniversary

Paid tribute to NATCA pioneers

Up-and-coming activists spoke of the commitment needed to lead through the next 25 years

Largest attendance ever at a convention

Past and present NATCA Presidents discussed Union together

Noted labor activist and musician Tom Morello, also known as "The Nightwatchman", performed at a convention event and the convention body elected to name him an honorary member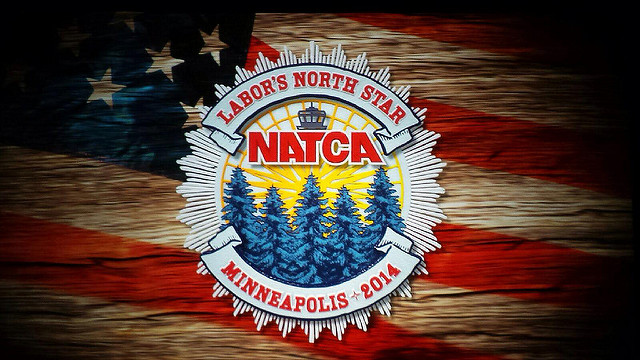 2014: Minneapolis: NATCA's 15th Biennial Convention
Theme: "Labor's North Star"

Issues:

Constitutional changes allowed NATCA to have a seat at the table on discussions about ATC reform possibilities

93 percent of delegates voted to adopt the NEB's plan for stabilizing NATCA's dues structure

Delegates challenged to set the course for NATCA by moving us from good to great

Honored the late Chairman Jim Oberstar by renaming the Sentinel of Safety Award in his honor

Honored the late John Thornton by creating an award in his name to recognize members whose extraordinary contributions have significantly changed the course of NATCA history

AFL-CIO Secretary-Treasurer Elizabeth Shuler addressed the convention body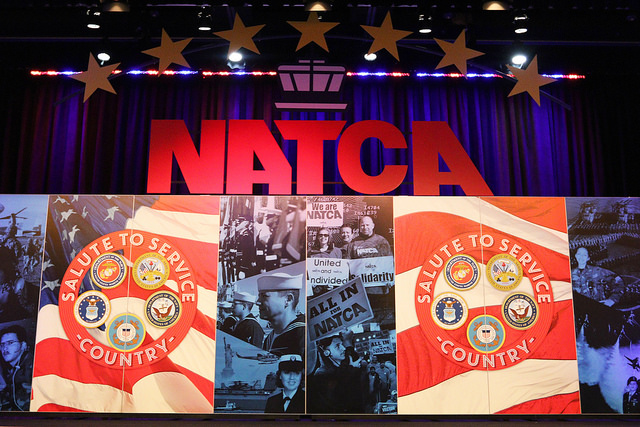 2016: San Diego: NATCA's 16th Biennial Convention
Theme: "Salute to Service"

Issues:

Constitutional changes continued to allow NATCA to have a seat at the table on discussions about ATC reform possibilities

Discussion on national committees, including the Safety Committee

Established a Platinum Lifetime Retirement Membership

Medal of Honor recipient and U.S. Army Captain (ret.) Florent "Flo" Groberg addressed and was honored by the convention body
2018: Philadelphia: NATCA's 17th Biennial Convention
Theme: "Nation's Birthplace, Labor's Heartbeat"
Issues:

Delegates prioritized unity and fiscal responsibility
Discussion and action included Region X seniority, training and meeting reimbursement rules, and convention fiscal responsibility
Delegates and members resoundingly supported and passed an amendment to raise the EVP's salary to $260,000, the same as NATCA President
AFL-CIO President Richard Trumka (pictured above with NATCA President Paul Rinaldi and NATCA Executive Vice President Trish Gilbert, delivered a fiery, uplifting, and inspiring keynote address to kick off the final day of the convention
Penn State professor Paul Clark spoke about labor education and the benefits of the Penn State World Campus / NATCA alliance

The NATCA Charitable Foundation raised more than $76,000 and NATCA President Paul Rinaldi set the challenge of making NCF a $1 million charity
Snowball Express Program Director Buck Kern joined Gary Sinise (via videotaped message) in thanking NATCA members for their support of this important charity