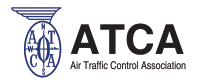 Children of Air Traffic Control Specialists: Apply for an ATCA Scholarship
The Air Traffic Control Association (ATCA) offers one of its scholarships, the Buckingham Memorial Scholarship, to U.S. citizen children of air traffic control specialists. Applicants must be accepted or enrolled in an accredited college or university program leading to a bachelor's degree or higher, and planning to continue enrollment the following year. Applications are due May 15.

Click here for more information and to apply.