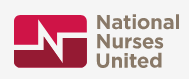 Union Members Feature: National Nurses United
NATCA continues to highlight our union sisters and brothers who are also essential workers during the COVID-19 national emergency. Today we highlight and thank our union siblings of National Nurses United (NNU), AFL-CIO.
NNU, with more than 170,000 members nationwide, is the largest union and professional association of registered nurses in U.S. history. Amid a still raging COVID-19 pandemic, the efforts of our union brothers and sisters in NNO-represented occupations are highlighted like never before. 

"When the World Health Organization declared 2020 the Year of the Nurse and Midwife, what they might not have realized is that it would be the year nurses take our solidarity and our union power to the next level — a year when our lives are threatened like never before, and we respond by organizing, and rising up like never before," NNU wrote on its blog recently. 

Learn more about what NNU is doing to fight for not just the nurses and health care professionals it represents, but for the health and safety of the patients in their care.