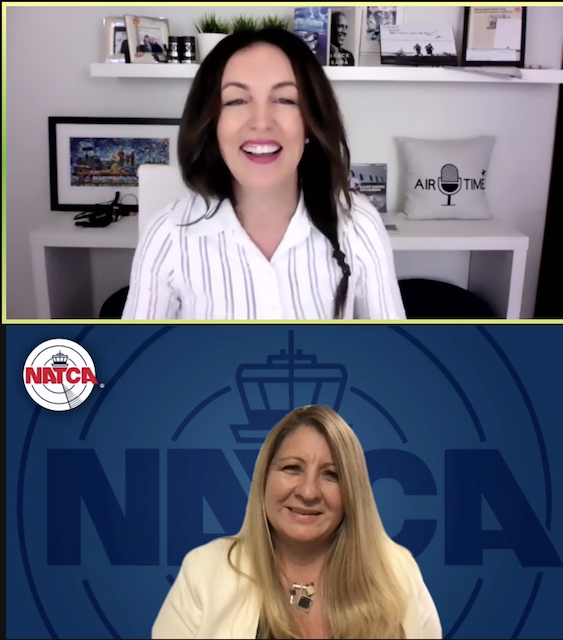 Air Time with Trish Gilbert
Trish recently spoke on the Elevate Aviation Air Time podcast, hosted by Kendra Kincade, founder and CEO of Elevate Aviation. Elevate Aviation focuses on all things in the aviation community and brings forward topics relevant to women in the Canadian workplace, inspiring the next generation of leaders into aviation.

Trish covered an array of topics, including how she began her career in air traffic control, what type of skill sets it takes to be an air traffic controller, her roles within NATCA, and even how she's been able to serve on a variety of boards.

Trish said before she started her FAA career, she didn't know anything about aviation or air traffic control. "I just happened to be working at the airport when a group of air traffic controllers convinced me to apply. I am glad they did, and I am glad I did. This is the best profession in the world. And to serve the last 12 years as NATCA's Executive Vice President has been a highlight of my career. I have had the privilege to meet and serve a plethora of aviation safety professionals. To get to speak about these men and women and the work that they do is truly an honor."
As for skill sets ideal for air traffic control, they mentioned transferable skills from the restaurant industry, such as those qualities in wait staff and bartenders. "They are able to handle multiple tasks at once and tend to be calm and organized. Those are qualities that would make good air traffic controllers," said Trish.
Trish was asked about how and why she began serving on boards, including the Drone Advisory Committee, the International Transport Workers' Federation (ITF) Air Traffic Services Committee, and the Women in Aviation Advisory Board (WIAAB), among many others. "It does take some work and I wish I had more time to give to each board, but I am able to use NATCA's staff as resources to assist me on the work of some boards. Sometimes the boards want a subject matter expert, or a spokesperson, or decision-maker from the workforces that NATCA represents. Our expertise puts me and Paul on a lot of boards. Other times they want diversity, and they want a woman on the board, so that is good to have a diverse perspective participating. That has created opportunities as well. All of these opportunities are really great for NATCA, as I am representing them, to show that we have a voice, and our voice is heard." Trish also said that if someone has a passion for doing the work and understands the industry, they should apply to serve on a board.
Kincade asked Trish to talk about the role that she and Paul play within NATCA and how they have worked together so well for four terms. "Paul and I ran together as a team, and we were very clear that our leadership style would be that when one of us spoke, we were speaking for the organization, and we would be aligned on all issues. Paul has made sure that I have been very much involved in every decision. I made sure that as a woman, my voice was also heard, and Paul has been very supportive. We also try to make sure we are diverse in our thinking and have members from different parts of the country, and different backgrounds with different experiences when we create committees and teams and make decisions on their behalf." Trish also added that having a diverse National Executive Board within NATCA makes a very good dynamic and has brought a different priority to certain things. She said that she and Paul made a commitment that they would not spend all of their time in Washington D.C., and would be in front of the membership at their facilities or in a meeting in their area to hear their concerns. "It grounded us, that we would never forget that we are in D.C. to do the work of the men and women we represent and that we wouldn't make decisions based on emotions."
When asked about the best moment of her career, Trish spoke of two. She talked about the "lost years" when members had the White Book imposed on them and saw pay cuts and pay freezes from 2006-2009. "When we got a new contract in place, we ended up developing a collaborative process and a couple years later, closed the loophole in the law that allowed the FAA to impose that contract on our workforce." The second highlight was getting the legislation signed into law for the 12 weeks of paid parental leave. "The paid parental leave was something that I have been passionate about since I had my son. At that time, I had to use all the sick leave that I had, borrow sick leave, and it took two years to pay it back to the government, to be home with my child when he was born. These were things really important to me because I lived through it, and I'm really glad that one was accomplished."
To view the full podcast, please click here.