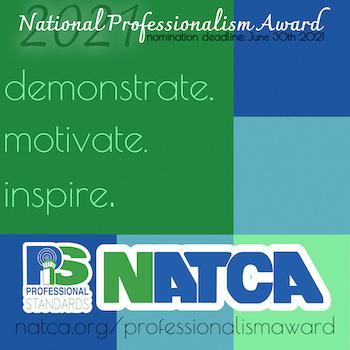 National Professionalism Award: Demonstrate, Motivate, Inspire
It's time to nominate your peers for the 2021 NATCA National Professionalism Award!

We need your help to recognize the exceptional individuals you work with day in and day out who demonstrate, motivate, and inspire others at work. 

You know who we are talking about — the individuals who set high standards for themselves and also help elevate others around them. The person who when faced with conflicts or challenges, realizes that they have a choice regarding the manner in which they respond. The person who you know you can depend on for help when you need it. The person who exemplifies professionalism. 

We would love to have the opportunity to recognize these members in a positive way by celebrating them at Communicating For Safety (Sept. 27-29, Bally's Las Vegas).

Help us learn about these very special and important individuals by creating a thoughtful write-up using our nomination form. We look forward to hearing your stories about these dedicated and committed members.
The deadline for nominations is June 30. Click here to learn more about NATCA's National Professionalism Award and click here to view past winners of the award.